Why National Museum Institute's new campus has upset students
Why National Museum Institute's new campus has upset students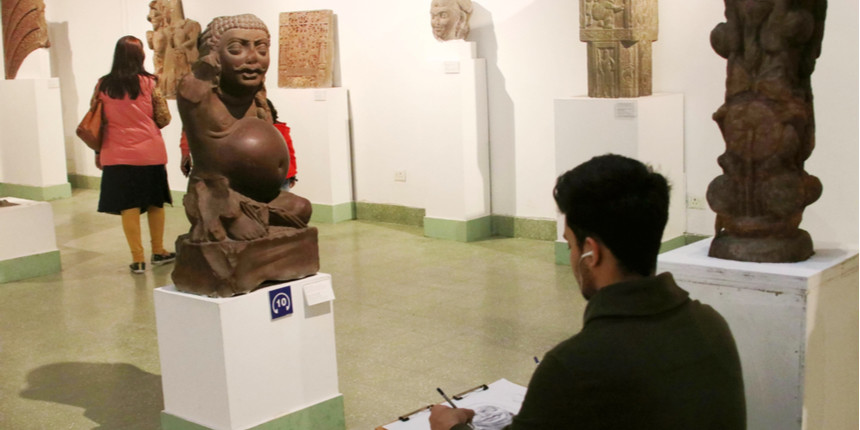 By Rosamma Thomas
NEW DELHI: The National Museum Institute has a brand-new campus all to itself in Sector 62 of Delhi's satellite town, Noida. Inaugurated in January last year, it has an auditorium, a guest house and hostels in addition to classrooms and a laboratory.
But its students are loath to abandon the premises where this niche institute was born and has remained for three decades – among the collections of the National Museum on Janpath in central Delhi.
Set up in 1989, this institute offers courses in the history of art, museology and conservation and its location has afforded its students easy access to all the resources they needed for learning – heritage objects and artefacts, its storage and reserve collection, its library and conservation laboratory and the wealth of experience of the museum's staff. On average, the institute has about 100 students each year.
'A disaster'
Around October last year, word reached students that they would be shifted to the Noida campus. Even sections of the library were closed off. Alarmed, they wrote an open letter addressed to Prime Minister Narendra Modi and Union Ministry of State for Culture and Tourism Prahlad Patel, registering their protest against the move.
They cited several reasons. First, even though the new campus had been inaugurated, it wasn't ready to receive students. The new premises did not yet have a conservation laboratory, they pointed out. Plus, the shifting had begun during the semester and was disrupting their academic calendar.
That temporary inconvenience wasn't the only problem. Students, still at the National Museum, simply don't want to leave. It would mean having to travel 20 km to attend the conferences and programmes that the museum organises. Future students would miss the direct exposure to masterpieces. They said NMI is the only such institute in India and its location had drawn them.
"Shifting of NMI to Noida would be a disaster and would kill the real essence, its core mandate and principles on which it was established,"
wrote students.
Plus, as alumni have pointed out, several institutions in that part of Delhi are important for scholars of the disciplines taught at the institute. These include the National Archives, the Nehru Memorial Museum and Library, the Indira Gandhi Centre for the Arts and the National Gallery of Modern Art. After the move, these will all become difficult to access for students.
Inevitable shift
The students, however, did not sign their names. They wrote: "We are unable to reveal our identity as we are afraid we might be persecuted here at our institution for writing this."
No senior official was ready to comment. NMI's director, Anupa Pande refused to comment.
The NMI's head, Raghavendra Singh and registrar PK Sharma were both away. A junior official who did not wish to be quoted as he was not authorised to speak to the press said the shift will occur once the Central Public Works Department issues a certificate of completion for the Noida building.
The shift to Noida now seems "inevitable". Anaja Joshi, a former student of the institute, said, "For me, the shift would be very sad. We work with passion, and the space itself constantly reminded us how fortunate we were. To move to a new site that is so far removed from the museum would make for a huge change."
Rosamma Thomas is an independent journalist
Write to us at news@careers360.com.
Stay updated with latest Education News
More From Team Careers360