Bihar: Hundreds of students in a fix due to delays in loan scheme
Bihar: Hundreds of students in a fix due to delays in loan scheme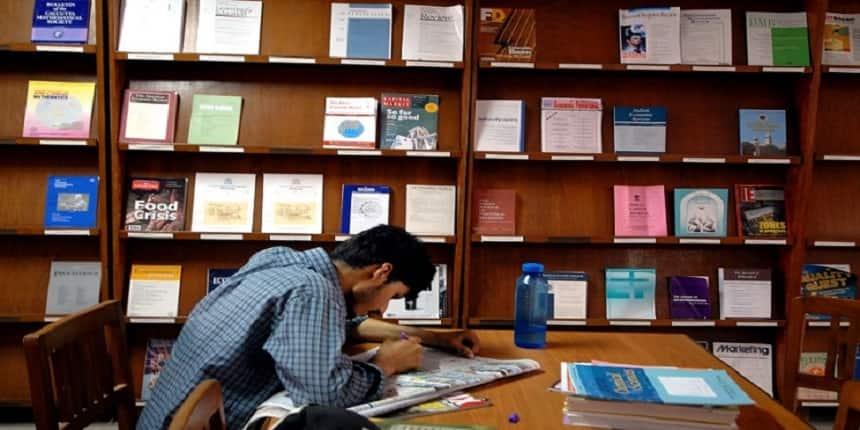 NEW DELHI: Manish Kumar, from Madhepura in Bihar, is in a fix.
A first year student, he had been studying at Swami Vivekanand Subharti University, a private institution in Meerut, Uttar Pradesh, after applying for an education loan through a Bihar Government scheme. But the money never came through and now, Kumar, and over 200 others, are under pressure from their universities to either pay up or leave.
"Many students from Bihar came to this NAAC 'A' grade university through Bihar Student Credit Card loan," said Kumar. "It has been one year, but our loan has not been approved. The university is pressuring us to pay fees but our own government is not disbursing the loan. They are threatening to rusticate us if we do not submit the fee by August 31." Paying from his own funds is out of the question. The economic hardship caused by the COVID-19 pandemic and the lockdown has depleted his own family's resources as well.
There are over 200 students in Kumar's position at the Meerut university alone. There are several hundred more at CV Raman University, another private institution, in Bihar.
The students have written several times to the education department and Bihar's chief minister Nitish Kumar but to no avail. The students are now wondering if they will be allowed to continue their studies in the next semester.
The credit-card scheme
In 2015, the Nitish Kumar government launched 'Bihar Student Credit Card Scheme' as the state's Gross Enrollment Ratio (GER) in higher education was then 14.3%, far below the national average of 24%. Under this scheme, a student who has passed the Class 12 board exams but is unable to pursue higher studies due to financial constraints is eligible to receive assistance in the form of low-interest loans.
The scheme provides an education loan up to Rs 4 lakh, with four percent simple interest. For women, disabled and transgender candidates, interest payable is only 1%.
As per Bihar Government data, over 1.2 lakh students have benefited from the scheme since its launch.
However, as the scheme became popular, corruption crept in and middlemen got involved, making money on admissions by drawing students. The Bihar Government also constituted a committee to investigate the allegations.
According to documents accessed by Careers360, Bihar Government initiated an enquiry into admissions in Subharti University earlier this year. It concluded that the admission process followed was not transparent and alleged that the university was trying to divert money into its account by exploiting the provisions of the scheme.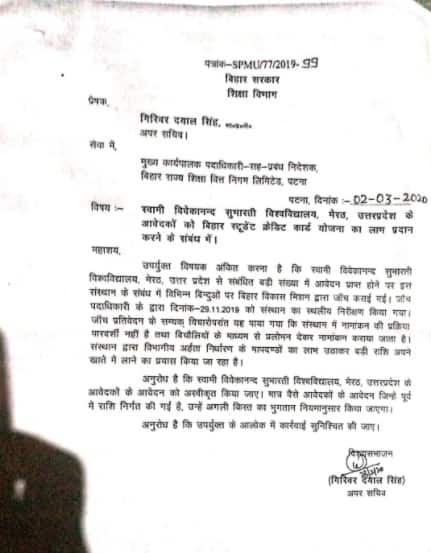 In its report, the committee recommended cancelling all fresh applications from Subharti University and releasing funds only to students who were given loans earlier.
"Initially there were 500-600 students on our campus under the scheme, but most of them ran away in a few months," said another student requesting anonymity. "Now we are only 200-250 students who are genuine. Some are even toppers. The government should release our money." Kumar added that students like him got direct admission to the university and not through any middleman.
Subharti University Vice-Chancellor, N.K. Ahuja, said: "These students are living in the hostel. It is not about them being pressured to pay the fee [but] someone will have to pay for them. The Bihar government has not released the money yet. Our management is looking into this issue."
Letters to Bihar CM
There are students under the loan scheme enrolled in almost all the programmes offered by the university, including BTech, polytechnic courses, law and mass communication.
Students of both universities are alleging that the neglect is on the part of the institutions, that they have not sent their fee details to the state government, based on which funds are released.
"We wrote to the Bihar CM Nitish Kumar-Ji through email and also to the Bihar education department but even after 15 days, [we have received] no response," said Kumar. "We are also writing to the prime minister Narendra Modi."
Rakesh Kumar Pandey, VC of CV Raman University said: "If the Bihar Government allows the credit card issued to students, everything is sorted. We are pursuing this issue with the state government as the admission process has begun for the next session."
While agreeing that there have been irregularities in admissions in some colleges, Pandey said there was no such problem at his university and that the government should release the grant.
Delays, exams, backlog
Suraj Yadav, a student of the CV Raman University, said that there was a meeting at the university on the ongoing chaos over fees. "There is clear instruction from the higher authorities that students who haven't paid the full fees shall not be allowed to attend classes. Payment of half the sum or anything else shall not be considered," he said.
Even a delay in payments is hugely disrupted. Yadav explained how: "As we have not been able to pay the fee, we will not be able to attend classes. This will result in a shortage of attendance. That in turn will lead to our being barred from writing exams, then detention and backlog. There is no issue on the side of Bihar government, they will do the transfer once they get the demand letter issued by the college. It will take 10-15 days."
However, Pandey said that classes are on hold as per instructions of the ministry of home affairs. He said: "There is enough time for students, as admission will continue till September."
Careers360 tried to contact the Bihar Government to understand the delay in loan disbursement, but the calls remained unanswered till the time of filing this story. If the government responds, this copy will be updated.
Names of students have been changed to protect their identities
Also read:
Write to us at news@careers360.com
Stay updated with latest Education News