CLAT 2021: How to crack national level entrance exam for law
CLAT 2021: How to crack national level entrance exam for law
Planning to crack the national level entrance examination for law? Here are the details of the new exam pattern and tips to prepare for it.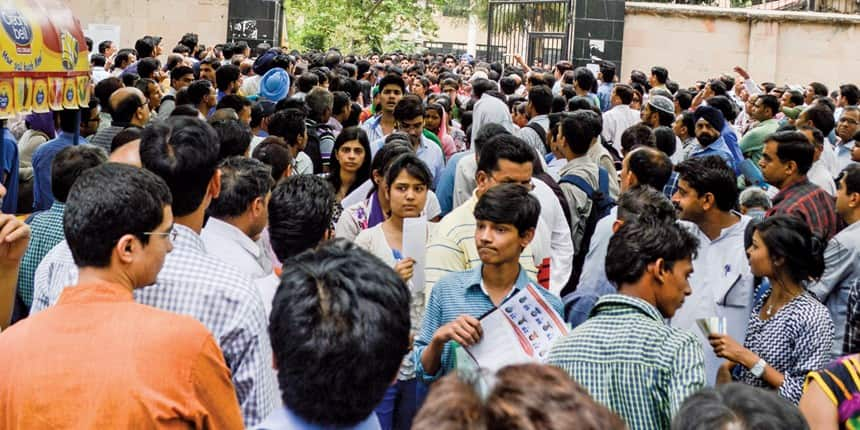 By Rajneesh Singh
Latest: Know your admission chances in NLUs by using CLAT 2023 College Predictor. Use Now
Don't Miss: CLAT Cut-offs. Download EBook | NLUs Fee Structure 2023. Download EBook
Applications Open for 5 year Int LLB @UPES. Ranked #3 by QS Asia University Rankings 2023. Ranked #21 in Law category by NIRF. Upto 100% Scholarships. Apply Now 
Pursue 5 year int LLB @Manipal University, Bengaluru. Internship Opportunities in leading Law Firms, Industry, Governmental Departments and NGOs. Register Now
While its basic nature and main objective remain the same, the Common Law Admission Test, or CLAT, has changed a lot. The changes make CLAT 2021, the admission test for the National Law Universities, more efficient, student-friendly and better organised.


Those who qualified CLAT 2020 displayed certain traits:
They were able to read exhaustive and meaningful texts fast but with 70 to 85 percent accuracy
They did not see general knowledge (GK) as a burden and do not mug up but read widely and with interest
They got over eight in "quantitative techniques" or QT [This section plays a vital role in getting high scores]
They could maintain composure and also focus for long periods
They could handle and adapt to changes quickly.
CLAT 2021 is likely to reward the same characteristics and skills.
CLAT 2021: A brief overview of the new pattern
Overall, the CLAT is designed to be a test of aptitude for a legal education rather than prior knowledge, although it is useful for the "current affairs" section.
The UG-CLAT 2021 will be a two-hour test, with 150 multiple-choice questions carrying one mark each. For every wrong answer, 0.25 marks will be deducted. The questions will be divided into five categories or subjects:
English language
Current affairs, including general knowledge
Legal reasoning
Logical reasoning
Quantitative techniques
The following table shows how important a section is based on the number of questions in it.
| | | |
| --- | --- | --- |
| Subjects | Approx. No. of questions | Approx. Weightage (%) |
| English language | 28-32 | 20 |
| Current affairs, general knowledge | 35-39 | 25 |
| Legal reasoning | 35-39 | 25 |
| Logical reasoning | 28-32 | 20 |
| Quantitative techniques | 13-17 | 10 |
CLAT 2021: Changes that matter
This year's CLAT 2021 will be a pen-and-paper test. This has some pros and cons.
ADVANTAGES
Comfort because most would have written paper-based tests since childhood
Can look at the entire paper at once
No scrolling required to read the full text of a question
Can do rough-work on the paper itself, and not have to keep looking up at a screen
No moving between pen and mouse constantly
DISADVANTAGES
Navigation from one question or section to the next is much faster on a computer-based test. This mode will take more time.
Marking and changing answers are both quicker on the computer. Marking optical mark recognition (OMR) sheets take longer.
To overcome the problems, one must practice by taking pen-and-paper mock tests. Use OMR sheets for marking the answers. Make use of a pen for marking the sheets. CLAT aspirants must keep many copies of OMR sheets and use them for section tests along with mock tests. Just marking answers takes up six to 18 minutes and many exam-takers don't realise how time-consuming it can be. The quicker way to darken the ovals is to use a thicker ball-point pen and by answering one full section at a time.
CLAT 2021: Most questions will be based on paragraphs
This change may seem like a big one but it isn't. The only significant point is that the English questions are likely to be all reading comprehension and the GK part, a little different. Quantitative techniques (or mathematics) questions becoming paragraph-based doesn't make any difference to how a candidate must prepare. Most verbal reasoning and analytical reasoning questions were already paragraph-based and so was legal reasoning.
The reading-comprehension section requires practising within time limits and maintaining at least 80 percent accuracy while answering. The candidate must also check which way of solving works best for them. There are mainly three ways to do so.
<
Skim through the passage and then read the questions. Come back to the passage as required. This method may save time but may not work if the passage is dense.
Read the passage carefully with full comprehension and then answer the questions. This method works best if the text is dense and forces you to read slowly.
Read the questions first and then the passage. This works well with a simple fact-based passage.
For GK, preparation is easier and less time-consuming. This is because instead of 50 separate questions being asked on different topics in a full paper, there will be only six to eight topics in passage-form. This has increased the chances of only the very important topics being included.
CLAT 2021: There only 150 questions instead of 200
This won't make much difference from the preparation perspective but may push the cut-off score up. In 2020, the paper was quite tough and yet candidates needed to score more than 62 percent to secure a seat in NLSIU Bengaluru.
Students but must decide on which questions to skip or come back to later quickly and without wasting time.
Legal reasoning
This section can be tricky but now it does not include common legal principles unlike the papers till 2019. It will largely contain current affairs passages most relevant to the legal fraternity. This has decreased the burden on students and they do not need to study laws.
These can be practised to become good at legal reasoning:
Study the legal issues of the past year: This will help enhance speed. Familiarity with a topic can increase both the accuracy and speed of answering. Previously, familiarity with the common principles helped but now the section is more about current affairs.
Stick to the law/rule/matter in the passage: Though the golden rule is to just stick to legal principle, correct answers are often a result of applying correct reasoning, common sense and rational assumptions within the scope of the principle or rule.
Quality discussion: The only way to improve one's reasoning gradually is to make one's mind more rational and unbiased. Candidates should refrain from irrelevant discussions on a question that does not have a distinct answer. While preparing for the legal aptitude test, candidates will come across many materials which have wrong answers, complex explanations and poor quality questions. Candidates should only focus on quality study material and discussions for CLAT preparation.
Tackling tough sections: Legal reasoning questions become tough or time-consuming when multiple principles are involved, or the text is huge. Candidates can leave these questions in case other sections or questions are easier. But sometimes, in a tough paper, one will be forced to attempt such questions. Candidates will need to practice them and they should read with patience and care.
CLAT 2021: Consortium support
The Consortium plans to publish various preparatory materials for the UG-CLAT 2021, including:
Guides to the question paper and sample questions
Model question papers
Instructional materials and exercises for each subject
The Consortium will also provide candidate, who have successfully completed their application to the UG-CLAT 2021, access to a learning platform where they will find the preparatory materials as well as have their work scored on various exercises and model question papers.
Rajneesh Singh is an online CLAT coach.
---
Follow us for the latest education news on colleges and universities, admission, courses, exams, schools, research, NEP and education policies and more..
To get in touch, write to us at news@careers360.com.