Coronavirus: Why online learning is even harder for the disabled
Coronavirus: Why online learning is even harder for the disabled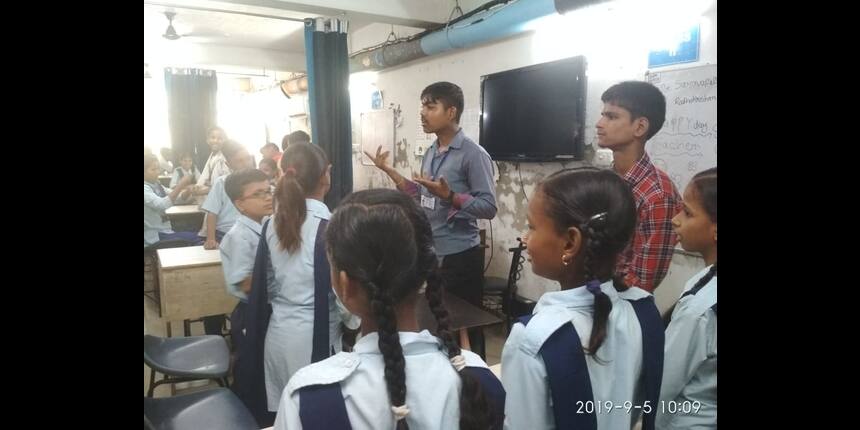 NEW DELHI: Ever since the coronavirus outbreak resulted in a nationwide lockdown, Bharat has had a very tough time. He is not being able to interact with his friends or teachers.
Hearing impaired, he had enrolled in a six-month short-term vocational course with Noida Deaf Society. When the pandemic necessitated social distancing, Noida Deaf Society, following a large number of mainstream educational institutions, moved its lessons online. But Bharat is yet to get used to the change. A low-end mobile phone, poor network, and the communication gap between him and his mother have all compounded his problem.
"I wanted to learn how to communicate with a customer and understand their needs, I want to work in a mall," said Bharat explaining why he joined the course. The society imparts skill-based short-term classes for hearing-impaired youths who have missed out formal schooling at a younger age. The short-term courses help them get jobs.
Bharat, 17, is not the only one facing difficulties. Most students who are hearing impaired are, said Ruma Roka, founder and general secretary, Noida Deaf Society.
The coronavirus pandemic caused many schools and colleges to suspend classes and vacate campuses many days before a lockdown was officially enforced on March 25. Since then, institutions and governments have all pushed for continuing teaching and learning online during the lockdown. Classes for children and youths with disabilities like cerebral palsy, vision or hearing impairment, have also gone online.
While even the abled are struggling with various technical problems – most commonly, poor internet connectivity – the challenges multiply for the differently abled as even assistive technologies become harder to access from homes. Parents, too, are less equipped to help them and in the case of the visually-impaired, the principle of social distancing has robbed them of the assistance with mobility and learning that they get from peers.
Online classes
"We interact with our students on WhatsApp mainly. It has to be one to one," said Kavita Diwan, head Aakanksha, a centre for children with special needs at Veda Vyasa DAV Public School, Delhi. "Each student needs a different approach," she adds.
Many students who are visually challenged are attending online classes too but there are many hurdles. In classrooms, they use sophisticated assistive technology. And although highly advanced software is available, it is beyond the reach of most students.
Students in universities are facing much the same problems. "Where will they get the android phones or laptops or other resources to attend these classes?" asked Kusum Lata Malik who teaches at Delhi University's Hindi department.
Her student, Manik Ram Chand, is blind but having to attend classes online. "I have so much trouble connecting to the internet and if I do manage to connect, we face problems with the assistive technology," said Chand who is from Jharkhand in pursuing a Master's degree in Hindi at DU. "There is something called screen reader which we should be able to access easily, but we cannot. It is also difficult to find the sheets which is required for completing the assignments."
For the visually-impaired, social distancing is a significant challenge. At every stage, they need someone with them, and most of the time it is a peer, a friend, who enables them to share resources, be it Braille books, sheets or an android phone or a laptop loaded with assistive technology. "It is the sense of touch and the sense of sound," as Malik put it.
Communication gap
For the hearing-impaired, there is a different set of problems. As Careers360 earlier reported, online learning requires high involvement of parents. However, it is much harder for parents of disabled children to participate. Many parents are not well-versed in the Indian sign language. "There is a big communication gap at home," said Roka. The absence of appropriate technology is keenly felt too.
"Most students we have in our society across the four centres are very poor and so, many of the children do not own Andriod phone," she added. The classes are taken through WhatsApp video sessions. "Internet connectivity is slow, videos also fail so we try to work on WhatsApp. The teachers connect with them in twos and threes," said Roka.
The mobile screen through which the small group interacts is further subdivided into three or four sections. "It is very difficult for those using mobile phones, which has a small display screen," says Preeti, a trainer.
Getting better equipment is not an option. Bharat's mother is the only earning member in their family and before the lockdown, made a living from privately tutoring small children. She has lost even that income now.
Mental health
The impact on the mental health of this group is much graver too. "Most of these children cannot interact with their parents and they suffer from mental health issues as they are all alone away from their peers," said Roka.
Kavita Diwan of Aakanksha says that her school gets calls from anxious parents asking "how to deal with their tantrums" during the lockdown period. "We ask them to take their child out in the open early in the morning and also to spend some time with the child," said Diwan.
"Dealing with a stubborn virus and the complete lockdown to save ourselves is something very new for each one of us. I think each one of us are learning," winds up Kavita Diwan.
Also Read:
Write to us at news@careers360.com.
More From Pritha Roy Choudhury