'We prayed more than anyone': Resident doctors on Covid-duty during second wave
'We prayed more than anyone': Resident doctors on Covid-duty during second wave
The brutal COVID-19 pandemic's second wave had resident doctors experiencing new levels of stress across medical colleges in Delhi, Bengaluru, Mumbai.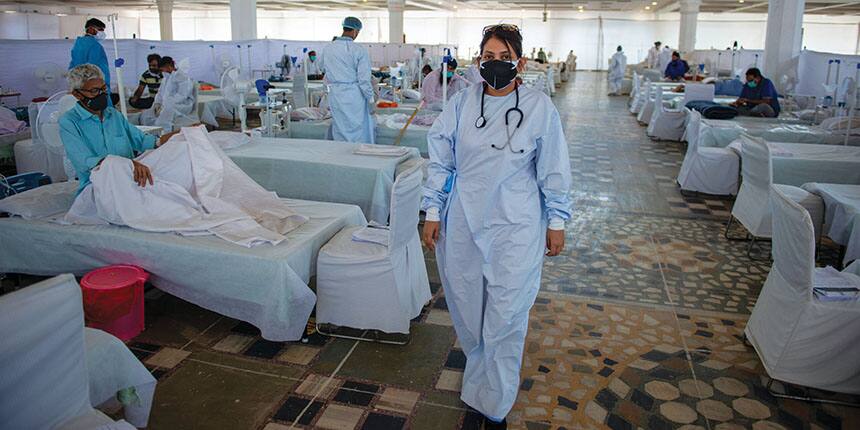 New Delhi: One day, during the brutal second wave of the COVID-19 pandemic in India, Namratha C entered the intensive care unit (ICU) and was overwhelmed.
A resident doctor at Victoria Hospital, Bengaluru, she "did not know how to triage" the system of deciding the order of treatment of patients. "I took charge from the previous duty doctor. I did not know how to triage, who to save, who to leave," she said. All the patients, she said, were below 40 years old. "Nearly four to five patients were de-saturating (oxygen saturation in hemoglobin was dropping). I have seen a few patients who were 25 to 28 years-old – about my age," she recalled. "I could not control my tears that day."
Psychologists in hospitals, however, said that even doctors were reluctant to seek mental health support. However, in many cases, friends, family members and colleagues did so on their behalf.
NEET PG 2021, COVID-19, stress
The COVID-19 pandemic increased manifold the stress experienced by doctors. The long hours of work, an unending queue of patients, limited resources and workforce and finally the deaths – often multiple within a span of a few hours – all added up.
The postponement of the National Eligibility cum Entrance Test for postgraduate (NEET PG 2021) added to the agony as it kept thousands of postgraduate students who would have been posted as residents away from hospitals. "If this NEET exam had been conducted, it would have taken care of the lack of resources as the number of resident doctors would have increased," added Namratha. "I can tell you this more than anyone else, we prayed to God to stop the second wave."
Also Read | 'Wasn't happy with NEET PG postponement': Indian Medical Association President
'Everything falling short'
At the Pandit Bhagwat Dayal Sharma Postgraduate Institute of Medical Sciences (PGIMS) Rohtak, Dr Abhilasha Dhillon was going through a similar experience. "We used to wait – if one patient would die, then a bed would be free for another patient, a young patient," she said. "For the first time, I asked myself if I was doing my duty as a doctor."
With the sudden surge in the number during the second wave, there was a massive shortage of everything required to manage COVID-19 – hospital beds, oxygen, doctors and nurses. "Ours is a 1,200-bed hospital. But still we were running short of beds, oxygen," said Dhillon. "Patients travelled from Delhi for bed, oxygen and ventilator. Ours is a huge hospital, but everything was falling short. The first week, we did not have oxygen beds. From one floor, we managed two patients for oxygen. We also started facing a shortage of human resources." Doctors worried even they wouldn't get oxygen or a ventilator if they needed it.
"The worst thing is that you assure a patient that we will take care of you knowing that he may die by next morning", said Akshay Sudhir Yadav, a resident doctor of Lokmanya Tilak Municipal General Hospital and Medical College, which is also known as Sion Hospital Mumbai.
There was no fresh batch of postgraduate students but in May, COVID-duty was made part of the compulsory internship at the end of an MBBS programme. This brought a large number of undergraduate students into COVID wards.
Also Read: 179 government medical colleges in 6 years: How medical education is growing
The fungus
"Then we started getting mucormycosis patients," said Yadav.
As the number of cases started abating in the second wave, black fungus infections or mucormycosis cropped up. A possible result of the widespread use of steroids in COVID-19 treatment, residents said the only way to contain its spread was surgery.
"It is a disruptive surgery where you cut off the tissues from the affected parts," explained Namratha, adding, "It is very, very depressing."
"These mucor cases will not occur only at one place. It is there in the sinuses, which extend to the brain, the medulla, jaw, everywhere. So the surgeries have to be done at the earliest. Usually, all other surgeries are constructive surgery. But this is destructive surgery where the tissues need to be removed to limit the spread of the mucor. People ended up losing their jaws. Many have undergone multiple surgeries," said Namratha.
Doctors sought support from each other and teachers. Hospitals like Sion tried cultural shows and celebrity interactions to relieve the stress. In some places, anxious family members reached out to doctors.
Also Read: COVID-19: IIT Kanpur student succumbs to black fungus
Seeking help
Fear of contracting the disease or passing it on to a loved one plagued doctors, said Uday K Sinha, professor, department of clinical psychology, Institute of Human Behaviour and Allied Sciences, Delhi. But they were reluctant to seek help with many resorting to self-medication with alcohol, he said.
"Even in the medical fraternity, people are not open about their personal psychological issues," agreed Manoj Kumar, professor, Government Medical College and Hospital (GMCH) Chandigarh. "The stigma is so high when it comes to anything to do with mental health. They seek help from their friends or colleagues but the friends, in turn, call us. It's always an indirect route that is adopted. I have been receiving an uncountable number of calls from different parts of the country."
The interruption to general healthcare also became a stressor. "The basic medical facilities which were running earlier were stopped during COVID in many hospitals," explained Kumar. "Patients who required care for conditions other than COVID could not receive medical aid. Many lost their lives and this too made the doctors
feel distressed."
The shortage of resources, long wait for beds or oxygen and deaths also caused the desperate friends and families of patients to direct their anger at doctors, adding to the pressure on them. Friends and family members contacted psychologists and psychiatrists on their behalf.
"We asked them to adopt different kinds of activities like relaxation training and learn acceptance. Many times situations are like that one cannot make oneself responsible for not being able to manage the scenario. Doctors are always trained in that when they study medicine," said Kumar.
"We ask them to discuss and try out various relaxation methods and then also the process of getting into self-evaluation," said Sinha. "Most of the time we do it without medication, but in some extreme cases, we do prescribe."
Write to us at news@careers360.com.
More From Pritha Roy Choudhury