179 government medical colleges in 6 years: How medical education is growing
179 government medical colleges in 6 years: How medical education is growing
NEET 2021: MBBS seats have increased sharply. From data shared with Parliament, Careers360 has compiled a list of government medical colleges added.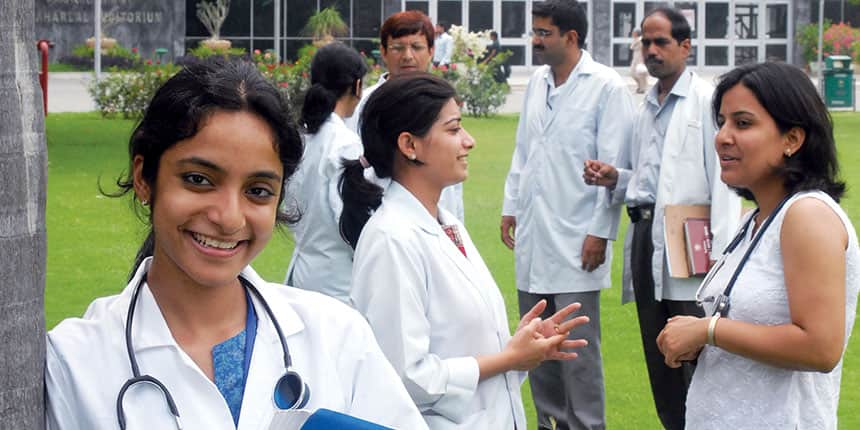 NEW DELHI: One of the largest in the world, India's medical education system produces thousands of medical professionals every year. But the growing requirement of health education infrastructure has prompted the Union government to plan and build more medical colleges. Since the launch of a new scheme in 2014, over 5,000 medical seats have been added.
Recommended: Predict your Rank & Admission Chances in MBBS/BDS Colleges as per your NEET Score. Click Here 
Latest: JSS Academy of Higher Education & Research applications open  Click Here to know more
In 2014, the Union government announced the plan to set up 157 new medical colleges, attaching them to existing district hospitals. The ministry of health and family welfare launched the centrally sponsored scheme 'establishment of new medical colleges attached with existing district or referral hospitals. New colleges were to be set up in three phases. So far, 48 – most from the first lot of 58 – have started operating, adding over 5,000 seats. The rest are at different stages of development. There were 24 colleges in the second phase and another 75 in the third to be set up.
In the last six years, as per government data, the MBBS seats in the country have increased by 56 percent from 54,348 seats in 2014 to 84,649 seats in 2020. Similarly, postgraduate seats have witnessed 80 percent increase from 30,191 in 2014 to 54, 275 seats in 2020. During the same period, 179 new medical colleges have been established. Now there are 558 medical colleges in the country of which 289 are government-run and 269 in the private sector. Admission to all of these is through the single entrance test for MBBS in the country, the National Eligibility cum Entrance Test (NEET). This year's round, NEET 2021, is scheduled for September 12.
Also Read: NEET 2021: Why resident doctors, MBBS interns across the country are protesting over pay
EWS reservation in NEET UG
In 2019, the central government introduced the 10 percent reservation for economically weaker sections (EWS). Accordingly, seats in medical colleges were increased over two years in 2019-20 and 2020-21 to accommodate this additional 10 percent EWS reservation so that the total number of seats available for the unreserved category does not reduce. In another development, the Union government extended the reservation of Other Backward Caste (OBCs) in the All India Quota seats in medical and dental seats from the academic year 2021-22. Around 1,500 OBC students in MBBS and 2,500 in postgraduate courses will benefit through this reservation. This move is expected to benefit more than 550 EWS students for MBBS and around 1000 EWS students for PG medical courses every year.
Also Read: Helped by COVID-19, demand for community medicine after MBBS is rising
The new government medical colleges in India under the central scheme will be set up in districts that do not have either a government or a private medical college. The scheme runs with fund sharing between the central government and state governments in a ratio of 60:40. According to a parliamentary committee on health and family welfare report submitted in 2020, under the scheme of establishing new government medical colleges, an amount of Rs. 2,000 crores were allocated in the budget estimates for 2019-20 which was later increased to Rs. 3087crores.
In addition, the government has also increased the intake capacity at the MBBS level from 150 to 250 to admit more students. From data shared by the health ministry in Parliament this year, Careers360 is tracing the progress of the central plan to augment capacity and medical infrastructure in medical education.
Government medical college scheme: Uttar Pradesh gets most
Under the first phase of the scheme, 58 districts in 20 states and Union Territories were approved for the establishment of medical colleges. Each medical college cost Rs. 189 crores and the Union government paid Rs.7,541 crores for their construction. Government medical colleges in Arunachal Pradesh, Assam, Meghalaya, and Mizoram received 90 percent budgetary support. Collectively these states have 1,200 MBBS seats in 11 government medical colleges. Nagaland has no government or private medical college.
Also Read: Explainer: The controversy over OBC reservation in MBBS
Phase two launched in 2018, the second phase of the scheme involved the construction of 24 new medical colleges in eight states. The total cost of the establishment of one medical college is Rs. 250 crores. The Centre, according to health ministry data, released Rs. 3,150 crores.
In July, the Uttar Pradesh Government announced the inauguration of eight medical colleges at Siddharthnagar district. The government, according to an official statement, has recruited 70 percent of the faculty. Uttar Pradesh, one of the most gravely hit states during the second of COVID-19, has 26 medical colleges with 3,178 MBBS seats.
In 2019, the third phase of the scheme commenced which proposed to build 75 new medical colleges in 18 states at a cost of Rs, 325 crores each. The Centre released Rs. 4,111 crores. Chandrapur Medical College, a state-run institution in Manipur, was inaugurated on June 30. The college will begin its first session in September.
In this phase, 15 medical colleges were approved in Rajasthan alone followed by Uttar Pradesh with 14 medical colleges and Tamil Nadu with 11. Currently, Tamil Nadu has 26 government medical colleges with 3,650 MBBS seats.
Government Medical College: Aspirational districts
According to the parliamentary committee on health and family welfare, some backward districts that required medical seats under government quota were approved in the third phase. As per this plan, preference has been given to these 'aspirational districts' and underserved areas. Government data shows that the construction of these colleges which were approved in 2019 are in various stages of
completion.
The Union government's think-tank, NITI Aayog, is also developing draft guidelines for a "viability gap funding" to attach these medical colleges to existing district hospitals in public-private-partnership mode.
Given below is the complete list of government medical colleges listed by state, phase of the central scheme and state of completion. The ones in green are operational; those in red are yet to start functioning and those in blue are aspirational districts where new colleges are planned.
Write to us at news@careers360.com