Covid-19: Students returning to Kerala may be stuck beyond March 31
Covid-19: Students returning to Kerala may be stuck beyond March 31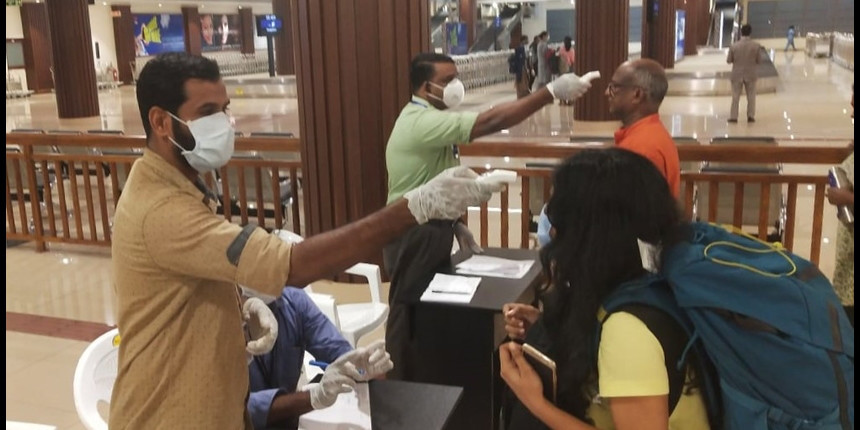 NEW DELHI: Arjun Ramachandran, a mass communication student of Jamia Millia Islamia University in Delhi, reached his hometown Ayyanthole, Kerala, on March 16. His classes were suspended as a preventive measure to control the COVID-19 outbreak.

Ramachandran said that he reported to the nearby Primary Health Centre, as instructed by the health department in Kerala, and was asked to isolate himself.

"I was asked to keep to my room for 28 days. From the last two days, people from other states have been asked to self-quarantine," he said.

On March 13, Jamia, like many other universities, suspended all classes till March 31. Later, on March 15, it asked students to "proceed to their homes" considering the "seriousness of the prevailing circumstances and for their own safety."
So far, most measures to ensure social distancing are in place till the end of March. Ramachandran's quarantine will extend well into April.

With states like Kerala keeping strict tabs on who's moving in and out of the state, students worry they might not be able to make it back to campus in time if classes do resume in April.
Research disrupted
As per the Kerala health department's procedure, those quarantined will be free to leave the place only once they get a certificate from the district hospital saying that the individual has shown no symptoms during this period.
"I may not be able to reach back by April 1, that is a bit of a concern. I can only travel back if and when I get the certificate from the health department," explained Ramachandran. "A lot of my production is pending. The faculty is taking online classes as if everything will be back to normal by April 1."
Jaya Thampi, a research scholar in Central University of Gujarat (CUG) was also asked to self-quarantine for 28 days. CUG suspended all semester exams and extended the winter break, but the course work for research scholars such as Thampi is expected to continue off-campus.
But quarantine has grounded Thampi, freezing her research work. "I can't move anywhere. I have to go to Archives, libraries, and interviewing people but all of that won't happen till this is resolved. I also have to be sensitive to other people's emotions at a time like this," said Thampi. "The teachers are asking us to take care of our health. No new assignments haven't started. People are still figuring this out as such a situation has never happened before."
Uncertainty and expensive flights
On March 19, when he contacted the district hospital, Ramachandran was only asked to self-quarantine for 14 days. There haven't been many reported cases of infections among people travelling from Delhi, he was told.
But even then, Ramachandran had his reservations about going back. "I don't live in the hostel. So the question is on what basis do I go back? Who will assure my safety?" he asked.

Many students share his reservation of moving within the country. "A lot of my friends have still not left for home. They are still uncertain about whether to go home or not because they don't know if it is safe. Also, not everyone can afford flights to home," said Thampi.
Meanwhile Institutes like the Manipal Academy of HIgher Education (MAHE) have closed down and given extended vacations to students. "We received an email on March 17 saying that the institute will only reopen in June," said Likhita AR, a postgraduate student in fashion management at MAHE who was asked to self-quarantine for 14 days.

Most students are faced with a dilemma. While universities urged them to go home, they fear being stuck at home in isolation. At the same time, they are unsure about returning.
Also read:
Coronavirus: Reschedule all university exams and evaluation, says UGC
https://news.careers360.com/coronavirus-covid-19-outbreak-latest-updates
Write to us at news@careers360.com.
Stay updated with latest Education News