'Devastating loss': COVID-19 claims CURAJ's head of linguistics
Coronavirus: Hemanga Dutta studied at JNU, MIT and taught at EFLU Hyderabad and Central University of Rajasthan. Popular with students, he also wrote poetry.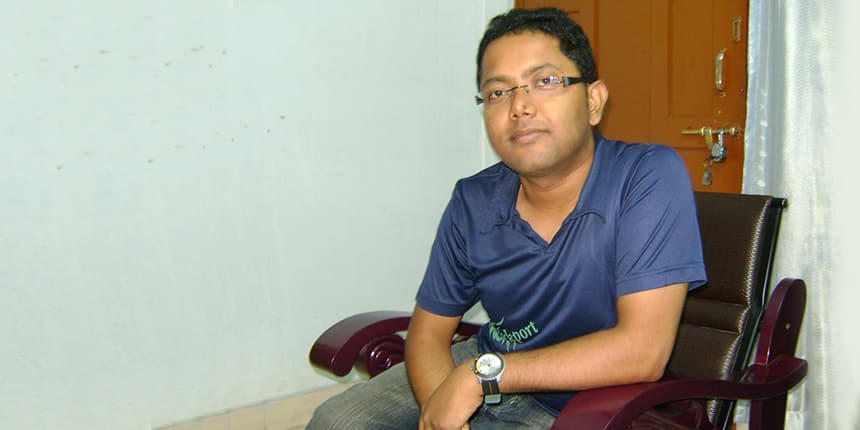 COVID-19 has claimed the lives of hundreds of educators across the country. In a new series, Careers360 tells the stories of some of them and the communities they left behind.
Recommended :
Get important details about Central University of Rajasthan, Ajmer.
Download Brochure
NEW DELHI: Students and colleagues in every educational institution Hemanga Dutta, 39, was a part of are lamenting the vacuum he left behind in linguistic studies.
Dutta, who was recently appointed head of the linguistics department at Central University of Rajasthan (CURAJ), passed away on Sunday, May 16, after a month-long battle with coronavirus.
Since the news of his demise came out, several scholars who studied with him, former colleagues and teachers at CURAJ, have expressed their shock and grief at his untimely death on social media.
Despite the limited in-person interactions due to the COVID-19 lockdown, colleagues at CURAJ fondly remember his innocence and his dedication towards students.
"I am a senior teacher and he is younger than me but I never felt the hierarchy between us. I never knew him before he joined the department in October last year but we had heart-to-heart conversations like long-lost friends," said Dhanapati Shougrakpam, a teacher at the linguistics department.
An alumnus of Cotton University, Jawaharlal Nehru University (JNU), and Massachusetts Institute of Technology (MIT), Boston, Dutta managed to charm students and teachers alike. His death amid the raging COVID-19 pandemic has come as a shock to many.
Hoped for recovery
On April 18, Dutta was admitted to a super-specialty hospital in Jaipur, Rajasthan. After responding well to the treatment, colleagues at CURAJ were expecting him to recover. On April 30, family and friends circulated a call requesting blood plasma.
"Fortunately he received plasma therapy and injections of Remdesivir. I spoke to his father all throughout his treatment. It looked like he would recover. His oxygen level had improved to 95 with oxygen support. We were hoping to see him again but three days ago he started complaining of discomfort and he was put on a ventilator," said Ved Prakash, a teacher at the English department, CURAJ. Due to excessive lung damage, Dutta could not be saved.
"I heard about his condition but we never anticipated that it could get this bad. I cannot believe he has passed away. I am still hoping this is not true and he will return to teach his class," said Shougrakpam.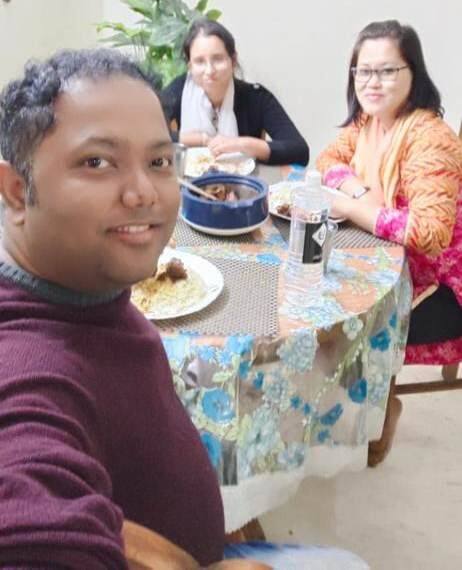 Dutta with his colleagues at CURAJ
Dutta is survived by his parents and a sister living in Guwahati, Assam.
'Could not exist without students'
Former colleagues at the English and Foreign Languages University (EFLU) Hyderabad also vouch for his commitment and dedication to students. Dutta taught in linguistics and contemporary English department at EFLU for ten years.
"It was as if he could not exist without his students. He was so close with all of them and went out of his way to help his students," said Chinnadevi Singadi, a teacher at the school of literary studies.
"We rarely see students keep in touch once they graduate but his students in India and many foreign students were regularly in touch with him which speaks so much about his equation with the students," Singadi added. EFLU will be conducting a condolence meeting for Dutta on Monday evening.
A close friend and a teacher at Delhi University's linguistics department, Violina Borah recalls his commitment to languages and his efforts to instill confidence among students.
"He was a very involved teacher. While pursuing his PhD at JNU, he taught students at the linguistic cell and students from that period are also devastated by his demise. A lot of people do not have any idea about linguistics as a subject because it is not very popular nor is it taught at the school level. He inspired so many students to understand the critical nuances of linguistics and stoked their interest in the subject," said Borah.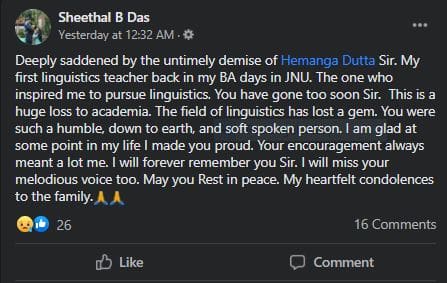 JNU runs a language empowerment cell for the students who come from remote areas of the country, with little or no exposure to English language. "Even in CURAJ, several students from rural areas instantly developed a strong bond with him in a short period of time, even without meeting him in person," she added.
Love for music and poetry
Apart from his academic work, Dutta was also widely known for his love for singing and poetry.
"Us teachers are so caught up in life with classes, reading, etc that we hardly get time to do anything. He, on the other hand, made time for everything. He sang songs in Bangla and Assamese. Wrote poetry in Assamese," recalled Singadi.
"He often shared his music with us and sang for us several times in get-togethers and even sent his recordings and uploaded it online for others to listen. He was a happy soul," shared Prakash.
Dutta's absence, according to his colleagues, has left a remarkable dent in linguistics education. The deadly second wave of coronavirus has claimed the lives of several teachers in schools, colleges, universities across the country.
"It is disheartening that we are losing so many scholars, teachers, and authors. If this goes on we will lose a whole generation of intellectuals. Dutta is one such gem. It is a devastating loss for academia," said Singadi. Paying tribute to Dutta, Singadi penned a couplet dedicated to him.
All the books you loved and lived
Still lie here the way you left them last
But the pages fly and flutter no more
And the words stand muted forever.
Read more:
Write to us at news@careers360.com
Know More About
Rating
4.4/5
Download Brochure