Engineering student's innovation helps sari weavers change designs often, at low cost
This BTech in mechatronics student-developed technology to replace expensive punch cards with digital images in jacquard machines.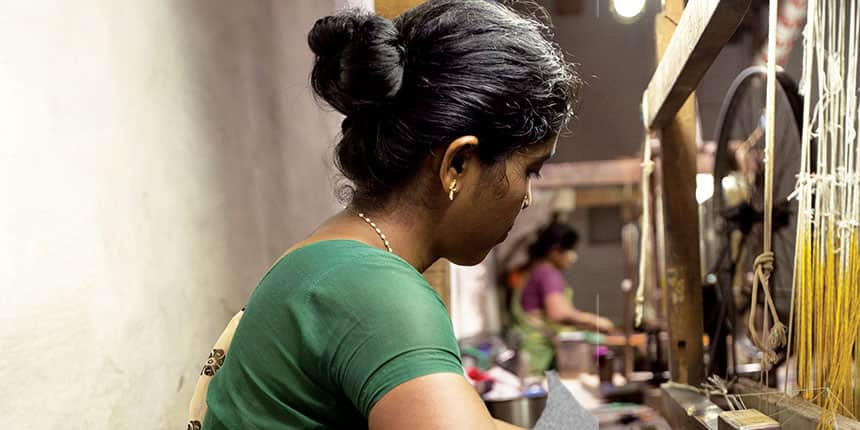 NEW DELHI: In January 2020, engineering student S Nishant and his senior, Pranesh, were chatting over coffee, when their conversation took an unusual turn – to saris. More specifically, their designs and how rarely patterns change, even in the machine-rendered designs in Kanchipuram, Banarasi, ikat and similarly complex weaves.
Recommended :
Get important details about Sona College of Technology, Salem.
Download Brochure
Pranesh pointed out that the punch cards used to create patterns on jacquard looms are expensive to produce, driving costs up for the weaver and deterring changes in patterns. This struck Nishant, then in third year of BTech in mechatronics at Sona College of Technology in Salem, Tamil Nadu, and he decided to address the problem with a tech solution. He started working on new technology to make the process more cost-effective.
In the original jacquard loom, the pattern is inscribed on a series of hundreds of punch cards where each card determines the pattern for a specific part of the cloth, usually a sari or dhoti. The placement of the holes in the card determines which threads are allowed to pass through to be woven into the pattern in that line. It is used in both handlooms and in power-looms. The process of creating a design, involving drafting on graph paper and then punching holes in cards, is laborious and expensive, resulting in fewer patterns and their repetition, Nishant learnt.
Also Read | Computer science engineering is getting a new curriculum; here's what changes
His "Novatex machine" is an electric cylinder bearing digital images that can be attached to a jacquard machine, replacing the long chains of punch cards. The company, Novatex Technology Private Limited, is presently being incubated at Indian Institute of Technology Madras as part of a collaboration between Sona College of Technology and IIT Madras.
Nishant, along with his classmates Anand A and Sarvesh SV, visited the weavers' community in Salem, to get first-hand information on the problems they face.
Answer in digital printing
Nishant had joined a computer science course in Class 10 and in Class 12, built a tik-tac-toe game. That year, he started browsing for engineering colleges offering programmes in mechatronics. He was attracted to it because mechatronics is inherently interdisciplinary, combining the study of a range of subjects including, robotics, electronics, computer science, telecommunications, systems, control, and product engineering.
For the punch-card problem, Nishant knew digital printing was the answer. The lockdown imposed in the country in March 2020 to control the spread of the coronavirus worked in his favour. He utilised the time working on different algorithms.
Also Read | 'IT-fying' mechanical engineering': IIT Bombay professor on BTech curriculum revisions
Till now, weavers across the country have to shell out huge amounts of money to prepare patterns or designs on punch cards. "To create a design, the weavers use punch cards in which patterns are made by punching holes in stiff paper cards separately," Nishant told Careers360. For each pattern on a sari, the weaver needs an average of 2,000 punch cards with each costing Rs 4. The cost for designing alone is about Rs. 8,000 and much more for more complex designs.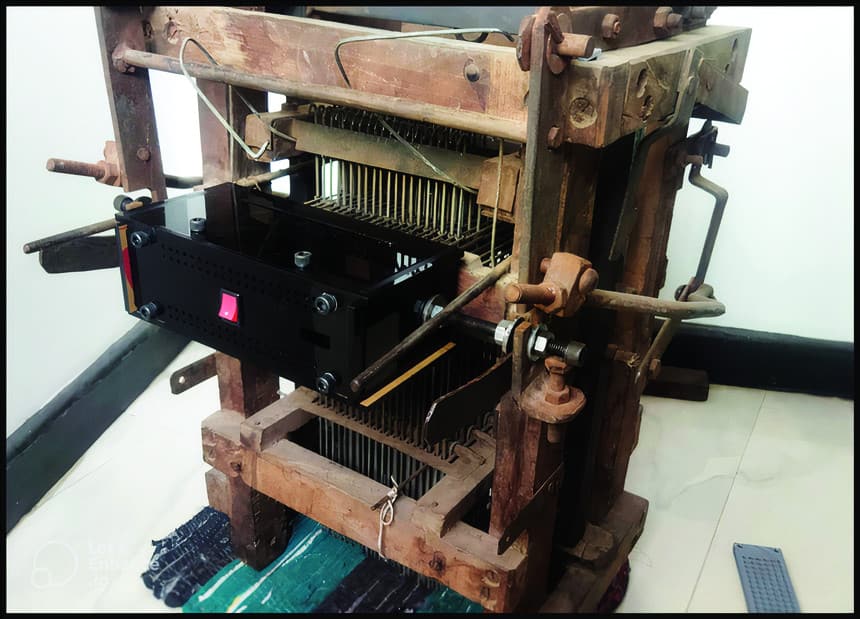 Novatex machine
He came up with the idea of an attachment – an electric cylinder attached to the jacquard loom – which will allow the weaver to digitally design a pattern and use that for guiding the movement of threads and weaving. The attachment will have a slot for a memory card. Hand-drawn patterns or designs can be converted into digital images which can then be uploaded in the memory card and fed into the attachment. Interestingly, the jacquard loom shares an almost umbilical connection with computer sciences. The punch-card-fed loom inspired the earliest computers designed by Charles Babbage.
Also Read | Sci-Hub & Open Sources: Faizuddin Ahmed joined Stanford's list of top scientists while teaching in school
Nishant's attachment required money for development and that came almost entirely from a host of prizes he had won. Later, Sarvesh became an investor and Anand helped with marketing.
Serial prize-winner
First, Nishant spent the Rs.1.5 lakh he won from two prizes – Rs.1 lakh won in the Tamil Nadu Student Innovator Contest in 2020 and Rs.50,000 for pitching an idea for 'Power-on-Me', an initiative of Sona College's entrepreneurship development cell.
Nishant next met the head of the entrepreneurship development cell and business incubation centre at his college for funding. He applied for a grant of Rs.3 lakh. After several stages of evaluation, the grant was sanctioned to develop the prototype into a product.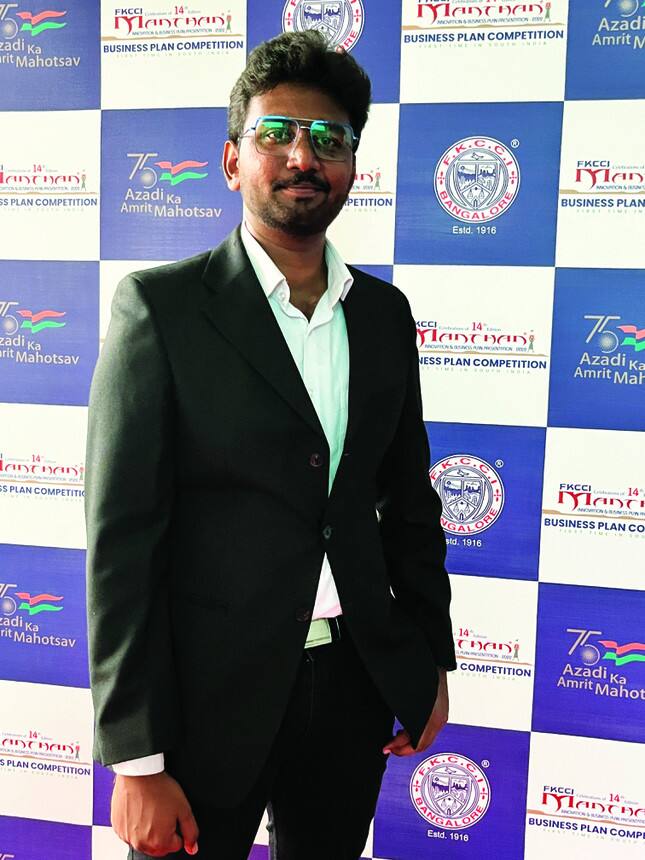 S Nishant
Also Read| IIM Calcutta's northeast entrepreneurship programme is focussing on students
Finally, two years later in 2022, when he was in his final year, he had a product ready – an attachment for the mechanical jacquard cylinders in a loom. The product will be used for feeding new designs digitally into the jacquard machines and they will be fitted with the cylinders in looms for manufacturing textiles.
"Punch cards are used for weaving different patterns in textiles which includes saris mostly. People are making moderate designs and they are spending around Rs.10,000 on punch cards alone. If one needs a sample of five to six saris of a particular design, it turns out to be very costly," explained Nishant.
The product
Nishant's attachment can be fitted in power-looms and enables a new pattern every time any new textile material – usually a sari – is woven on it. The ability of the machine to cater to the demand for customised design will further add to the demand for the machine, said Anand.
Also Read | Engineering for Medicine: IITs focus on medtech in pandemic side-effect
Looms come in two varieties -- handloom and power-loom. The latter requires an electricity connection and the attachment is mainly for the power-loom. The electric cylinder can be attached to a handloom as well – it can run on a domestic power connection and guide the movement of threads. In fact, it is easier to correct errors in the pattern on this than on the long chains of punch cards.
"This innovation will find application in the textile industry and will benefit the fashion designers as well as the small weaver in producing more designs at lower cost," said Chocko Valliappa, vice chairman, Sona Group of Institutions.
The cost
The attachment alone costs Rs.60,000. If a weaver has to buy new jacquard loom with the attachment, the total cost will be Rs.1 lakh. Initially, only mechanical jacquards were used and one came at Rs. 40,000-50,000; now electrical jacquard is also available in the market.
"If anyone is interested in buying the combination of the electrical jacquard and the attachment, we can provide that at a minimum cost of Rs. 1.5 lakh as the price of the electrical jacquard is at least one lakh," said Nishant.
Also Read | '21st century is for biology': Why many engineers build careers in life sciences
The product which is being incubated is expected to hit the market by September 2023 said Nishant, adding he is particularly possessive about saving the traditional designs in traditional attires like a sari. The product will be sold in Tamil Nadu first and later in other states.
---
Follow us for the latest education news on colleges and universities, admission, courses, exams, schools, research, NEP and education policies and more..
To get in touch, write to us at news@careers360.com.
Know More About
NIRF Rank
192
Rating
3.6/5
Download Brochure