'Gujarat Model': Anger at college harassing students over menstruation
'Gujarat Model': Anger at college harassing students over menstruation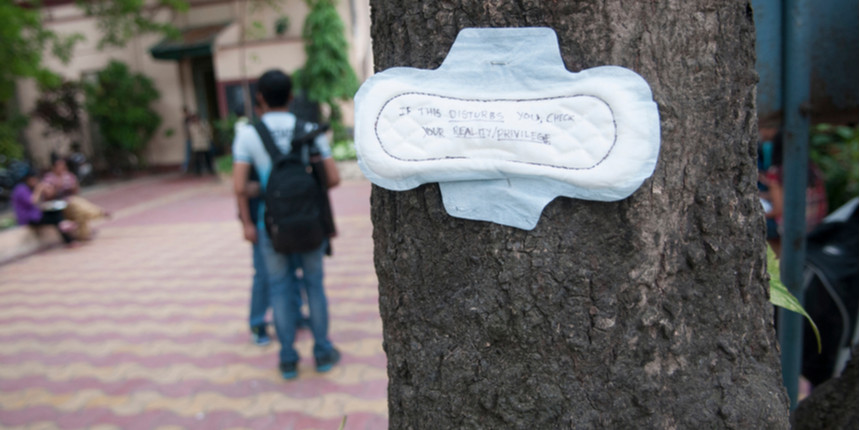 NEW DELHI: In what was sure to have been a humiliating experience, 68 undergraduate students in a college in Gujarat were asked to strip their undergarments to prove that they were not menstruating.
According to the Ahmedabad Mirror, the women are residents of the hostel of Shri Sahajanand Girls' Institute (SSGI) in Bhuj, Gujarat, and were allegedly paraded to the hostel washrooms and forced to remove their undergarments. It was done after the hostel rector complained to the principal that the "religious norms" followed in the institute are being violated.
The institute's mission reads "self-development and empowerment of girls through modern, scientific, and value-based education" but menstruating women are not allowed to enter the kitchen or touch fellow residents as per the hostel rules, the Ahmedabad Mirror reported. The hostel has a boarding facility for 68 girls who belong to remote villages, the report further added.
The hostel is run by the Swaminarayan Mandir in Bhuj and on the premises of Swaminarayan Kanya Mandir. The matter has not been reported to the police so far.
Later, the dean of the institute, Darshana Dholakia told Asian News International that the incident has nothing to do with the institute. "Everything happened with girls' permission, nobody was forced for it. Nobody touched them," she said. An inquiry team has been formed to look into the matter, she informed the media.
The news has invited strong reactions on social media, including from several politicians. Several tweeted "Gujarat model", using a term associated with Prime Minister Narendra Modi and the BJP rule in Gujarat, but ironically. Before becoming the PM, Modi was Gujarat's chief minister. Others sought to educate those on social media about menstruation. The rest were simply angry.
😡😡😡
When the Entitlement of a group curshes the rights of individuals
68 girls in Bhuj college forced to remove undies, prove they
weren't menstruating

https://t.co/BwCiiosugV

— Harini Calamur (@Calamur@mastodon.social) (@calamur) February 14, 2020
And We have just hit a new low.https://t.co/fNTilzTIcc

— Aryan Srivastava (@aryansrivastav_) February 14, 2020
All India Mahila Congress called the incident "biggest injustice to the cause of gender equality."
Demeaning and despising menstruating girls in the name of purity is the biggest injustice to the cause of gender equality

68 undergraduate girls were Paraded into restroom and forced to remove undergarments to prove they were not menstruatinghttps://t.co/tw4FPqQzhP

— All India Mahila Congress (@MahilaCongress) February 14, 2020
Absolutely disgusting, horrifying! Brahminical patriarchy & the notion of menstruating women as "impure" goes a long way, we saw it with backlash to Sabarimala. And now this is mass sexual assault! Will @vijayrupanibjp @BJP4Gujarat take action? Shameful. https://t.co/B2BzBPg6px

— Jignesh Mevani (@jigneshmevani80) February 14, 2020

All the religions are antiscience which reject science and the scientific thinking!
68 girls in Bhuj college founded by follower of Swaminarayan sect forced to remove undies, prove they weren't menstruating. https://t.co/lJEZXrlSMf

— Nirjhari Sinha (@NirjhariSinha) February 14, 2020
Imparting Menstrual Education
While some were angry, others tried against to disseminate scientific information about menstruation by posting links to handbooks and factsheets on the subject. They urged college authorities to look beyond religion and conservative dogma and accept the "normal physiological process.
It is the 21st century and menstruation is still considered as a taboo in our Indian society. Unipads strongly condemns the incident that took place in a college that imparts education, where 68 girls had to go through the disgraceful trauma.

1/2 pic.twitter.com/sDG5caYJAB

— Unipads (@unipads_india) February 14, 2020
I am a woman. Every month my uterus sheds its lining and helps my body create eggs to give birth to these very people who shame me because I menstruate
My menstruation ensures that human rsurvives
Shame, if you humiliate me cos of this.@ranjona @rupagulab @tejujoshi31 @yadsul https://t.co/FbQyK6Oltu

— Mini Nair (@minicnair) February 14, 2020

Will take a lot to change perception around menstruation, a normal physiological process. These girls will grow up with the same misconceptions, just like the principal and rector would have.

A nice book though it may not address the religious anglehttps://t.co/2wcjWUMwbo

— Dr. Kailashnath Koppikar (@koppik) February 14, 2020
Clarification: This copy has been updated to include more recent media reports.
Write to us at news@careers360.com
Stay updated with latest Education News
More From Team Careers360