IIT Delhi, NALSAR Hyderabad, Tezpur University pioneer gender-neutral spaces on campuses
A handful of Indian educational institutions, including IIT Delhi, NALSAR Hyderabad, are among the first to have gender-neutral toilets and spaces.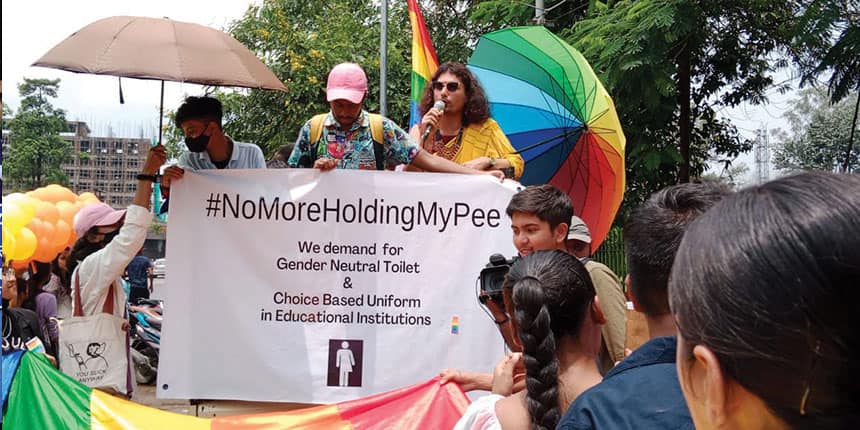 NEW DELHI: In January 2023, the Indian Institute of Technology Delhi inaugurated its first gender-neutral washroom. It was done at the initiative of a lesbian, gay, bisexual, transgender, queer, intersex, asexual (LGBTQIA+) collective named Indradhanu and Office of Diversity and Inclusion at IIT Delhi. Vaivab Das, the IIT Delhi research scholar and member of the collective, said he was prompted by his own experience as a non-binary person on campus.
"In 2020, when I entered the institute, I couldn't access the washroom considering my gender identity. There were no redressal mechanisms or groups for LGBTQIA+ people on campus. Through the collective, we started identifying the policy gaps to ensure an inclusive campus for its diverse population of students and professors," they said. IIT Delhi has 14 gender-neutral washrooms on campus now.
Although their number is still miniscule, Indian institutions of higher education, public and private, have begun embracing the idea of gender-neutral spaces on campus. Das explained that there is a lack of institutional mechanisms and policies for higher educational institutes, in both private and public universities, to address the needs of the LGBTQIA+ community.
Also Read| Not 'too young to understand': School LGBTQIA+ support groups usher change
Hostels and toilets
In co-education institutions, student residences and washrooms are usually the only spaces with gender segregation.
Earlier, in June 2022, Tezpur University in Assam, a central institution, also opened three gender-neutral washrooms. There, the conversation was started by a queer rights activist, Rituparna Neog, based in Guwahati, Assam. Neog, a transgender non-binary person, visited the university for a session in 2022 and was compelled to use a men's washroom. While the humanities department was already discussing having gender-neutral toilets, her presence on campus pushed it further. Subsequently, a transwoman student was placed in a men's hostel. This led the university's humanities and social work department to recognise the problem and build safe spaces for all genders, including gender-neutral housing.
NALSAR University of Law in Hyderabad, Telangana, introduced gender-neutral washrooms and spaces on their campus in March 2022, becoming the first institution to do so. In January 2023, Whistling Woods International, a private film, communications and arts institute in Film City, Mumbai, also opened a gender-neutral washroom.
Also Read| NALSAR University of Law opens gender-neutral space for LGBTQ+ students
'Symbolic' spaces
"Gender-neutral washrooms are not just toilets. They are symbolic spaces that depict that the university is open to people from all genders, thus making an effort to provide a safe space for people across genders," said Namami Sharma, professor, Tezpur University.
Similarly, Das added that non-confirming genders or trans people face dysphoria while accessing binary washrooms. "Generally all washrooms are differentiated based on the binary of male and female, and people from non-conforming genders, like transgender people, don't feel comfortable using them."
Sharma explained that when a non-binary person enters a general washroom and sees other people claiming that space, it makes the non-binary person feel that they don't belong. "However, gender-neutral spaces and washrooms give them the freedom to claim it rightfully. She added that these spaces have different signage that goes beyond the two genders.
Also Read| NCERT drafts new module for transgender children, proposes gender-neutral uniform
Student collectives, campaigns
During Neog's college days in 2015, Tata Institute of Social Sciences (TISS) Guwahati had a common washroom for male and female students in 2015 but despite that, she found using it challenging. "It was difficult for me to access the whole infrastructure of the institute," she added. However, as a grassroots social worker, she met many who were forced to wait for hours until they could find a safe space to relieve themselves. "As an activist, I started visiting universities to spread awareness on gender-neutral spaces in the North East," she said. Neog also started a campaign to make educational spaces gender-neutral in Assam in June 2022 during the Dibrugarh Pride March.
Many universities in tier-two and three towns have started their gender champion collective groups which have now become a movement, she added.
Similarly, Indradhanu, which came into existence as an informal group in 2013 and was formally recognised in 2021, is on a similar mission. "We are engaging with the students where we discuss empathy as a holistic practice and assist the administration to take care of the diverse needs of the marginalised students on campus," Das said. The student collective also participated in the pan IIT petitioner's group that challenged the constitutional validity of Indian Penal Code 377.
Also Read| 64 percent LGBTQ+ students in Indian colleges face discrimination: Study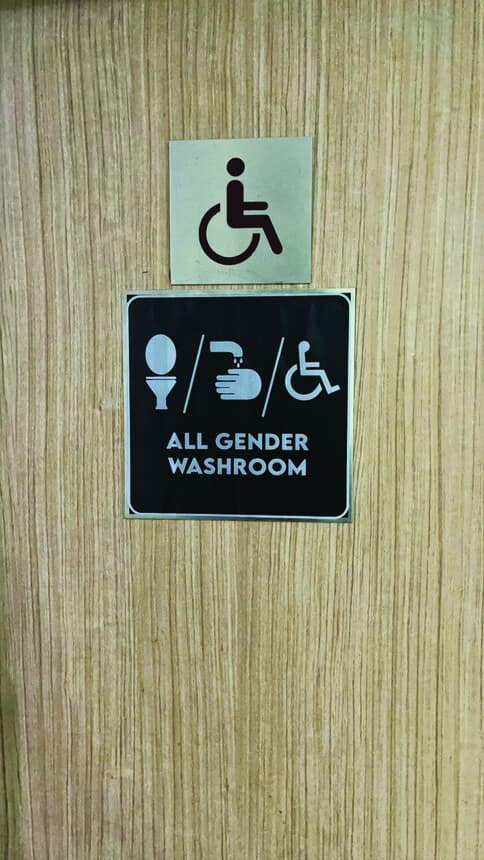 Gender-neutral washroom at IIT Delhi
In law schools
Vaibhav Gaur, a fifth-year law student at Ram Manohar Lohiya National Law University [RMLNLU], Lucknow, Uttar Pradesh also started a gender champion student collective in 2020. There was little discussion on the subject of gender inclusivity earlier but after the collective organised students, the administration is more responsive.
NALSAR's step towards gender inclusivity has inspired all the law universities. "This is a huge step towards accepting other genders and has initiated the discussion at a big level," added Gaur.
But a major hiccup is the lack of awareness among policymakers. "While higher education institutions have gender sensitisation sessions under Saksham guidelines issued by University Grants Commission for women's safety, the same policy cannot fit into diverse groups who also exist on the campus," stated Das.
Also Read | Interview: Why NMC must make MBBS textbooks queer-friendly
Lip service, dignity
The National Assessment and Accreditation Council (NAAC), which grades institutions, has "gender sensitive quality indicators" but this is "more of a lip service", said a professor from a private university in Andhra Pradesh who didn't want to be named.
She also added that there are many universities that don't even allow gender sensitisation sessions in the universities. "So imagine if they are not even considering this, discussing LGBTQI is far-fetched," she added.
Das thinks that this is the reason for the lack of awareness. "Even in the education system there are a lot of gender stereotypes, gender notions and segregation which impacts students passively," they added. In consequence, students hesitate to engage in these discussions critically, accepting whatever is taught in the name of academic discipline and rigour. "In this way, many students easily compromise their right to life with dignity, which is a basic fundamental right," he added.
The new National Education Policy includes transgender people among the "socio-economically disadvantaged groups", recommends a gender inclusion fund and support for them.
However, Das questioned the relevance of such recommendations. "For instance, if any trans person is given any special consideration, what is the significance if the institute, including faculty, staff or students do not have a basic understanding of issues a trans person faces in the institute? Many universities have no level of gender sensitisation to engage with transgender peers," he added.
Also Read | Being non-binary at work
Planning and policy
Sharma believes having more humanities and social science departments would have helped. "Because we are in the humanities department, we could discuss gender inclusivity. But in many departments, such as engineering and sciences, where gender is not even a part of the curriculum, it gets difficult to spread awareness," said Sharma.
For Das, there is a glaring systematic loophole as UGC and All India Council of Technical Education (AICTE) issue many circulars to ensure student protection in the universities with a vague mention of LGBTQIA+ persons. "These circulars do not have much related to bullying of LGBTQIA+ persons or transphobia and homophobia. Further, there is no institutional mechanism for private or public colleges or universities to address these problems," said Das. He added that supporting the LGBTQIA+ community in universities is more of a promise or principle that has never been fulfilled in practice or through policy mechanisms.
In 2015 the ministry of women and child development issued a circular asking universities to set up "gender champion" in their colleges and universities. "Gender champion clubs are essential to spread awareness because it's not just about giving facilities but also to keep the conversation alive around inclusion in the campus," said Neog.
Also Read | Tulsi-worship, rote-learning, Hanuman's food habits: What Karnataka's NEP 2020 position papers say
Also, India has the Transgender Persons (Protection of Rights) Act, 2019 but nothing from the act has been translated into any university guideline. "For now, there is no institutional mechanism to identify, address and understand and redress the complaints around identity-based discriminations against LGBTQIA persons," added Das. "At the planning level, many diversity and inclusion policies fail because the ones who are writing these policies do not have a situated understanding of what it means to be a trans or a queer person in society and what kind of barriers people face in an educational institution."
---
Follow us for the latest education news on colleges and universities, admission, courses, exams, schools, research, NEP and education policies and more..
To get in touch, write to us at news@careers360.com.
Know More About
NIRF Rank
4
Rating
4.7/5
Download Brochure