India must invest more in science: CNR Rao
India must invest more in science: CNR Rao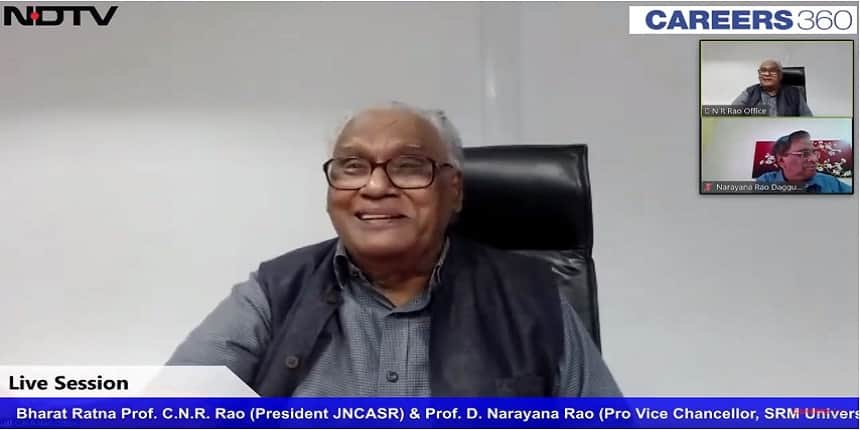 NEW DELHI: If India has to become a world leader, it should invest in science, said renowned scientist, CNR Rao, in a conversation with Careers360 on Friday. Rao said there is very tough competition in the area of science, with countries like Japan, Korea investing heavily in science.
Rao said: "India should be a place where it should receive ideas, ideas of young people."
Talking about the importance of giving early exposure to science to young children Rao said that scientists need to go to schools in rural areas to interact with children. "We have to improve the teaching of science at the school level. We have to directly reach young people. Scientists talking about science is very important. I would say that children in rural areas are more interested in science compared to children in urban areas," said Rao.
Parental pressure
While answering a question on parents burdening their children and pressurising them to follow a certain career path, Rao said that parents should let children do whatever they want to do, not force them into something they want the child to get into.
Rao encouraging children to chase their dreams said that they should decide at the young age what they want to do and then never give up. He also gave an example of some Indians who followed their dreams like Mahatma Gandhi from early childhood.
Rao talking about people who failed multiple times in their life but in the end succeeded, gave several examples of people who were ultimately successful such as JC Bose. "Sir CV Raman was never working a scientist anywhere, he became assistant accountant genera of the British Government at the young age of 18 and later became a professor at Indian Institute of Science and other institutions and went on to win the Nobel Prize. So you should just pursue your dreams," said Rao.
Also read:
Write to us at news@careers360.com.
More From Team Careers360