Indian School of Public Policy hosts workshop on 'Design Interventions in Public Policy'
Indian School of Public Policy hosts workshop on 'Design Interventions in Public Policy'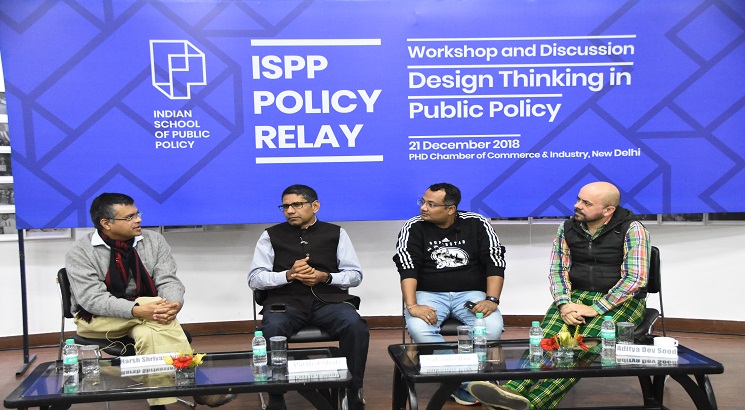 NEW DELHI, DECEMBER 21: The Indian School of Public Policy (ISPP), an upcoming school founded by eminent leaders and philanthropists that aims to prepare policy professionals of the future, today hosted its first workshop on 'Design Interventions in Public Policy' at the PHD Chamber of Commerce and Industry, New Delhi. Designed and conceptualised for public policy students, future policy leaders and working professionals, the event was flagged off with opening remarks from Dr. Parth J Shah, Member of the Governing Council, ISPP, and was followed by a workshop which was facilitated by Mr. Sukanto Roy, a leading design strategist.
Following the workshop, industry thought leaders got together for a panel discussion on 'Design Thinking in Public Policy'. The panellists included Mr. Harsh Srivastava, CEO, Microfinance Institutions Network; Mr. Sukanto Roy, UX Designer at Ericsson Global India Services; and Dr. Aditya Dev Sood, Serial social entrepreneur. The discussion, chaired by Dr. Parth J Shah, focused on the relevance and implications of design thinking in formulation of public policies; and application of design thinking in framing sound public policies.
Speaking at the event, Dr. Parth J Shah, Member of the Governing Council, ISPP, said, "While policy development is a design activity, we rarely speak about it. Thus, our objective with this session was to help students and young leaders identify new approaches to understand policy problems, developing solutions and improve decision making. After today's session, we are confident that ISPP will incorporate the principles of design thinking throughout the course that will assist students to come up with different approaches and investigative techniques to solve context specific problems. We are delighted with the success and interest that we witnessed today amongst the participants and look forward to conduct similar thought-provoking sessions in the future."
According to Dr. Aditya Dev Sood, Founder, Vihara Innovation Network, "The idea of design thinking should not be confined to senior officials only. The frontline workers are equally responsible for setting up the foundation of policies. Hence, it is crucial for them to understand the application of design thinking into our day-to-day work."
The event hosted by Indian School of Public policy, was attended by 50+participants. Launched in October 2018, the upcoming school has recently announced its call for admissions for its founding class. It will commence its inaugural academic session in August 2019.
Stay updated with latest Education News