Why Samagra Shiksha Kerala designed school texts for a single Western Ghats tribe
Why Samagra Shiksha Kerala designed school texts for a single Western Ghats tribe
Samagra Shiksha Abhiyan: Kerala's challenge is to teach the Muthuvans, a Western Ghats tribe that doesn't speak Malayalam and has no written culture.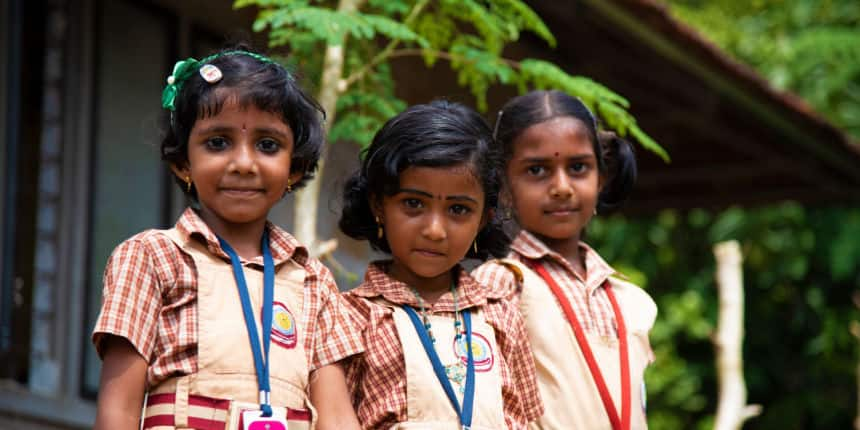 NEW DELHI: As part of a workshop, education officials from Samagra Shiksha Kerala (SSK) gave students in Idukki district sheets of paper to draw small circles on. When a Class 1 student attempted this, his circle was so clumsy it had spilled out of the sheet.
The student belonged to the Muthuvan community, an isolated tribal community residing deep in the forests of the Western Ghats. Here, they only speak the Muthuvan language, unintelligible to the rest of Kerala. This language has no script.
This is part of the reason why the student could not draw the circle – unused to writing, he lacked the motor skills and coordination required. Facing another major barrier, Muthuvan children rarely finish school.
All classes in the lower primary school at Edamalakudy, set up for Muthuvan children, are taught in a foreign tongue – Malayalam.
"A student coming to school will speak Muthuvan only. A small kid coming to Class 1 will feel lost because the classes are taught in Malayalam. That is where the learning gap starts," said CA Shameer, a school teacher at the Government Tribal Lower Primary School at Edamalakudy.
Also Read| How a '10th pass' government employee gave his language a script, won the Padma Shri

The Right to Education Act (RTE) and more recently, the National Education Policy (NEP), mandate teaching in the mother tongue in the lower classes. In most cases, this has meant schooling in the dominant language of the state – Malayalam in Kerala. But given India's great diversity, this approach often excludes hundreds of small communities that don't speak the state's main language. This historical exclusion also means there are few – if any -- teachers who speak their languages or can teach in them.
In 2018, textbooks in the Muthuvan language written in Malayalam script were produced and distributed at the Edamalakudy school. However, officials soon discovered the language in the textbook was different from what the Muthuvan community in Edamalakudy spoke and the project was abandoned.
This time, the SSK is trying to teach the children Malayalam. The SSK has started 'Padippurasi' (Taste of learning) a month-and-a-half-long workshop to teach Malayalam to Muthuvan children. The first workshop was held in September. The SSK team is currently preparing modules to teach mathematics by March. For the SSK staff, it involves designing learning cards and bridge texts and learning the Muthuvan language.
Samagra Shiksha Kerala: Padippurasi project
The SSK officials said they were inspired by an old Muthuvan woman. "At Edamalakudy, an old woman told us that she had studied till Class 3 and her grandchild is currently studying in Class 1. She requested us to ensure that her studies continued. The idea of Padippurasi began from that interaction," said Bindumol D, district project officer of SSK Idukki.
Also Read| Mid-day meal workers in UP unpaid for months, funds delayed

Through Padippurasi, activity-based modules are prepared to familiarise students with each letter of the Malayalam alphabet. "We start with real-object experience, then to pictures of those objects and then to words that denote these objects. We choose examples specific to their cultures and teach in a way that they feel pride in their culture. We don't teach more than two pages a day because keeping the confidence of the students is important," said TP Kaladharan, educational consultant for SSK.
"This is a small population of people. It's not just them, there are many such tribal folks in Wayanad who speak their own languages. It's not possible to make textbooks for every tribe, so we started this bridging workshop," said an SSK official, who wished to remain anonymous.
On Edamalakudy
Edamalakudy is the name of 26 'kudis' or hamlets set deep inside the forests. Due to the terrain, abundance of wildlife, and torrential rains during monsoons, the community remained isolated. This, along with the language difference, ensured it was cut off from the rest of Kerala.
In 2011, government official KP Subhash Chandran published Edamalakudy, a book recording the lives of the people of Edamalakudy. The book states that the first schools in the area came up only in the 1960s but were abandoned because teachers found it difficult to reach the school safely – a problem which persists to this day.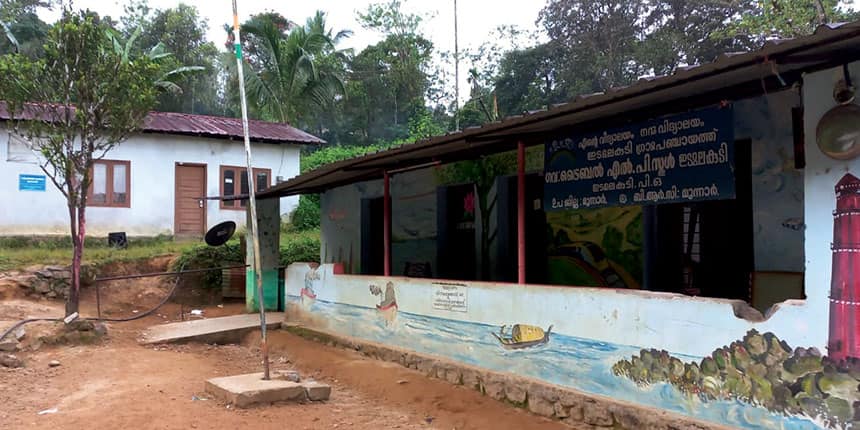 The Kerala Tribal Lower Primary School, Edmalakudy, does not have any staff quarters. (courtest: CA Shameer)
Another school was founded in the 1970s at a different location, which was later absorbed by the government. For the Muthuvan children, the only option was the residential school in Munnar 40 km away, but it wasn't a feasible one.
"They need to spend Rs. 6,000 to reach the school, another Rs. 6,000 to go home for holidays, and then again to come back to Munnar. No one in Edamalakudy has this kind of money," said T Kaladharan.
Adjusting to hostel life has also been a challenge. "The teachers there scold them which these students do not like. They have lived with more freedom than most children. They can earn money just by collecting timber," said Kaladharan. "The teachers also stereotype the students saying that they do not want to study and even if they study they will forget. All baseless assumptions. It's just that they don't know the language. But these students have some of the best observation skills."
School education facilities
Currently, there is one lower primary school till Class 4 at Edamalakudy and SSA learning centres for Classes 5, 6 and 7. During Covid-19, when the entire nation shut down, the Government Tribal Lower Primary School at Edamalakudy was the only functioning school in Kerala
However, the same problems that deprived the community of education continue. There are no staff quarters at Edamalakudy. "How long can a teacher sleep on the school bench? If one decides to stay in a nearby town they will have to give Rs. 6,000 as jeep fare each time," said an SSA Kerala officer.
Also Read| How Odisha is failing its 1.4 lakh children with special needs

There are hostel facilities at Edamalakudy but they are in terrible disrepair and can accommodate only 16 boys and 16 girls.
"The Kerala government had allotted one crore for building infrastructure but nothing came of that. Now, the Cochin Shipyard has given Rs.60 lakh but even that won't make much difference because construction deep inside the jungle will not be possible with the kind of estimates the government is working with," said Kaladharan.
The Kerala Government had also launched a mentor teacher programme called Gothra Bandu in 2017. The idea was to appoint at least one educated tribal youth as a mentor teacher in schools near tribal areas. However, no such mentor teachers were appointed for Edamalakudy.
Low attendance in schools
Even for the hamlets within Edamalakudy, reaching the school is an arduous task and attendance is low.
"First, there are elephants; then, they can't come during the monsoon. Also, students have to walk for five hours to reach. Which student will come under such circumstances? A hostel is necessary there," said the SSK official.
"There are 26 kudis across 26,000 acres of land. Only students from the six kudis near the school will attend," said Shameer.
Lack of parental compulsion and that treacherous journey mean that barely 60 of the 129 enrolled children turn up.
Also Read| NITI Aayog SDG Index: Kerala best for quality education, Bihar worst

"The parents there don't know why they need education. The student goes to the school because he wants to. If a student from anywhere else doesn't go to school, they will be asked why they didn't. This doesn't happen among the Muthuvans," said the SSA official.
"The students also have no motivation. What is in the textbooks is not related to their daily lives. They have no radio, no television, no news. Why should they study? If they go to pluck betel nuts they get Rs. 600 to Rs. 700 a day," said Kaladharan.
Disconnect in class
Even for students who do attend, there is a huge disconnect between what is taught and their own experiences.
"The first chapter in the book is called Tara's home. However, the equipment inside Tara's house will be unfamiliar to the students. They might not even have heard of a clay-tiled roof. Even the name Tara is unfamiliar to them," said Shameer. "Onam is not a festival for them, they might not have even heard of Christmas."
"The concept is that we discuss the home, the parents, the bathrooms, from there we expand out into the society. How will they understand this? What is discussed has nothing do with what their life is like," the SSK officer further explained.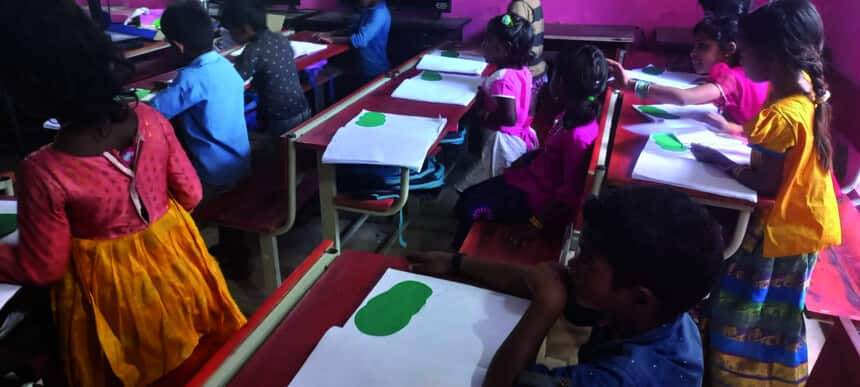 Even lying is a foreign concept for the Muthuvan children of Western Ghats (courtesy: CA Shameer)
"They don't know anything about society. They only know about things in their surroundings. They don't know what a market is because none exists in Edamalakudy. They don't know what a bus is. So, they don't have any experience of mingling with society. That has to be changed," said Kaladharan.
Even lying is a foreign concept. "The Muthuvans are honest people. If there is a honeycomb in a tree and you leave a mark indicating that you spotted it first, no one will touch that tree until you take the honey. And to them, we have to introduce the concept of falsehood," he said
Visuals don't help
Young Muthuvan children are unable to learn from pictures and visuals – a key instrument of teaching young children.
"A teacher from outside will say 'vandu' talking about a beetle but 'vandu' in the Muthuvan language is a butterfly. The teacher will say the word without realising that the students are thinking of another insect. This gap will only keep expanding," said Shameer.
"Let's say we are trying to help them learn the 'la' sound in Malayalam. If we show a picture of a frog and say 'thavala' in Malayalam, in his mind even though the letters are there, the student will read it as 'thovakka' which is the Muthuvan word for the frog. This is affecting language development."
The Padippurasi is targeting this gap.
"We adapt the textbooks with the help of volunteers from there. They don't have the sound "zha" so we will have to bring them to the "zha" sound and this won't happen in Class 1. But the idea is to get them there by Class 3 or 4,' said Shameer.
"There are certain learning objectives that we try to achieve in each class. Those learning objectives are kept in mind while making chapters based on their living conditions. We have learning cards and bridge texts based on this. We have just started. It's only after the children know the language that they can go into anything else. Assessment is far away," explained the SSA officer.
Eventually, they will have to contend with the chronic lack of awareness in the community.
"The Muthuvans become forest watchers at the most. I once asked them why they didn't try for the Public Service Commission exams. They told me that they don't even know when a notification is out," said Kaladharan.
The officials said that the only way to ensure the continued education and integration of Muthuvan children is the creation of a residential school at Edamalakudy along with a staff quarters for the teachers.
---
Follow us for the latest education news on colleges and universities, admission, courses, exams, schools, research, NEP and education policies and more..
To get in touch, write to us at news@careers360.com.