AAP in charge of educating 9 lakh more; MCD school teachers cautiously optimistic
AAP in charge of educating 9 lakh more; MCD school teachers cautiously optimistic
MCD school teachers hope AAP will bring salaries, benches, winter uniforms, books and stationary on time and fill nearly 5,000 vacant posts.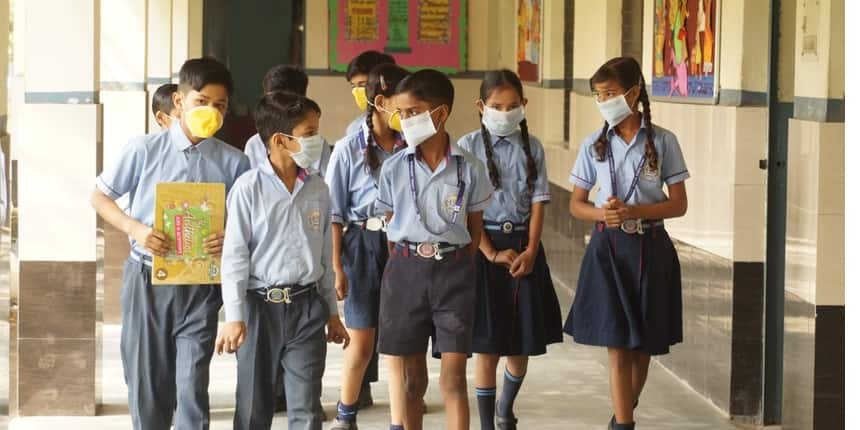 NEW DELHI: Teachers in Delhi's public primary schools hope that the victory of the Aam Aadmi Party in the recent Municipal Corporation of Delhi (MCD) elections will bring change to MCD schools or, at least, smoothen out their administrative processes. The AAP, which has had school education as a major poll plank in every election it has contested, is in charge of the MCD for the first time since it entered the political fray.
"We hope that just like Delhi Government schools got better infrastructure, more funds, (since AAP came in power) the same will happen for MCD schools," said Naveen Sangwan, deputy general secretary of Akhil Dilli Prathmik Shikshak Sangh, a teacher's body. As per the sangh's estimates, there are close to 5,000 vacant teaching posts and over 500 vacant head teacher posts in Delhi's MCD schools.
Teachers also hope that the MCD schools will have smoother processes, now that the same party is in power at both state and the municipal levels. The BJP has controlled the municipal bodies for 15 years. In Delhi's public education structure, the vast majority of public primary schools (up to Class 5) are run by municipal bodies while most schools under Delhi Government are from Classes 6 and above. According to the latest statistics from the Unified District Information System For Education (UDISE Plus), in 2021-22, as many as 17,62,480 – 17.62 lakh – children were enrolled at various levels in schools managed by Delhi Government's department of education. Now, the AAP leadership will be in charge of another nine lakh.
"In Delhi Government schools everything happens as per a system and we only hope that the same will happen here. That the school buildings will get better, security guards will be provided and non-teaching staff appointed so that teachers can focus on teaching. We also hope that whatever facility is given to Delhi Government schools will also be given to MCD schools," said a South MCD teacher who did not wish to be named.
They also said that the current state of MCD schools were less than ideal with teachers not receiving salaries for months, students not receiving basic amenities such as notebooks and sweaters, frozen transfers and a lack of teaching and non-teaching staff.
Delhi MCD Schools: Pending salaries
Teachers said that they haven't received regular salaries for months over the past 8 years. When the issue was raised, teachers said, the MCD and the state government used to blame each other.
"For the last 8 years, the teachers haven't been paid on time. The three month salaries of East MCD teachers and two month salaries of North MCD teachers are still pending. This has been going on for years. The MCD will say the Delhi Government didn't give the money and the Delhi Government will say they have given the money. Since MCD and the state were run by two different parties they used to shift blame. Now that the same party is there in the state as well as MCD we have hope that things will be smoother," said Sangwan. The MCD had been split into three parts – North, East and South – in 2011 and was combined back into one earlier this year.
Also Read| 128 JNVs admitted less than 80 students in 2022: RTI Reply
Teachers said the salary situation in MCD schools is vastly different from Delhi Government schools. "In Delhi Government schools the salaries come by the 31st or 1st of the month. If there is a holiday on the 1st, they get it by the 31st…Receiving salary on time is a major issue that we struggle with, " said a South MCD teacher.
Teachers also said that due to their irregular salaries many are in dire financial situations.
"Teachers are mentally disturbed. For seven years, our salary has been irregular. We haven't got any hike, bonuses or increments during these years. Salary is a basic amenity and that is pending. Not only did we not have any financial growth but many were burdened. Many teachers got their vehicles taken away because they could not repay loans on time, some have lost their homes," said Seema Mathur, a primary school teacher in Rohini .
They also alleged that the MCD used to divert funds meant for teachers' salaries to other projects.
"Delhi Government used to give 70 percent of the salary and MCD was supposed to put in 30 percent. They were not even able to pay the 30 percent. When our salaries were pending for five months, Delhi Government gave advanced salaries but the MCD used to take that 70 percent and divert it to some other fund," said Mathur.
MCD Schools: 'My students don't have notebooks'
Teachers said that some MCD schools are in dire condition with huge vacancies in teaching posts and lack of non-teaching staff including security guards. They also said that students are not even provided basic amenities on time.
In some schools, students don't even have benches to sit on. Sangwan said that he had to collect blankets from other schools and then pay money from his own pocket to buy mats so that students weren't sitting directly on the floor in winter.
Also Read | Kerala to 'pressurise' centre to restore pre-matric scholarship for Classes 1-8
"It's already December and my students haven't received their notebooks yet.They have not received any sweaters for winter. They don't even have carpets to sit on. I'm not even talking about benches. In some schools, teachers spend their own money to buy carpets so that students can sit down during winter. The students that come to us are financially weak. So for them, getting sweaters, etc, is really important. They need the notebooks from the government," said Mathur.
"In some schools, teachers are spending money out of their pockets for buying dusters and other basic stuff. Putting some Rs 200 to Rs 400 into the school is not such a big deal but we have to get the salary first," said Sangwan.
They also said no teacher transfer took place in the past three years and even in the transfers, teachers alleged corruption.
'Curious about Delhi Government schools'
Teachers are cautiously optimistic about things getting better with the AAP at the helm in both state and MCD.
"Delhi Government has done much for the school infrastructure in government schools. When we meet teachers of other states they are always curious about the developments in the Delhi Government schools. There is this perception of Delhi Government schools. And these schools were good during Sheila Dikshit's reign too. It is not that all was done by the AAP government but they have definitely polished the image of Delhi Government schools," said Seema Mathur, a primary school teacher in an MCD school in Rohini.
Also Read | Beti Bachao Beti Padhao: Centre spent just 16% funds for 2021-22 till December
The AAP has emphasised education since they came to power in 2015 and Manish Sisodia, the deputy chief minister, took charge as education minister. The Delhi Government added infrastructure, introduced widespread reform in teaching and learning and started schools of excellence and even a new education board.
"If they do whatever they promised to do before the elections and introduce the same system that is in Delhi Government schools then it will be good," said another teacher. "Will they do it or not? That we don't know yet."
---
Follow us for the latest education news on colleges and universities, admission, courses, exams, schools, research, NEP and education policies and more..
To get in touch, write to us at news@careers360.com.