128 JNVs admitted less than 80 students in 2022: RTI Reply
128 JNVs admitted less than 80 students in 2022: RTI Reply
Availability of infrastructure is the main factor in deciding the admission intake in Class 6 through JNVST in a year.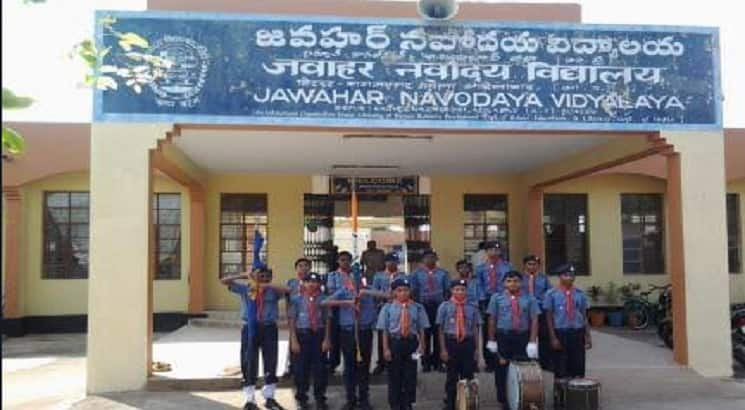 Sanjay
|
Dec 6, 2022 - 11:37 a.m. IST
New Delhi: As many as 128 out of 649 functioning Jawahar Navodaya Vidyalayas (JNVs), close to a fifth of the total, have admitted less than 80 students in Class 6 for the 2022-23 academic year. Of the 128 school, the most – 15 – are in Uttar Pradesh, followed by 13 in Chhattisgarh and 11 in Nagaland, shows data provided by Navodaya Vidyalaya Samiti (NVS) on September 20, in response to a query filed under the Right To Information (RTI) Act. NVS is an autonomous organisation under the union education ministry which manages these residential schools.
Students secure admission in JNVs on the basis of the Jawahar Navodaya Vidyalaya Selection Test (JNVST). Union government-run JNVs admit a maximum of 80 students in Class 6 in each school every year. However, the number of admissions are subject to availability of eligible candidates and infrastructure.
"In the absence of adequate physical facilities, the number of admissions is restricted to 40 in some schools," according to NVS' RTI response. It also "reserves the right to reduce the seats to forty or to withhold result and/or withhold admission and/or conduct of JNVST in case adequate accommodation is not available."
JNVs categorised by infrastructure
SK Tyagi, a senior official of the Navodaya Vidyalaya Samiti (NVS) said that before the conduct of JNVST, the JNVs are divided into three categories on the basis of their infrastructure to decide the intake of students in Class 6 for each academic session. JNVs with adequate infrastructure for 80 students are in "A" category; those with capacity for 40 are in "B"; and those which cannot admit any student in Class 6 at all are placed in "C".
"Infrastructure for accommodation of students is the only factor behind categorisation of JNVs in category A, B and C," Tyagi told Careers360.
According to information provided by NVS in response to RTI applications filed in October 2022 by Careers360, there were 650 functional JNVs in 2021-22 and 648 in 2020-21.
JNV: Distribution by category, year
Categories

Academic year




2020-21

2021-22

2022-23

A

532

540

542

B

110

102

102

C

3

7

6
Source: RTI documents
There were some discrepancies in data shared by NVS in responses to RTIs filed by activist Vivek Pandey on September 20, 2022 and Careers360. In response to Pandey's RTI, NVS said there are 649 functional JNVs. However, it had categorised 650 JNVs into A, B and C groups for the academic year 2022-23.
Also Read | NVS CBT exam dates 2022 for postponed PGT, principal, vice-principal exams announced
The JNVs reserve 75% of the total seats for candidates from rural areas and a minimum 33% of the total seats are filled by girls. Reservation is provided to children belonging to the Scheduled Castes (SC) and Scheduled Tribes (ST) in proportion to their population in the district where JNV is located. However, this reservation will not be less than the national average – 15% for SC and 7.5% for ST – nor more than 50% for both groups taken together.
"Schools not granting admission to 80 students in Class 6 through JNVST is a big barrier for students belonging to SC and ST categories in accessing quality and affordable education. This is quite shocking that JNVs are not fulfilling their own mandate. The government needs to ensure that JNVs function properly and implement their own policy," said Beena Pallickal from National Campaign on Dalit Human Rights (NCDHR).
JNVST Class 6 admission
Admission in Navodaya Vidyalayas is mainly open to Class 6. The JNVST helps NVS identify talented students predominantly from rural areas. The all-India test is held annually at block and district levels and a candidate gets a single shot at it. The JNVST data shows that students who appear for the national-level exam have only a 2% chance of being selected.
JNVST Over the years
| | | | | |
| --- | --- | --- | --- | --- |
| Year | Registered | Appeared | Selected | Number of JNVs with no admissions |
| 2014-15 | 18,80,225 | 17,09,114 | 41,804 | 11 |
| 2015-16 | 20,86,927 | 18,91,092 | 41,663 | 13 |
| 2016-17 | 21,63,039 | 19,08,627 | 42,196 | * |
| 2017-18 | 22,11,507 | 19,33,641 | 45,853 | 3 |
| 2018-19 | 27,77,504 | 19,94,662 | 46,400 | 5 |
| 2019-20 | 24,97,570 | 18,62,787 | 45,547 | 6 |
| 2020-21 | 25,43,459 | 19,27,354 | 45,291 | 3 |
| 2021-22 | 24,17,009 | 13,85,675 | 46,430 | 7 |
| 2022-23 | 28,42,814 | 19,32,847 | 46,767 | 6 |
Source: NVS annual reports and RTI replies. * Annual report for 2016-17 is not available on the website.
The 'Perspective Academic Planning (PAP) 2022-23 (Revised)' document of NVS dated April 29, 2022 states that a total of 28,39,213 candidates had registered for the JNVST 2022 for Class 6 in 2022-23. Here, too, there are some slight discrepancies in the data. The RTI reply states that 28,42,814 candidates had registered for the test. Similarly, In a tweet, the education ministry announced that the JNVST 2021 would be used to select 47,320 candidates for Class 6 but the RTI response shows 46,430 students – 890 students less than the number announced – were ultimately selected.
Jawahar Navodaya Vidyalaya Selection Test-2021 for the selection of students for admission to Class-VI for the session 2021-22 in Jawahar Navodaya Vidyalayas in all States & UTs will be conducted on 11th August, 2021 by following all safety precautions/COVID protocols.

— Ministry of Education (@EduMinOfIndia) July 20, 2021
JNVs growth and infrastructure
The Navodaya Vidyalaya Scheme envisages opening of one JNV in each district of the country except those in Tamil Nadu which has not yet accepted the scheme. The RTI filed by activist Vivek Pandey in September 2022 shows that 649 out of 661 sanctioned JNVs are functioning in 35 states and UTs. The number of sanctioned JNVs for three consecutive academic sessions (2020-21, 2021-22 and 2022-23) remained 661 while there were 731 districts notified up to November 2021.
Radha Rakesh, former student of JNV Alwar and now a teacher at JNV Churu, said the students are selected for admission to JNVs in their districts on the basis of district-wise merit lists.
"It is compulsory for each JNVs to provide admission to 80 students in Class 6 through JNVST. However, schools admitting their first batches admit 40 students in Class 6 due to accommodation problems. The reasons behind old schools admitting less than 80 students can be accommodation and infrastructure problems. JNVs located in high-altitudes usually face this problem," he said.
Also Read | 'About 38 lakh children dropped out from Classes 1-8 between 2020-21 and 2021-22'
The data from the annual reports and RTI documents show that, NVS spent Rs 26,434.25 crore on JNVs from 2014-15 to 2022-23 out of which just 16% or Rs 4,342.04 crore was on infrastructure.
While there has been a 10% increase in the number of functional JNVs from 589 to 649 in nine years from 2014-15 to 2022-23, the number of enrolled students increased by 17.91%, from 2,41,648 to 2,84,932.
Academic Year

Sanctioned JNVs

Functional JNVs

Students enrolled

Actual expenditure (in Rs crore)

Expenditure on Infrastructure (in Rs crore)

% on infra

against total expenditure

2014-15

598

589

2,41,648

2,082.68

291.98

14.01

2015-16

598

591

2,47,153

2,251.59

321.75

14.28

2016-17

660

595

2,53,931

2,555.32

530.22

20.74

2017-18

660

628

2,61,261

3,365.18

566.97

16.84

2018-19

661

636

2,65,574

3,164.77

369.20

11.66

2019-20

661

645

2,72,491

3,438.66

376.80

10.95

2020-21

661

648

2,87,967

3,364.80

804.36

23.9

2021-22

661

650

2,98,401




3,977.05

789.44

19.84

2022-23

661

649

2,84,932




2,234.20*

291.32

13.03
Source: NVS annual reports and RTI replies. * tentative expenditure up to September 30, 2022.
JNV Sultanpur
Shortage of accommodation is the main reason for the reduction in the number of Class 6 admissions in these residential schools. JNV Ayodhya also halved its intake in Class 6 to 40 in 2022-23 due to accommodation problems.
Sometimes, the NVS will admit students from two districts to one school for the same reason; this results in the loss of opportunities for 80 others. This is especially true of districts that have been newly-carved out of larger territories.
In Uttar Pradesh, the original JNV Sultanpur, located in Gauriganj, was built in 1986-87. However, when the district Amethi was carved out of Sultanpur in 2010, the school went to Amethi. It was a decade before a new JNV was sanctioned for Sultanpur in February 2020. Sultanpur MP Maneka Sanjay Gandhi placed the foundation stone for the district's new JNV at Pakadpur village of Karaundi Kalan block and the school is being built at a cost of over Rs 22.46 lakh.
Until it's ready, JNV Sultanpur will function from the buildings of Pt. Deen Dayal Upadhyay Govt. Model Inter College, a UP board school with Classes 6 to 12, in Amiliya Sikra village of Jaisinghpur block.
A total of 40 candidates were selected for JNV Sultanpur for Class 6 in 2021. However, there was no admission in 2022 as it was placed in C category. JNV Sultanpur currently has 38 students in Class 7; 41 in Class 8; and 38 in Class 9.
Also Read | Children as young as 12 in UP's Sultanpur addicted to tobacco products
Tyagi said that the students of Sultanpur were given admission in JNV Amethi in 2022. Thus one school served two districts, admitting 80 students instead of 160.
"Whenever new JNVs are built, there is no arrangement for the accommodation of students. It takes around six-seven years to make accommodation arrangements and hostels in new JNVs. In the meantime, students of a district are allowed to study in neighboring districts' JNVs having proper arrangements. Students are selected on the basis of combined merit and both districts will be treated as one. However, the number of students in JNVs will depend upon the population of their districts," Tyagi said.
---
Follow us for the latest education news on colleges and universities, admission, courses, exams, schools, research, NEP and education policies and more..
To get in touch, write to us at news@careers360.com.