NIRF Ranking 2021: Can't compare IITs, IISc with BHU, says BHU director
NIRF 2021 University Rankings: IITs, IISERs, IISc are much smaller, better funded than BHU, DU, AMU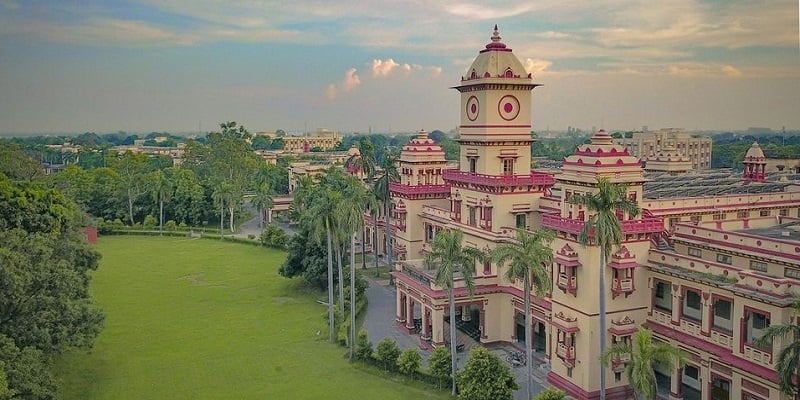 NEW DELHI: After its release on Thursday, Anil K Tripathi, director of the Institute of Science, Banaras Hindu University has criticised the parameters used to rank institutions in the National Institutional Framework Ranking, or NIRF 2021.
Also Read: NEET 2021 Today: Live Updates
In NIRF 2021 university rankings, BHU emerged the third best institution after Indian Institute of Science (IISc) Bangalore, and Jawaharlal Nehru University, which bagged first and second places respectively. Overall, BHU has been ranked tenth.
Highlighting the lacunae in the NIRF ranking 2021 process, Tripathi asserted that technical institutes like the Indian Institute of Sciences and the Indian Institute of Technology cannot be compared with a large multidisciplinary university like BHU. Both the institutions, according to Tripathi, have vast differences in terms of students, teachers, disciplines. However, the budget allocation for the institutions is nearly identical.
"Indian Institute of Science, no doubt, is the top institution in the country. BHU, however, is a different kind of educational institution. Both institutions have almost the same budget but the same amount of money caters to a large number of students, teachers and infrastructure at BHU. In comparison to IISc the money available is about five to ten times lesser in our university because of the sheer size," Tripathi told Careers360.
Also Read: NIRF Ranking 2021: IISc Bengaluru retains top rank; JNU, BHU follow
NIRF ranking 2021 for university judges educational institutions based on six parameters including teaching, learning and resources, research and professional practices, graduation outcome outreach and inclusivity, and perception. Tripathi believes there should be sufficient parameters that take into account the varied features of the university.
NIRF Ranking: Apples and oranges
The IITs and IISc are not even remotely comparable to a BHU, argued Tripathi, and therefore any attempt to rank them within the same framework is grossly unfair.
"If you look at IISc, there are 464 teachers and over 4,000 students," he said. "In BHU, we have 2,000 teachers for 32,000 students. In my institute alone, there are 6,000 students. Our teacher-to-student ratio is 1:15 or a little more and their ratio is 1:9 while 1:10 is considered ideal. IISc is able to maintain this parameter well because the number of students is few."
And things are not improving at the BHU. "In a room which can accommodate four people but you have put 40 people in it, what will happen to the productivity of the system?" said Tripathi, "This is what is happening in BHU. About 15 years back, there were 10,000 students and today we have 32,000 students. There are classrooms of 200 students. We cannot think of reducing the number of students to rise in the ranks. Either we increase the number of teachers or we reduce the number of students but it's not in our hands. Who can rectify this anomaly?" he asked.
Also Read: NIRF Ranking 2021 for MBA: IIM Ahmedabad, IIM Bangalore, IIM Calcutta In Top 3; Full list here
NIRF Ranks And Budgets
Despite BHU being much larger, IITs are far more generously funded, Tripathi continued. Both are centrally-run and funded directly by the Union government.
"The resource allocation to IITs from the ministry of education is higher and they are focused on science and technology. The IITs can also charge much higher fees which universities cannot, especially public ones, because then there will be strikes," said Tripathi.
In the Union Budget 2021, the government has allocated Rs 7,686 crore to IITs which was Rs 7,332 crore for 2020-21. The 'Grants to Indian Institutes of Technology' got an allocation of Rs 6,536.02 crore. The total outlay for all central universities is Rs 7643.26 crores in the Union Budget 2021.
The budget estimate for BHU is Rs 198.47 crores. "The budget estimate is applicable with a 10 percent mandatory cut," an official document stated.
Also Read: NIRF Ranking 2021: Best engineering colleges other than IITs
The education budget includes an allocation of Rs 65.50 crore as "support to IISc". IISc also receives funding from a wide range of sources for research projects. A document submitted for the ATAL Ranking of Institutions for Innovation and Achievements (ARIIA) shows it spent over Rs. 1,100 crore in incubation units and research parks etc. located within the campus.
"When it comes to IISER, these institutions are also privileged with few faculty members all hired on 1 -2 crore initial grants; they have nice infrastructure and the ministry has poured in a lot of money in the development of IISERs," Tripathi argued.
"BHU's maximum budget goes into salary. The remaining budget goes into the maintenance of the university, development of programmes, teaching programmes. This budget is extremely meager. But that is not the case with IITs and IISc," he further added.
NIRF research parameters
Research publications by teachers and their citation is a key factor in NIRF rankings. The focus is on 'Scopus indexed journals, the more widely a journal is indexed, the more likely it is to be available in library databases. This means that the indexed articles have a higher chance of being found, read, and, hopefully, cited. However, this presents a problem for universities publishing in regional languages and disciplines that are less likely to be indexed. The burden of undergraduate teaching doesn't help either, especially in situations where there is a very large number of students to be taught and evaluated.
"Ranking parameters are usually per faculty publication in Scopus indexed journals and per faculty citations. The institutions which are focused on technology, like IITs, are focused, uniform, and not heterogeneous. Almost all departments [in these institutions] have faculty members who contribute to good quality publications. They also contribute to development, deployment, and sale of the technology along with interaction with industry. That is why IITs are ahead in rankings," Tripathi elaborated.
Also Read: NIRF Ranking 2021: IIT Madras is the best educational institution in India
Tripathi is referring to the NIRF overall rankings where apart from IISc Bangalore, seven IITs - IIT Madras, IIT Bombay, IIT Delhi, IIT Kanpur, IIT Kharagpur, IIT Roorkee, IIT Guwahati made it to the top 10 list. "The reason is that their size in numbers is small and therefore per faculty publications and per faculty citations are high," he said.
Tripathi further argued that BHU has several departments which do not engage in the publication process, unlike IITs. Due to which the per faculty publication and citation come down tremendously.
"In BHU, departments of science, medical science, institute of sustainable development publish good quality papers that are comparable with IITs and IISERs. But when you consider BHU in totality, we have social sciences, management, arts, Sanskrit Vidya Dharma Vijnan, visual and performing arts, education which does not publish in Scopus indexed journals. Therefore, more than half of the faculty members are not contributing to this parameter. Who will publish international citations of Hindi articles?" he asked. "They do write books but these do not carry as much weightage compared to peer-reviewed journals and Scopus indexed journals," he added.
Also Read: NIRF Ranking 2021: AIIMS Delhi tops NIRF medical college ranking again, PGIMER is second
Size and student, teacher ratio
Another problem, teachers in disciplines like sciences, agriculture, and medical sciences, have the responsibility of teaching undergraduates as well as postgraduate students.
"The burden of undergraduate teaching is very high because of which we do not get time to do research. Whereas IISc, in the name of being counted in universities, they have started taking few students at the undergraduate level and that too it's an integrated programme. IISERs don't have undergraduate degrees at all. IITs do have undergraduate programmes but they also have the advantage of better resources and focus on science and technology. But due to BHU's diversity, our average goes down," explained Tripathi.
IISc offers only one undergraduate course, Bachelor of Science (Research). The undergraduate program is available for the subjects biology, chemistry, environmental science, material, mathematics, and physics.
NIRF 2021 rankings: 'Artificial' parameters
Tripathi further argues that the existing model overlooks many aspects of educational institutions to arrive at a conclusion. Calling these parameters "artificial", Tripathi highlighted the shortcomings of the ranking system. Universities should be judged on their own or with institutions of similar standing, he says.
Also Read: NIRF Ranking 2021: IISc Bengaluru tops in new research category
"It is basically comparing apples with oranges. How you cannot test a student's ability by conducting one type of examination. Every institution is different. Frankly, these parameters are quite artificial. BHU should be compared with other multidisciplinary universities like Delhi University, Jawaharlal Nehru University, Aligarh Muslim University," he suggested.
The ranking design, as per Tripathi. should have a score for these additional features of the universities.
"In addition, these universities should account for the numbers. JNU, Hyderabad Central University are a fifth of BHU in size. So, if we are catering to a large number of students, there should be an additional score for that," he explained.
Admitting that there should be some form of a standardized method, Tripathi also suggested that proportional scores should be awarded to the institutions based on the number of disciplines.
"For standardization, for instance, you award 100 marks and divide it by the number of disciplines and then give some kind of weightage to that. BHU has 140 disciplines, IITs will have only 20 disciplines, IISc has even fewer disciplines. Through this method, multiple disciplines will get the advantage. Similarly, for the number of students, a university is catering to should be another parameter. The IITs are including humanities to an extent but their focus will always remain on technology. This should remain so because they are meant for that. IITs should not become multidisciplinary institutions," he said.
Write to us at news@careers30.com
---
Follow us for the latest education news on colleges and universities, admission, courses, exams, schools, research, NEP and education policies and more..
To get in touch, write to us at news@careers360.com.
Know More About
NIRF Rank
3
Rating
4.1/5
Download Brochure