How villagers halted Odisha, NITI Aayog plan of closing 8,000 schools
How villagers halted Odisha, NITI Aayog plan of closing 8,000 schools
Under a NITI Aayog programme, Odisha ordered 8,000 schools shut. Dozens of parent-teacher bodies sued the government and won.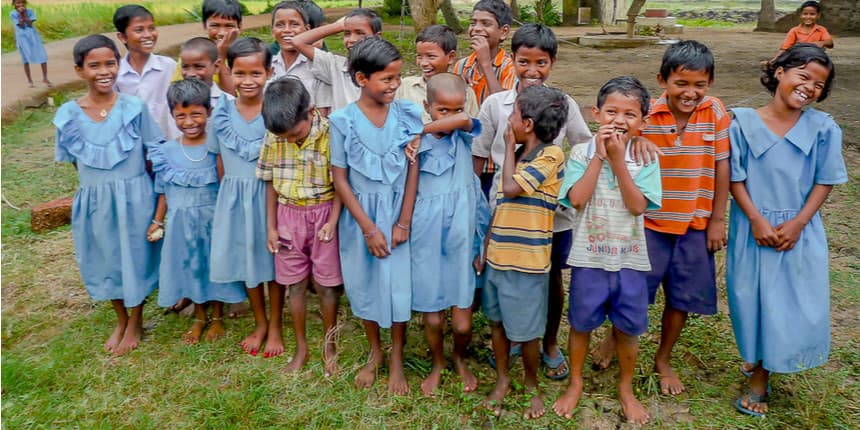 NEW DELHI: The villagers of Amaramunda in Balangir, Odisha, finally have their school back. Their primary school, which had taught many generations of villagers, was shut down in March 2020.
It had 33 students at the time and keeping it going was judged a waste of resources by the Government of Odisha, the central government's think-tank NITI Aayog and representatives of private consultancy firms placed in the state to oversee a vast "school rationalisation" programme that led to an order for closing or merging 8,000 primary schools in the state.
But the school management committee (SMC) of Amaramunda Primary School was not having it. A statutory body comprising parents, community members and teachers, it sued the Odisha government in the High Court. It was one of 170 such petitions filed to counter mergers -- a fight led mainly by SMCs along with youth groups and local non-profit organisations.
In Kandhamal, a majority Scheduled Tribe district and one of the poorest in India, youth groups such as Antarag took the initiative of uniting and mobilising parents and SMCs. Nearly half the Kandhamal population lives below the poverty line (BPL); most parents are daily-wagers or farmer labourers.
Letters were written to collectors, education officials, members of Parliament, members of the Legislative Assembly and ministers. SMCs of Amaramunda Primary School; Basupur Primary School in Kendrapar district; Khirang Primary School in Baleshwar district; and Kantapada Primary School in Cuttack, all sued the Naveen Patnaik-led government.
The communities moved the court in October 2020 and on May 4, the Orissa High Court struck down the official order on school mergers, bringing relief to parents in the state's rural and tribal belts. Education activists expect the order to have an impact even beyond Odisha, in states where mergers have taken place or been proposed.
Odisha school mergers
The genesis of Odisha's school merger problem was in a programme launched by NITI Aayog in 2017, Sustainable Action for Transforming Human Capital in Education, or SATH-E. Under it, the NITI Aayog, two private consultancies and three states -- Madhya Pradesh, Jharkhand and Odisha -- signed agreements to work on education reform. The most salient feature of the reform plan was school mergers, also called school rationalisation.
It is the process of closing schools with low enrolment and moving those children and teachers to other schools, ostensibly to allow for more efficient utilisation and pooling of resources -- teachers, laboratories, libraries, sports facilities. In Odisha, primary schools with low-enrolment were shut and students and teachers were shifted to the nearest higher secondary school.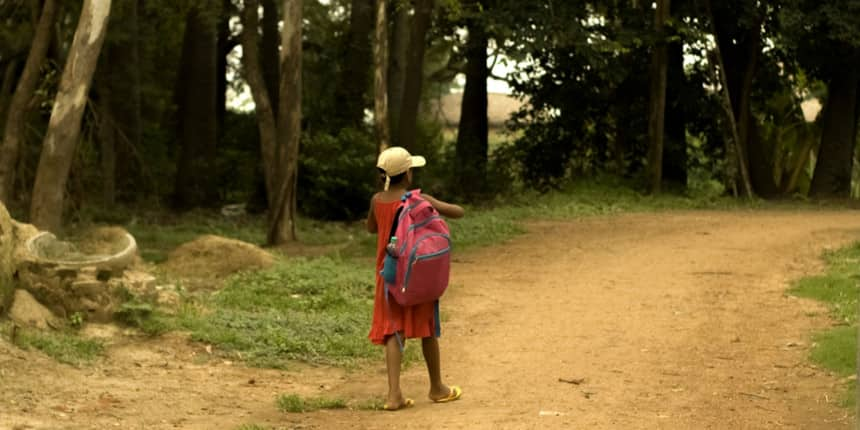 A student on the way to school in Odisha (source: Shutterstock)
A school's total enrolment was the single metric by which its fate was determined. In 2018, schools with less than 40 students in non-Scheduled Areas and 25 students in Fifth Schedule Areas were listed for merger. Fifth Schedule Areas are protected areas with a majority Scheduled Tribe population.
The NITI Aayog's SATH-E project ended in 2020 but by December 2019, it had shut around 40,000 schools in the three states. Out of those,1,016 school mergers were in Odisha. By November 2020, Odisha had shut more than 7,700 schools.
Even villages that could not afford to, lost schools. Primary schoolers aged six to 10 in Sanalukti village in Rayagada district were expected to leave home and move to a hostel 7 km away and the students of Ramkhol Primary School in Bargarh district, would have to walk through the Debrigarh Wildlife Sanctuary to get to class. Children aged six to 10 years in Amaramunda, were looking at an impossible 2-km walk across a stream and through a forest frequented by elephants and wild boars.
On facing criticism from opposition in the Assembly, Naveen Patnaik announced that the minimum roll-strength for closure had been reduced to 15 students in Fifth Scheduled Areas. Congress and, ironically, BJP opposed the mergers in the Assembly.
School for many generations
The decision to close Amaramunda Primary School was conveyed to the officials in March 2020.
It was established in 1954 and has taught many generations in the village. Located in a non-Scheduled Area of the district. It had 33 students, seven short of the required 40. But even before the closure order arrived, in early 2020, the school received instruction from the school and mass education department of Odisha to not admit students to Class 1. There was no consultation with the SMC which now questions the motive behind the stay on admissions.
"The school had 33 students. If they had allowed admission for Class 1, there would have been more than 40 students. But they did not allow it," said SMC-member Pradhan Lal.
The children were enrolled in the next closest school, an upper-primary in Laxmanpali, 2 km away. But parents stopped sending children to school altogether.
"You have to go up and over the hills. There is a small stream you have to cross, and then through the jungle where elephants are frequently spotted. How will the children go to school? They cannot go." said Lal.
The government had also proposed a one-time dislocation allowance up to Rs 5,000 and a travel allowance of Rs 600 per month. They did nothing to solve the problem for villagers.
"Only bikes can go through the road, otherwise you have to walk. There is no other means of transportation," said Brindhaban Barik, a former teacher at Amaramunda Primary School.
Moreover, the travel allowances would only be provided as reimbursements. Parents would have to cough up the amount on their own till the end of the year. This was especially difficult for Amaramunda residents, many of whom work as daily-wage labourers in other states.
"Most go for work in Tamil Nadu and other states. Now, because of the lockdown, some are at home while others are stuck there," said Barik.
Barik said that the school had five classrooms, a kitchen, separate toilets and all provisions for water and electricity. Its closure also meant Amaramunda children went without mid-day meals for over a year.
Odisha Government knew
Court proceedings show that the officials were aware of the issues being faced by communities.
In an office note in 2018, submitted in the Orissa High Court, an official pointed out the issues created by the school closures.
"It is widely alleged that the proposal submitted by the district authority for
merger of Schools in different districts are not properly examined and in many cases local issues were ignored," an officer wrote to the principal secretary, school and mass education department.
However, the principal secretary, after a meeting with the education minister Samir Ranjan Dash, asked officials to continue with the school closures where there are no objections and "wherever objections are there, it may be kept pending for implementation from next academic session".
The office notes also reveal the rationale used by officials. An office note from March 2018 says: "One of the important factors affecting the pace of growth in quality education is the lack of adequate number of teachers in many schools". They admitted that rationalization of teachers, "has not solved the acute problem of vacancy of teachers".
In the winter session of 2019-2020, Pokhriyal told Parliament that there are 4,410 teaching vacancies in elementary schools and 8,515 vacancies in secondary schools in Odisha.
The officials also pointed out that although the state had a favourable pupil-to-teachers ratio of 23 teachers to every student, there were many single-school teachers.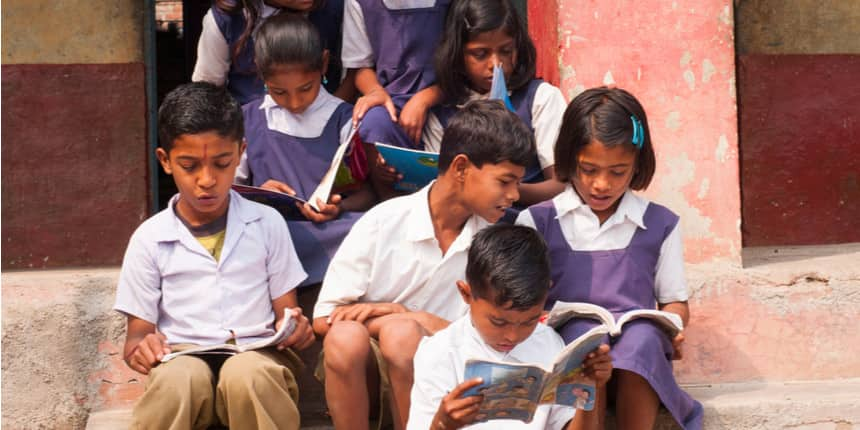 Students reading at a government school (source: Shutterstock)
'Without realising ground reality': HC
The petitioners argued that the order for school closures was unlawful from the start. Many provisions of the Right of Children to Free and Compulsory Education(RTE) Act, 2009, were violated.
"Our leading contention was that the notification violated Article 21 A. Also, the RTE Act specifies that there should be a primary school within one kilometer. It also does not allow merging primary schools with higher secondary schools," said KK Swain, who represented Amaramunda's SMC in the case. Article 21A of the Constitution says that the "state shall provide free and compulsory education to all children of the age of six to 14 years in such manner as the state may".
The Odisha RTE rules framed in 2010 only allows governments to "upgrade existing schools with Classes 1 to 5" and add Classes 1 to 5 to schools which start from Class 6.
Also, the rules say that "in places with difficult terrain, risk of landslides, floods, lack of roads and in general, danger for young children in the approach from their homes to the school, the State Government/Local Authority shall locate the school in such a manner as to avoid such dangers".
The Orissa High Court's comments on the Odisha government's actions are bruising. While quashing the government order on May 4, the course observed "instead of finding the reasons for decreasing roll strength, merger of school[s] will not serve the purpose" and that the "decision was taken place at a higher level without realizing the ground level reality".
The court also noted that Odisha has different categories of teachers including "confirmed teachers, unconfirmed teachers, ad hoc teachers, tenure teachers, teachers on contractual basis, volunteer teachers, and so on". The court noted that "utilizing teachers with a paltry sum of money" might also point to the decrease in enrolment.
"No other kind of employee or worker has such divisions. This clearly indicates the extent of regard the planners and policy-makers have for education," the HC order notes.
The court has ordered the government to "restore back the position of the schools in question, as before, and provide necessary infrastructure for smooth running of the same".
Now, the villagers of Amaramunda wait for the school to be reinstated. "The school has not reopened yet. Now, there is the COVID-19 pandemic as well. We are waiting for communication from the officials," said Lal.
Write to us at news@careers360.com.