Online courses on NSDC saw 2000% growth in learners during lockdown
Online courses on NSDC saw 2000% growth in learners during lockdown
The NSDC's e-learning platform saw massive surge in interest during the COVID-19 lockdown, its MD, Manish Kumar, told Careers360.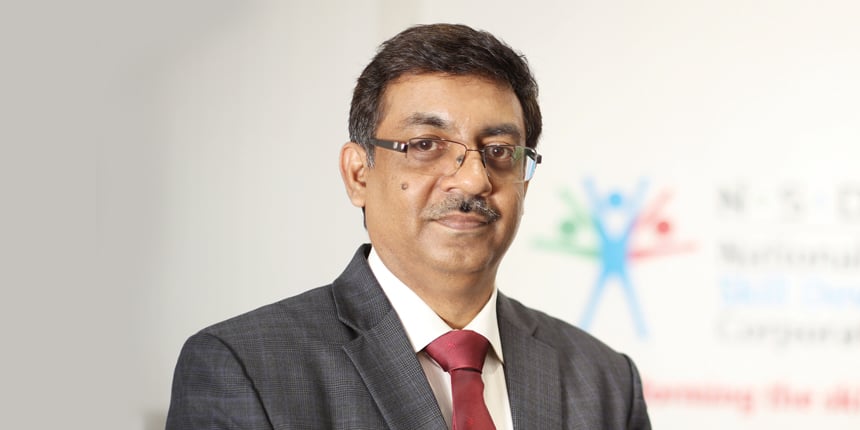 NEW DELHI: The National Skill Development Corporation's (NSDC) e-learning platform saw a massive surge in interest during the COVID-19 lockdown. Manish Kumar, managing director, NSDC spoke to Careers360 about the growth of online certificate courses in India, how NSDC and partners are working to provide job-oriented skills and the most popular programmes.
Q. Which skills are best taught online? What would you say about their quality?
A. The scope of digital learning is enormous and can help realize the immense potential of youth to leverage existing as well as emerging opportunities. Conventional brick-and-mortar models of training will need to evolve keeping in mind the practical nature of vocational programmes. Online skilling options can provide opportunities across a range of sectors, including the fields of healthcare, retail, e-commerce as well as life skills.
Employability enhancers such as communication skills, problem-solving and teamwork can be picked up. At NSDC, we are facilitating online acquisition of skills through our eSkill India portal, which allows interested skill-seekers to enrol in e-learning courses. Out of the aggregated digital resources, 75% is available free of cost. Over 2.5 lakh learners have registered themselves on the portal which witnessed over 2000 percent growth in enrolments during the COVID-19 lockdown period.
Q. What has been the outcome of online courses in India, the learning from them and what should be changed?
A. Recent advancements in technology have played a key role in enabling access to online learning. The scale at which learners access online courses today was considered highly ambitious even a decade ago. As we move towards creating digitally empowered societies, training modules will need to evolve keeping in mind the practical nature of vocational programmes for seamless adoption of technology-based skill delivery. While blended learning models will encourage youth to build on tech-knowledge, soft skills like collaboration, creativity and critical thinking will be vital for jobs in the future.
According to a report by the World Bank, three kinds of skills are becoming increasingly important in labour markets around the world – 1) advanced cognitive skills such as complex problem-solving, 2) socio-behavioural skills such as team-work, and 3) skill combinations that are predictive of adaptability such as reasoning and self-efficacy. The report suggests that building these skills requires strong human capital foundations and lifelong learning. We must, therefore, promote a culture of lifelong learning through upskilling and reskilling, augmented by digital interventions.
Q. Is NSDC through its partners offering online certificate courses? What are your focus areas?
A. NSDC launched eSkill India, the multilingual e-learning aggregator portal, for providing online skilling opportunities in 2019. It consolidates online courses curated by knowledge organizations such as IBM, TCS, Microsoft, LinkedIn, Khan Academy, Salesforce, Simplilearn, BetterU, SAS, BSE, Apollo Medvarsity, Enguru, UpGrad, Amrita Technologies, iPrimed, Wadhwani Foundation, English Edge etc. Currently, the portal has over 800 courses catalogued and an additional 4,500 courses through affiliate channels. Learners are guided through self-paced interactive videos and quizzes.
Currently, over 16.8 lakh minutes of high-quality digital content is available across various sectors, including agriculture, healthcare, telecommunication, retail, pharmaceutical, banking and finance, electronics and information technology.
Q. Which are the most popular online courses?
A. Under eSkill India portal, online certificate courses in the IT-ITeS sector top with 29 percent of the total enrolments. This is followed by electronics with 21 percent.
Q. How is the industry looking at these online certifications? Do they really help secure a better job or pay?
A. Core functional knowledge and competencies enhance individuals' ability to secure a job, offering them an additional edge to advance further in their career. eSkill India offers a bouquet of e-courses from basic employability-enhancing courses such as communication skills, customer services, digital and financial literacy, to trade-oriented courses such as retail, agriculture, healthcare, and tourism, and even micro entrepreneurial skills for socio economic self-reliance.
Learning a new skill can help professionals maintain their competitive edge in the job market. As businesses adapt to sustain themselves through the pandemic, a resilient skill set can help workers navigate through a period of economic uncertainty.
Q. What are the various job prospects after a regular course and an online course?
A. Skill acquisition, whether online or through classroom training, is meant to empower individuals through increased employability. While some courses are amenable completely to online learning, others, which require hand-on training, need to be delivered through a blended approach.
To facilitate matching of supply and demand, NSDC has created a directory of skilled individuals called Aatmanirbhar Skilled Employee Employer Mapping (ASEEM). As of November 2020, over 10 lakh jobs have been offered through ASEEM. Top sec-tors registering demand include logistics, healthcare, retail, apparel, and automotive.
Q. How do you plan to take online skilling ahead?
A. Job oriented e-learning courses allow opportunities to reach millions of students beyond the boundaries of location and time, through integrated platforms. By making digital skilling resources more accessible, we hope to create a level playing field so that everyone has an opportunity to not just get into the work-force, but to also upgrade their existing skills and be able to explore sustainable livelihood opportunities.
Q. What does the future hold for this format of skills training?
A. To cater to the growing needs of the world-of-work, we need to focus more on blended approaches. Industry 4.0 is slated to be transformational which will bring tremendous changes across sectors and how we look at learning in general.
The new National Education Policy (NEP) 2020 has emphasis on the importance of vocational training with the inclusion of enriching vocational courses from early stages. With rapidly-changing business environment and market conditions, upskilling, reskilling and multiskilling will assume importance as there will be greater thrust on emerging technologies like artificial intelligence, internet of things, machine learning, robotics, cloud computing and cognitive sciences. We must leverage the power of technology to break the geographical and socio-economic barriers and reach out to the youth with scale and quality.
Q. How many learners are trained online and how many offline each year under NSDC? Has this proportion changed over the years and do you see it changing further?
A. Since NSDC's inception, more than 2.6 crore individuals have been trained under its grant-based and market-led trainings. More recently, there have been efforts toward bringing the benefits of digital methods of skilling to the traditional brick-and-mortar models. Compared to offline trainings, online trainings increased considerably during lockdown. However, as businesses resume their operations, blended learning models are expected to gain momentum wherein online learning is embedded with hands-on training.
Q. Has the availability of online courses brought in new types of learners to skills programmes?
A. Digital methods of skilling take learning opportunities to where the learner are. This enables underserved sections of our society to take advantage of emerging opportunities. For example, blended learning solutions could con-tribute toward reducing gender inequality with respect to access to learning in rural areas. Rural youth can use of such opportunities to compete in the national and international markets. This has the potential to contribute significantly toward inclusive economic development and sustainable growth.