Online Exams: Punjab Technical University Starts Student Survey
Online Exams: Punjab Technical University Starts Student Survey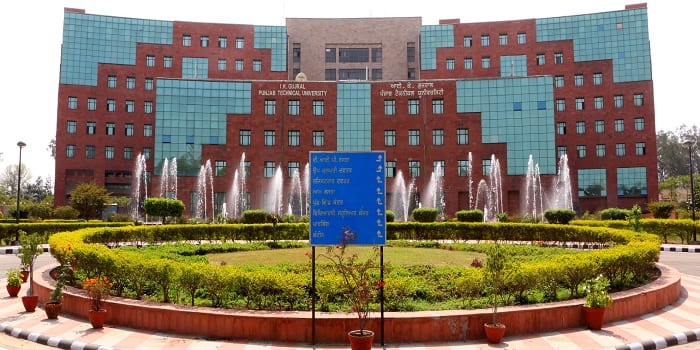 NEW DELHI: The I.K. Gujral Punjab Technical University has started a survey to gather feedback from students on the mode of examination. The university will decide on the mode of semester exams, online or offline, based on students' responses.

Over 280 technical colleges in the state are affiliated to PTU, offering around 75,000 engineering, management and other technical courses. As per the circular issued by the university, students have been asked to submit their responses by June 10 based on which the PTU will decide on the mode of exam.
The coronavirus outbreak has thrown academic schedules off-track across universities. Institutions are struggling to conduct exams and assessments that have traditionally marked the end of semesters and academic years. Consequently, many universities including Delhi University, Delhi Technological University and Aligarh Muslim University have opted for the controversial decision to hold exams online for students in their final semester or year. This decision has been vehemently opposed by students and teachers who demand the same solution as Maharashtra which is not holding any university exam at all. Several universities, including DU, have cancelled first and second-year exams.
Offline And Online Exams
As per the circular issued by the university, final semester students will have two options – online or offline exams, in July 2020.
Students of other semesters have also been given the same two options – to either appear for the offline [online?] exam in July 2020, or write the July 2020 exam along with that of the next semester's exam, likely to be held in January 2021.
The PTU circular states that the examination department is taking maximum measures to serve the students in the "best possible manner" according to feedback received from many corners.
Careers360 reached out to the university administration on their preparedness for the offline and online examination it is proposing to conduct in July and how they would ensure smooth and safe exam amidst ongoing coronavirus pandemic. We are yet to get a response from the university, copy will be updated accordingly.
PTU Semester exams and students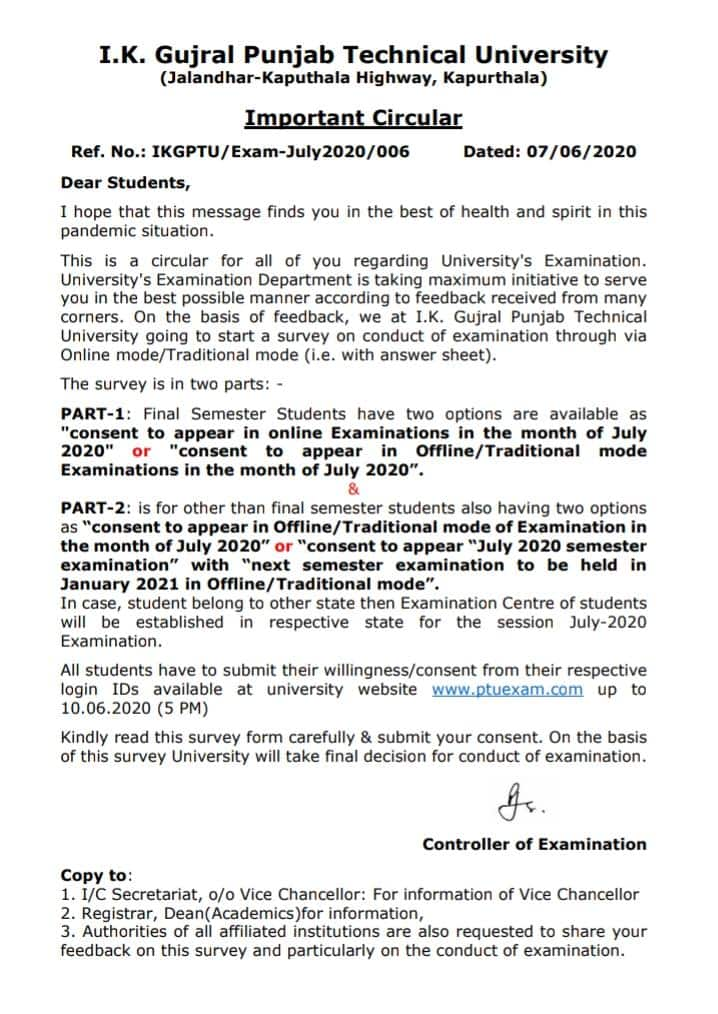 The PTU circular has riled the student community of the university as a large number of students enrolled in various programmes are from other states and have moved to their respective states during the lockdown. A student enrolled in B.Tech programme (final year), sharing his concern with Careers360 on the condition of anonymity, said: "I have been able to reach my hometown after much effort and now the university is announcing that it will conduct offline or online exam. What will happen if my area gets declared a containment zone during the exam time, how will I reach the exam centre even if it is located in my city?"
The university is planning to create an 'Examination Centre' for such students in their respective states.
Sumit Tyagi, am an engineering student of an affiliated college of PTU said: "Giving exams right now is not an option for us, life is more important right now and preparing for two semesters at a time is not possible or practical. Is this a choice or a death note? Cancelling exams won't earn the profit they crave. They are playing with our lives."
Also read:
Write to us at news@careers360.com.