Outside Laboratories: Elite research institutions and science outreach
Outside Laboratories: Elite research institutions and science outreach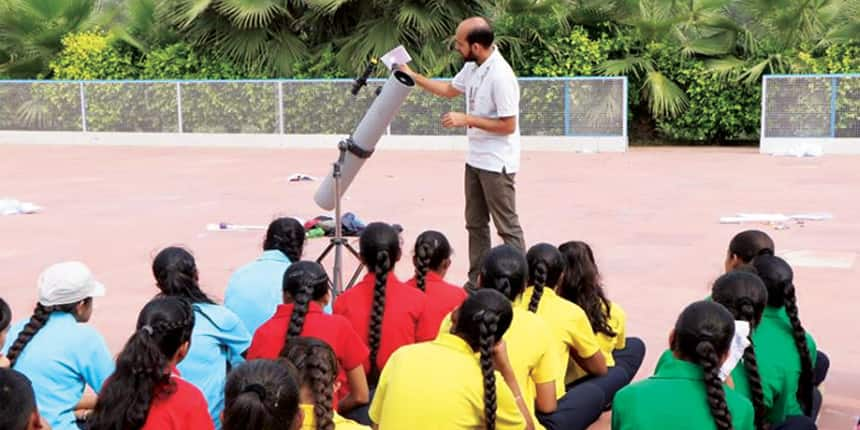 Rakesh Mandal has always been close to rivers. Four major rivers flow through his home district, Nadia, in West Bengal. Mandal loves watching the Ganga flow, the sky above it and the moon and stars. Every once in a while, he would see a wave that held its shape and form and was unchanged by collisions with other waves. He found them unremarkable.
"We always saw waves, but never knew it is called soliton or solitary waves and that it happens due to the attraction of the moon," said Mandal.
A soliton or solitary wave travels at a constant velocity without losing its shape and flattening out. Mandal, in Class 7 at Goragachha Madhyamik Shikshakendra, Nadia, learnt this through outreach programmes organised by Indian Institute of Science Education and Research (IISER), Kolkata. He understands the Ganga better now.
The IISERs were established to be premier institutions for undergraduate teaching and research in the basic sciences. Scientific research is often opaque to the public. But some of the most elite research institutions in the country are actively engaged in explaining what they do – or, at least, the basics of it – to school children and the public at large. The programmes are meant to build scientific temper and also to draw children to the sciences.
For instance, The Inter-University Centre for Astronomy and Astrophysics (IUCAA) in Pune holds workshops for students and teachers. Institutions that are part of the Bangalore Life Sciences Cluster together run a host of programmes that facilitate the interaction of scientists with the public – science talks and public lectures are organised under their "Science and the City" programme. They have even organised lectures in Tamil and Kannada.
Fostering curiosity
At some institutions, the effort is to raise awareness about the very environment the participants in these programmes come from. Khadija Khatun, studying in Class 8 of the same school as Mandal, hopes to make Mohanpur and adjoining areas arsenic-free.
"I want to work on many things but first, I want to make our village water free from arsenic," said Khatun.
The IISER campus at Mohanpur, Nadia, has been like a blessing for the area's residents. But the relationship is less one-sided than it would appear. Research scholars, who regularly interact with the common population to understand local needs, said that students form an important resource for their projects as well.
"We researchers think in a complicated manner, but what I have noticed is that many a times the children think of such simple ways to address a problem and solution to some problems comes from them," says Tapendu Samanta, a finalyear research scholar at the institute.
Samanta is working on the detection of toxic elements in water. He visits the affected villages as a part of his research work. Whenever there is some science-related activity, the students are full of enthusiasm. "They love seeing things practically and their faces light up when they do things on their own," said Samanta.
To reach people at the grassroots, understand their problems and include the local population within the ambit of their study, IISER tied up with local schools in the district and adjoining areas. "Our students are also their friends and teachers," said Santanu Das Mahapatra, an assistant registrar at IISER Kolkata. "This helps in the holistic development of children."
The interactions have also become less formal. Research scholars visit their homes, share meals and organise picnics together. Casual discussions lead to the identification of common problems and, at times, even their solutions. "In fact, most of the time, we are students to them," added Mahapatra.
Why school students?
Most outreach programmes target school children. Experts believe that interests developed in childhood stay for life. They hope that their efforts to incite curiosity in school students now will bear fruit in the form of research in the future. After all, it worked for the scientists themselves.
"I got motivated by observing the sky," said Prasanta K Panigrahi who teaches quantum physics at IISER Kolkata. "At 60, after visiting a number of places, I find that nature is the best teacher."
The IUCAA started working with school students soon after it was founded in 1989.
"We work with Classes 8 to 10," said Somak Ray Chowdhury, director, The Inter-University Centre for Astronomy and Astrophysics. "We also have a program for school teachers as I think it is more important for us to connect with teachers by which we can multiply the effect." An initiative which started with 300 schools in Pune area has now spread across Maharashtra.
"Basic astronomy workshops, night sky observations, special campaigns like Sally Ride EarthKAM etc. help them gain observational and analytical skills," says Shivom Gupta, project assistant, astronomy outreach program, IUCAA. "They are always ready to talk about black holes, wormholes, space travel, alien life and exoplanets." The Sally Ride EarthKAM is a project run by National Aeronautics and Space Administration, or NASA, USA, for middle-schoolers.
Also Read :
Write to us at news@careers360.com.
More From Pritha Roy Choudhury