PEC Chandigarh at 100: How it came close to being an IIT
PEC Chandigarh at 100: How it came close to being an IIT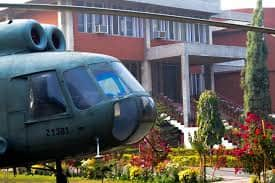 NEW DELHI: The Punjab Engineering College or PEC Chandigarh, celebrated its 99th foundation day and the start of its hundredth year of establishment on Monday. It started as Mugalpura Engineering College in Lahore in 1921. It moved to Roorkee after Independence in 1947 and to its present location in Chandigarh in 1953 and was initially affiliated to Panjab University.
Now a deemed-to-be university, PEC Chandigarh came close to becoming an Indian Institute of Technology twice. "A large number of people have told me parts of the story. It is possible that some parts are not authentic but it is a fascinating story anyway," Sanghi said.
The college conferred distinguished alumni awards and instituted a young alumnus award at the virtual celebration.
The Governor of Punjab VP Singh Badnore was the chief guest on the occasion.
Almost an IIT
In a January post on his blog, Sanghi had recounted some of these stories. RN Dogra, principal of PEC in the late 1950's and early '60's had lobbied with the government to have it converted into an IIT. The PEC missed out when the government decided to place an IIT for north India in Kanpur and then, Delhi.
Dogra also became the one to establish IIT Delhi but while he was at it, he continued to push for an IIT tag for PEC. This time, he got even closer. "The date was decided. IIT Chandigarh was to take admission from 1963. But in 1962, the China war happened. The finances which were already stressed became much worse and the date for conversion was postponed to 1964," wrote Sanghi.
The issue continued to remain in discussion and a new condition was added, the Punjab Government had to partially fund it. But before that plan could be executed, Punjab itself was divided into Punjab and Haryana, and Chandigarh became a Union Territory placing it outside the state.
The Awardees
The four distinguished alumnus award went to professor Subhash Chander Handa, Jarnail Singh, Akshai Kumar Runchal and Manmohan S Kalsi. "Alumni of PEC are settled in all parts of the world and are serving the society as engineers, technologists, leaders, administrators and entrepreneurs. While the Distinguished Alumni Awards are presented annually, the category of Young Alumnus Award has been added this year to recognise outstanding services of alumni below 40 years. Our office had received over 100 nominations," said Dheeraj Sanghi, director, PEC.
Professor Subhash Chander had done BSc in civil engineering in 1963 and retired as a professor from the civil engineering department of IIT Roorkee in 2004. Akshai Kumar Runchal completed his BSc in mechanical engineering in 1964 while Manmohan S Kalsi, who completed his BSc in mechanical engineering in 1967 and Jarnail Singh completed in 1970.
Subhash Chandra is the founder of 'Anushruti Academy for the Deaf' in Roorkee, Akshai Kumar Runchal is the founder and director of the CFD Virtual Reality Institute. Manmohan S Kalsi, is the founder and president of Kalsi Engineering.
Also introduced this year, the Young Alumnus Award went to Chakshu Kalra. Kalra had completed his BTech in materials and metallurgical engineering from PEC in the year 2004.
Also Read:
Write to us at news@careers360.com.
Stay updated with latest Education News
More From Pritha Roy Choudhury