Avadh University loses 25-acre land to Ayodhya airport; teachers asked to vacate homes
Avadh University loses 25-acre land to Ayodhya airport; teachers asked to vacate homes
Uttar Pradesh: The loss of land puts NEP reforms at risk. University, teachers, alumni have appealed to the Yogi Adityanath government for help.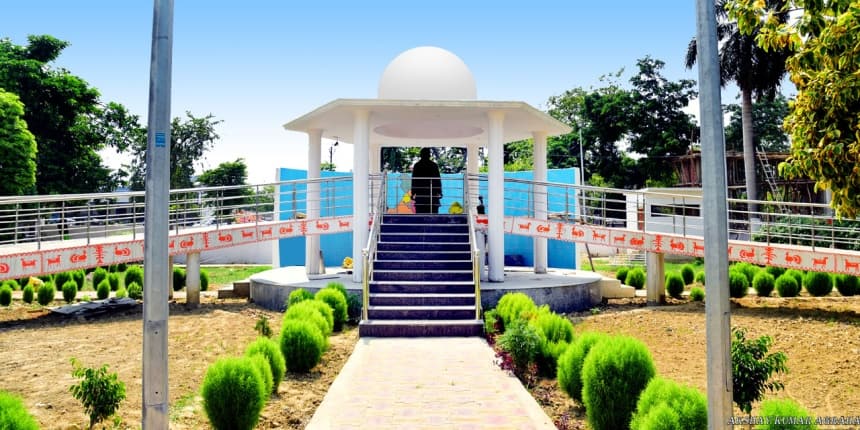 Sanjay
|
Apr 21, 2022 - 5:39 p.m. IST
NEW DELHI: Ayodhya in Uttar Pradesh, is getting its new airport at a heavy cost to its only public university. Dr Ram Manohar Lohia Avadh University is giving up about a quarter of its land to the Airports Authority of India (AAI) for the Maryada Purushottam Shriram Airport. Going with it is a set of buildings that houses teaching and other staff, all of whom have been asked to vacate within a month.
4 min read
Mar 05, 2022
The university has sought compensation but only for the buildings. A state institution, Avadh University has over 600 affiliated colleges spread across seven districts of UP – Faizabad, Sultanpur, Ambedkarnagar, Lucknow, Barabanki, Baharaich and Gonda.
Having to move within a month isn't the only problem. Teaching in classrooms sitting cheek-by-jowl with a mega construction site will be impossible, fear teachers. The university administration has itself pointed out that expansion and reforms mandated by the union government's National Education Policy (NEP) 2020 will become difficult to implement as they are short of space. Plus, the loss of land will complicate the university's review and assessment processes which, in turn, could impact its funding by state and central bodies. Finally, the land handover has opened the gates for more claims and encroachment by local influential people and now over 10 acres of its land are illegally occupied.
Avadh University order
A state government institution, Avadh University has nine residential PG departments and an Institute of Engineering on campus. It has about 5 lakh students of whom nearly 4,000 are studying pursuing different courses at university's campus. Before the airport, it was set on land measuring 112 acres.
In the wake of the Supreme Court verdict on Ram Mandir in Ayodhya, the UP government decided to build an international airport in the district. With a budget of Rs 1,008 crore, the airport will be built in three phases with use of existing infrastructure in the first leg. It will be spread over an area of 821 acres – so far, the state government has acquired 497.853 acres and handed over 317.85 acres of land to AAI on lease, for the first phase development for which the deadline is April 2023.
On June 1, 2021, the Faizabad university authorities had written to the sub-divisional magistrate (SDM) Sadar, Ayodhya, informing them about the land up for transfer and requesting additional land for the university from the neighbouring areas. University also asked for Rs 3,247.34 lakh (Rs 32.47 crore) as compensation for the lost buildings and another Rs 324.73 lakh as compensation. However, university officials confirmed to Careers360 they received no response.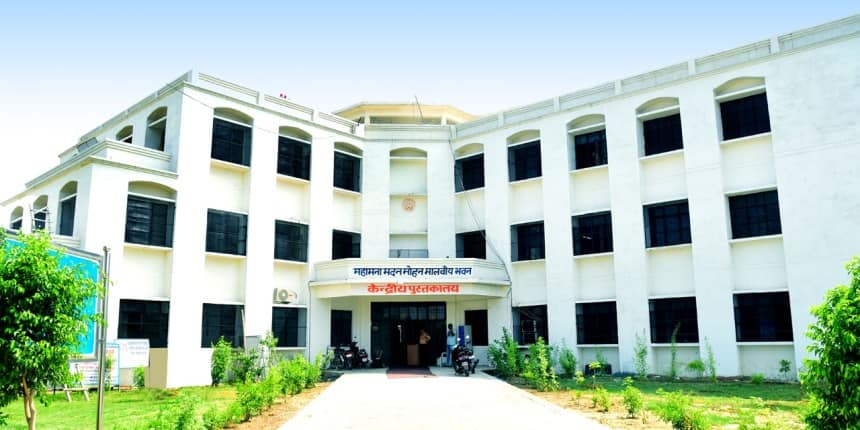 Dr RML Avadh University's library (Picture Source: University's website)
On March 29, the university issued separate notices for teachers, clerical staff and group-D workers to vacate the housing allotted to them on campus. They were given just a month – they are to hand over the keys to the officials by April 30, 2022.
The alumni association and faculty of the university said that the very existence of the university is under threat of being wiped out as with the handover of land, illegal encroachment of university land by local influential people has begun.
In the way of NEP
The RMLAU Faizabad, in its June 1, 2021 letter to SDM Sadar, Ayodhya reminded that the institution's fixed land for imparting education to students is being reduced and this, in turn, would impact its capacity to expand and reform in line with the National Education Policy (NEP) 2020.
"Currently, 4,000 students are studying and doing research on the campus. The number of students has to be increased to 10,000 to comply with the government's guidelines on National Education Policy (NEP) 2020. The university has started 42 new courses in the current session for which construction of new buildings is proposed," the letter said.
The loss of buildings and land, the university said, will severely affect students' studies and research work. "University's future activities will also be affected due to lack of land….. University may also face problems in verification of works being carried out with the grants given by central and state governments," the letter said.
Appeal to Yogi Adityanath government
In the second week of April, a delegation of teachers met Uttar Pradesh higher education minister Yogendra Upadhyay about this but returned with no guarantees or assurances, said Anil Kumar, an assistant professor in the university's department of physics and electronics. He has been living in the university's teachers and officers colony for the past 12 years but has been asked to vacate.
"The alumni association of the university has written a letter to Uttar Pradesh chief minister Yogi Adityanth suggesting …build[ing] an airport at a distance of 2 km from the university premises but no response was received from the government. We have to accept the university orders as we don't have any choice," Kumar told Careers360. "Now, AAI is taking 25 acres of university's land and later they may say that they want more land and ask the authorities to shift the university to somewhere else. So, there is a threat of the university being wiped out from its existence."
At least 20 families are living in Avadh University buildings that will be razed to make way for the airport. Even the vice-chancellor's residence, referred to as the VC bungalow, is part of these and the VC, Ravi Shanker Singh is reportedly shifting to a guest house on campus. A university official, on condition of anonymity, said that district administration often utilises the guest house for their purpose.
Apart from land going to AAI, the university has also had to contend with encroachment by locally influential Ayodhya residents and close to 100 houses have been built on university land but the district administration has taken no action despite complaints, said another professor asking not to be named.
Also Read| UGC makes collaboration with foreign universities easy; allows 3 types of programmes

Encroachment on campus
Om Prakash Singh, president of the Avadh University Alumni Association, which has the VC as patron, said that the university has hired a security agency to protect its properties.
"The university pays hefty amounts of money to hundreds of security personnel, but all these security personnel adorn the bungalows and vehicles of the officers. The university pays a hefty amount to the panel of lawyers to represent its case from the district to the high court but they are failing to stop illegal encroachment," he said.
The encroachment issue is one the university is aware of. In November 2021, it complained to the sub-district administration that three portions of its land had been encroached by local people. It said that efforts were made at university level to get back its land from encroachers. "It is expected that you will form a committee and free the university's land from encroachment. It is also expected that you will provide a map to the university marking its total area," the letter from then university registrar Chayan Kumar Mishra.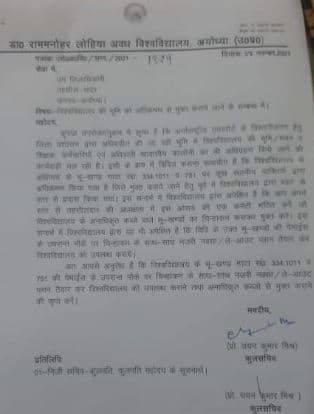 University's letter to SDM Sadar, Ayodhya dated November 17, 2021 (Image: Sources)Rajesh Kumar Singh, property officer of Avadh University said: "Ten-12 acres of the university's land have been encroached upon illegally by local influential people. No action has been taken by district and sub-district administration despite receiving numerous complaints from the university."
"A week back we apprised about encroachment and problems faced by teachers and other staff with the upcoming airport to Pankaj L Jani, Officer on Special Duty (OSD) of Uttar Pradesh Governor Anandiben Patel, Chancellor of the university. Senior officials have promised to help us, but nothing has been received on paper, officially," he added.
Also Read| CUET is 'not fair', might force states to opt for centralised syllabi: Educationists
University and nation-building
Sanjay Chaudhary, associate professor of history, culture and archaeology, has been teaching in Avadh university since 2001. He was allotted a residence on campus in 2008 and has been paying close to Rs 1 lakh a year from House Rent Allowance (HRA) to the university.
"Totally disturbed" and "distressed", Chaudhary has been house-hunting. "We have been searching for rooms since the day we got the notice," he said. "We want to have a room on the ground floor but we are getting the rooms on the first floor. It will be very difficult for my wife to use stairs as she is suffering from knee pain. In Ayodhya, we are not getting rooms fitted with western toilets and owners are not allowing us to install air-conditioners. My son is preparing for JEE. His studies will be disturbed while we search for a new room and later shift if we get one." The Joint Entrance Examination, or JEE Main, is the highly competitive entrance test for engineering.
"Where will the country be heading towards if you finish us ? Nothing can be more important than a university in nation-building. Surely an airport cannot be compared with a university," he said.
Problems with finding residences aside, construction will impact teaching-learning as well. "We won't be able to hold classes due to constant noise when the airport becomes operational. Nobody will compensate for the loss of university due to this project. Sensitive instruments and electronic devices used in research activities will not be able to work properly due to radiation and unwanted noise," explained Kumar.
RK Singh, the university librarian, is also among the staff asked to vacate. He said, "Since we received the notice, we are hunting for the house after office hours. A big problem for us is that we are not getting a house with three-four rooms. Today, they are asking teachers, clerks and non-teaching staff to vacate houses for building the airport, later they can ask for the entire land of the university for expansion. The university administration has surrendered to the government administration and they do not want to stand with their staff," he said.
Also Read| Rage On Campus: Why ragging persists in medical and dental colleges in India
Avadh University official hopeful of government's help
Vijendu Chaturvedi from the media cell of Avadh University said that land going to the airport comprises about half of the new campus comprising research labs and teachers colony, including VC bungalow, have been handed over.
"The district administration has asked us to clear the land and we have asked teachers and other residents to vacate the homes by April 30. They have to live in rented houses in the city till the construction of new buildings and it will take a long time. Teachers have presented their problems to the state higher education minister and hopefully the government will look into it," he said.
---
Follow us for the latest education news on colleges and universities, admission, courses, exams, schools, research, NEP and education policies and more..
To get in touch, write to us at news@careers360.com.