SP Jain School of Global Management's focus: Fintech, data science
SP Jain School of Global Management's new London campus' programmes include a global MBA, a Bachelor's in Data Science and a Master's in Fintech.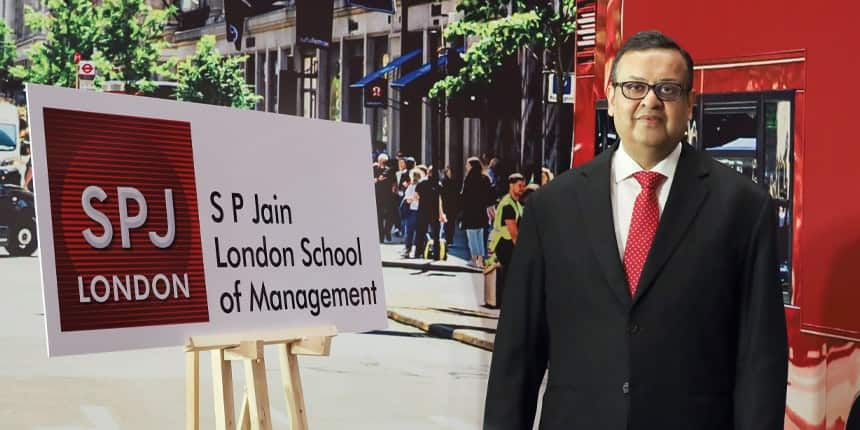 NEW DELHI: SP Jain School of Global Management's newest campus has opened in London. This is their fifth campus aside from the ones in Mumbai, Dubai, Singapore and Sydney. Nitish Jain, president, SP Jain School of Global Management, spoke to Careers360 about the new campus, their rise in global rankings and how management education has changed over the years. Edited excerpts below.
Recommended :
Get important details about SP Jain School of Global Management, Mumbai.
Download Brochure
Q. Why was London chosen for the new campus?

A. London is one of the most attractive cities in the world, especially for students from India. In a recent survey, QS ranked London as the number one city to study in. It's a regional capital for most companies in Europe and some others from around the world. So, it's a very appealing destination for students.
We had planned for this in 2020 when we applied to the UK Office for Students. The OFS is the federal regulator and they approved the programme.
We also applied for new degree awarding powers, which means that we can award our own degrees and don't need to commence our operations with a partner school from the UK. Almost every other foreign entity, when they enter the UK, needs to start with a partner university. We are only the fifth school and the only ones from all of Asia to be granted this.
Q. What courses will SP Jain provide at the London campus and what should students expect from the institution?
A. We have a flagship global MBA. We have a part-time executive MBA. There is a flagship programme at the undergraduate level, Bachelor of Business Administration (BBA), which will be a four-year format. They're used to a three-year format but we are providing a four-year format just because we think it works better.
Also Read| BTech-MBA: This 'deadly combo' is helping tech graduates land better jobs
We have another programme, Bachelor's in Data Science, and we've created a whole new programme just for the UK, Master's in Fintech or MFD. The UK is the world capital for fintech and our students will have the opportunity to study it and maybe join a global bank.
Q. Could you talk about the fees? How will it compare with other UK institutions?
A. The British students will join at a regulated fee which is determined by the government. For the undergraduate level, it's about £9,000 per year and, and the postgraduate level, it would be about £12,000. But for international students, the fee is £18,000. And for the first intake we are starting off with a 20% discount.
Q. We've been seeing a lot of student migration to the west. Do you expect Indian students to be part of the B-school's cohort?
A. In our experience, about 25% to 30% of the students actually stay on to migrate but about 70% will eventually come back to India.
Of course, we offer students the scope to get jobs in the UK and 90 of our alumni are working in the UK. All of them are very eager and happy to help us and they work for the top banks and top consulting firms.
So, our students will get to piggyback on them to get jobs in the UK. We are also starting an office there to help students get jobs. We have many internship programmes that help students to gain experience in the UK.
Q. What steps have you taken to help place your students?
A. The alumni have already promised full support to us. They've already begun to introduce us to their human resource departments.
We also have an industry advisory board. This consists of 10 people who are senior executives in the UK. They are already part of SP Jain, they believe in the school and they are all willing to lend their network to the school. We will also hire a team to reach out to these companies, start with guest lectures, and build our connections and relationships with these companies.
We already have such offices in Dubai, Mumbai, Singapore and Sydney. Many of them are connected with the UK.
Q. Recently, Bloomberg BusinessWeek ranked you 7th in Asia Pacific for B-schools. What helped your institution improve the ranking?
A. Each ranking is different. How you get ranked in the Financial Times (FT) or the Economist or Bloomberg is not the same. Bloomberg focuses a lot on what students have to say about you and what your recruiting companies have to say through surveys. How the school helps you in entrepreneurship, networking, learning or jobs, or in the compensation your graduates get.
We don't fill up the survey. We only have to give the names of the students or recruiters and they directly contact them. It becomes somewhat unbiased. The Bloomberg BusinessWeek survey is very prestigious. When we ranked at number seven, we were ahead of all the schools in Singapore and Australia. And there were only two institutions from India that were ahead of us.
Q. Over the decades that you've been in the management field, how have you seen it evolve?
A. As a business school, we focus on jobs. Whether you take the job in the UK or you take the job in Dubai or in India, it's finally about jobs. If you look at a business manager, he is in a white-collar job. In other words, he will sit in a chair and make decisions throughout the day. He doesn't physically do anything. It's just the mental contribution.
The MBA programmes, or all our business programmes, focus on decision making. The better the quality of the decisions and the more consistently you make them, the more you will be promoted.
But technology has now become an increasingly important aspect of making decisions. We have moved from decision-making to data-driven decision-making. It sounds like you just added two words before that but it's a completely new programme.
Data-driven decision-making is what companies look for. You get more value-added jobs because you can make decisions, not just intuitively but using concrete data. Our students are taught the tools of data-driven decision making in the early part of the programme and they use it in the second half.
Also Read| New Jobs: Gaming may fetch 1.6 lakh jobs for Indian youth
I think that is the single biggest difference that we have made in the programme. The second change is the world moving to artificial intelligence (AI). AI is doing many of our jobs but, at the same time, human skills are becoming more important.
You can use the same technology in a top school or a middling school, in a top company, at a CEO level or at the junior level. Technology is a big leveller but what is more unique is who you are as a person, how you speak, whether you communicate with empathy, your people skills – these become the differentiator now. Earlier they would test your knowledge; now, they are interested in the soft skills.
Our school emphasises on the soft aspects and we do this through a Professional Readiness Programme. The PRB is a 12-month programme for a student to polish their communication, creative thinking and other soft skills. That helps our students stand out from some of the schools that don't have the same focus and emphasis.
---
Follow us for the latest education news on colleges and universities, admission, courses, exams, schools, research, NEP and education policies and more..
To get in touch, write to us at news@careers360.com.
Know More About
Rating
3.8/5
Download Brochure