"There is need to nurture and mentor innovation & disruption in Indian management education"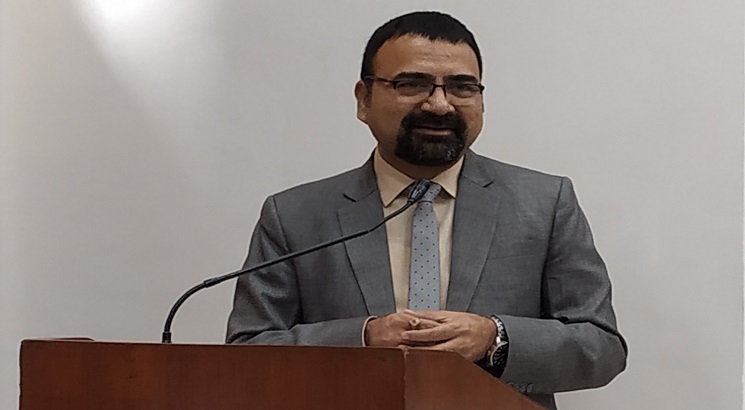 Prof Pankaj Gupta, President IIHMR University, Jaipur speaks to Careers360 on the demand for management graduates in emerging areas and his experience of working with institutions in India and abroad...
Q. You have been associated with the leading higher education institutions in India and abroad, what changes are needed in the Indian education system?
A. Indian higher education, especially management and research programs, have seen significant evolution in a climate of Volatility, Uncertainty, Complexity and Ambiguity (VUCA). The AICTE has collaborated well with stakeholders for upgrading curricula and has provided sufficient freedom to private institutions to independently implement curricular interpretations and teaching methods. The resulting transformation is making itself visible in institutions that are engaging with the industry and community at the highest levels, with the widest support of public analytics and industry relevance.
However, more practical exposure for students, hands on experimentation with new ideas and ability to take risks in a simulated environment, will do Indian education a world of good. In a global level identifying desired talents and aptitudes early on and supporting them financially and socially, has reaped results. As institutions of higher learning we should be able to nurture individual talent and hone skills. However, in India, nurturing and mentoring innovation and disrupting the trend, are frowned upon. This mentality has to change and both administrators and policy makers have to make space.
Q. The management education across the globe is going through a transformation phase, how prepared are Indian B-Schools?
A. Both the nature and character of organizations and businesses are changing in an increasingly VUCA world. Leadership is more reliant on data than ever before due to increased competition and shifts in global paradigms of markets and technology. There is the inevitable convergence of e-services to watch out for. IT systems will face increasing competition, disruption and deception and companies have to build resilience by creating contingency plans. Rapid changes in the business environment enforce adhoc adjustments in organizations to maintain market share and remain relevant to the new age consumer.
The new age manager will need to constantly keep an eye out for changes in the external environment. The best way to meet change is by planning for impact and mitigating effects on the business model. Costs have to be minimized and effectiveness maximized by looking at change as an opportunity. IIHMR University continues to indulge in best practices and cutting-edge research by its academicians to ensure that both curriculum and dissemination remains current and holistic.
Q. What is the demand for Management Education in areas like Healthcare, Pharmaceutical and Rural Management?
A. Healthcare is shifting track to patient care, with each new patient seeking to address risks before they materialize, increased digital awareness and factoring-in of variables such as ecological concerns to public health, lifestyle, stress and competition. New skill sets are required to meet these demands and with the PM-JAY(Jan AushadhiYojana), many new customers will be added every year. So, new personnel in leadership and administrative roles will be required.
Similarly, pharmaceutical management has to be prepared for changing methods of payment post Ayushman Bharat, operational inconsistencies will have to be controlled as platforms are integrated, people displaced by automation from AI, assets transferred across locations and vendors changed despite higher costs of acquisition. India continues to be the world leader in generic pharmaceutical products despite recent export concerns and problems in availability of APIs. As a complement to health services, pharma industry will continue to grow and employ new managers.
Rural management is beset with problems of equity in access to resources. There is plenty of scope for improving the lives of communities through interventions of technology, creation of markets, education and healthcare. So, governments, rural marketing companies and voluntary agencies will continue to employ rural managers.
Q. Kindly share some of the initiatives you have planned for IIHMR Jaipur?
A. The mission of the IIHMR University, Jaipur is to improve standards of health through better health services management that result in more effective and efficient health systems providing accessible and affordable quality health care. The university will continue to provide innovative new research and training methodologies and build on the existing capacity. We have ambitious growth plans in the areas of academic excellence, internationalization, student engagement, capacity building, international accreditations, etc. We are also going to engage with our alumnus and corporate partners in a big way. Focus will also be on cutting edge research, which will not be pure academic in nature but will also make a big difference in the lives of people worldwide. We are also going to promote entrepreneurship and social entrepreneurship in a big way and thus making a difference for the State.
Q. Government is working on New Education Policy. What are your expectations from it?
A. The New Education Policy is expected to give voice to various stakeholders and address demands for making more affordable, equitable, flexible, holistic approach to education and converge with the need for life skills and industry relevance while ensuring quality and value addition. We expect that policies will have room for incorporating changes at short notice in response to economic and social turbulence and disruptions due to technology.
Stay updated with latest Education News