UGC Chairman, Prof. D.P. Singh says, "Drafting of learning outcomes based curriculum is on"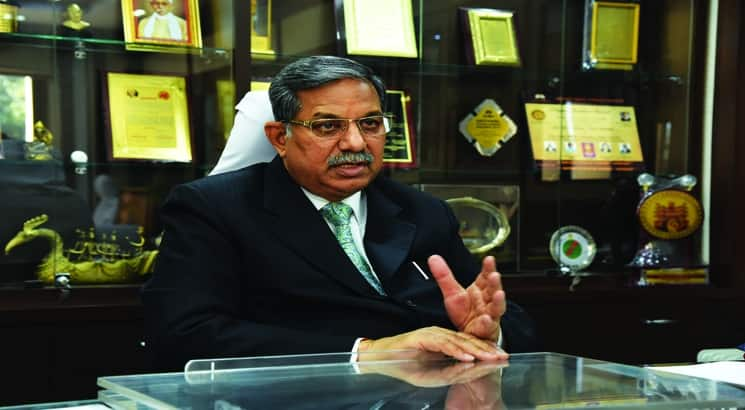 The University Grants Commission has taken a number of initiatives to improve India's higher education. Prof. (Dr.) D. P. Singh, Chairman, UGC, speaking to Rajaram Sukumar deliberates on some of them…
Q. What are the objectives of the UGC in the backdrop of the huge growth of India's higher education?
A. The Indian higher education has grown exponentially over the last several years. In line with this, the UGC has set forth objectives for improving the quality in Higher Education Institutions (HEIs).The objectives encompass all the integral areas like regular revision of curriculum with clearly specified learning outcomes and soft skills, enabling youth secure access to employment/self-employment or engage in pursuit of higher education; developing social-industry connect; availability of motivated teachers and accreditation to ensure qualitative self-improvement in HEIs. The UGC quality mandate and various other initiatives expected from all universities/colleges have been placed on UGC website and circulated across the nation.
Q. Could you elaborate on the measures taken to enhance quality?
A. A number of steps are being taken to improve quality of institutions across the board. The UGC and the MHRD recently organised a three-day National Conference of Vice Chancellors and Directors on Research and Innovation in Higher Education. The following ten resolutions were adopted by all the participants with a resolve to achieve the same by 2020.
Reaffirm our commitment for achieving the UGC Quality Mandate in our respective universities and the affiliated institutions by 2020 and NAAC accreditation for all institutions by 2022
Adopt and implement Learning Outcome based Curriculum Framework (LOCF) in HEIs by updating curriculum from academic year 2019-20; Adopt Learner Centric teaching learning processes by suitable improvement in the pedagogy
Participate in the Induction Training of newly recruited teachers and annual Refresher Training of all the teachers using the SWAYAM and take measures for improving the motivation levels of teachers
Enhance research productivity of our respective institutions by orienting teachers and students to participate in competition-based research funding schemes
Create an innovation culture and ecosystem, including administrative and financial support, academic freedom and flexibility for promoting innovation and encourage participation in the Smart India Hackathon; facilitate setting up start-ups by students
Sensitize the students and encourage them for their active participation in social/economic betterment of the community by adopting at least five villages under the Unnat Bharat Abhiyaan
Give a big fillip to vocationalisation of higher education by participating in the relevant schemes under National Apprenticeship Promotion Scheme (NAPS) duly modified for the requirements of higher education students, and also achieve constructive links with the industry
Encourage use of digital learning resources among students and teachers and approving SWAYAM courses for credit transfer, and use the resources like e Shodh Sindhu, National Digital Library and upload degrees on National Academic Depository
Create awareness about ethics in research and provisions for checking plagiarism and to weed out predatory journals
Strive for a smart and swachh campus, and also mentor the schools around our institution and the affiliated colleges to motivate students/teachers therein for striving for academic excellence.
Q. Have you taken any concrete steps to achieve quality targets?
A. To achieve the set targets of quality mandate, the UGC has initiated drafting of Learning Outcomes based Curriculum Framework (LOCF). The curriculum is based on an approach to synchronise existing teaching learning activities to ascertain the expectations from a  graduate in terms of understanding and outcome at the end of the programme. Besides, this approach envisages students as active learners whereby teachers act as facilitators and together they lay the foundation of lifelong learning. LOCF in 15 undergraduate subjects is ready.
Q. One of the areas of most concern is examination reforms. What are the UGC's measures in this regard?
In order to achieve the purpose of improving quality in higher education, another important initiative of the UGC is examination reforms. As the prevailing examination system focuses more on rote learning and reproduction of superficial knowledge, an attempt has been made to reform the existing examination system such that higher cognitive abilities of students are put to assessment.   
UGC has also prepared 'A Guide to Student Induction Programme', proposing for a six-day induction programme to be organised by HEIs for students entering higher education. The purpose of this programme is to help students develop familiarity with new environment and institution through various activities such as physical activity, mentoring, creative arts and culture, literary activity and extra-curricular activities.
A task force has also been constituted for developing curriculum for Soft Skills for UG and PG programmes for mentoring of non-accredited institutions, so that every institution can get accreditation by 2022. All institutions with good NAAC score/NIRF ranking are being conveyed that UGC is considering them as a mentor so that they may identify their mentee institutions.
Q. What about ICT-based tools for effective teaching-learning processes?
A. Under ICT-based learning tools for effective teaching-learning process, the following initiatives have been taken by the UGC.
E-PG PATHSHALA: Approximately 23,500 modules in 70 subjects and 723 papers are developed in four quadrant approach of e-PG Pathshala Project (https://epgp.inflibnet.ac.in/).Approximately 41 lakhs learners across the globe have accessed e-PG Pathshala.
MOOCs ON SWAYAM PORTAL: The government has launched SWAYAM (Study Web of Active and Young Aspiring Minds) portal that provides an integrated platform for online courses, using information and communication technology (ICT). Through this, any student can join virtual courses offered by the best teachers in the country, interact with the teacher, take tests, earn academic credits and transfer them on their academic record.
UGC is the national coordinator for non-technology postgraduate and degree programmes. UGC also issued a Regulation on Credit Framework for Online Courses through SWAYAM  Regulation, 2016 on 20th July, 2016, followed by the first amendment on 16th March, 2017, available at www.ugc.ac.in.
Since July 2017 to March 2018, 60 MOOCs (Massive Open Online Courses), including 18 for credit and 42 non-credits, are being delivered as online courses on the SWAYAM platform by various universities with the provision of credit mobility across educational institutions.
For popularization of the SWAYAM initiative, the UGC has prepared three 30 seconds radio spots  and three TVCs in 10 regional languages and also in English. The UGC has also prepared three posters on SWAYAM initiative, and has dispatched them across all the universities requesting all the universities and colleges to identify SWAYAM coordinators and mentors respectively. Social media like Twitter is also being regularly used by UGC for promoting SWAYAM.
The UGC has started 47 MOOCs from July 2018. At least, 40,311 learners were enrolled in these UGC non-technology postgraduate MOOCs on SWAYAM platform. The examinations for eight courses were conducted on the 1st and 2nd of December, 2018. At least, 412 learners appeared for these examinations. The pen and paper examination for remaining 39 UGC MOOCs were on 19th and 20th of January, 2019. The UGC also started offering 58 courses on SWAYAM portal from the January 2019 session.
Q. Could you elaborate on academic and research initiatives?
A. Annual Refresher Progamme in Teaching (ARPIT) is a  unique initiative of online professional development of in-service teachers of higher education using MOOCs platform SWAYAM. It was launched by MHRD on the 13th of November, 2018. ARPIT is a 40-hour programme with 20 hours of video content offered in a highly flexible format which can be done at one's own pace and time. The programme has built-in assessment exercises and activities as part of the academic progression in the course. At the end of the course, there is a provision for terminal assessment which can be either online of written examination. The UGC has   decided that successful completion of the courses offered under the ARPIT programme with 40 hours of instruction material with a proctored examination will be treated as equivalent to one refresher course for the purposes of career advancement.
Another one is Leadership for Academicians Programme (LEAP). Launched by the MHRD, LEAP is a three weeks' flagship leadership development training programme (2 weeks domestic and one week foreign training) for second level academic functionaries in public-funded higher education institutions. The main objective is to prepare second tier academic heads who are potentially likely to assume leadership roles in the future. The programme would provide senior faculty with high academic credentials, the required leadership and managerial skills, including skills of problem-solving, handling stress, team building work, conflict management, developing communication skills, understanding and coping with the complexity and challenges of governance in HEIs, financial and general administration.
Q. Any initiative on research publication?
A. In order to refine and strengthen UGC approved list of journals, the UGC decided that research journals record indexed in SCOPUS and WOS may be considered for all academic purposes in the disciplines of science, engineering, technology, agriculture and bio-medical sciences.
For suggesting a list of credible quality journals in disciplines such as social sciences, humanities, languages, arts, culture, Indian knowledge systems etc., the UGC has established a Consortium for Academic and Research Ethics (CARE).
Members of the CARE would prepare lists of quality journals in their respective disciplines within a defined timeframe. These lists will be critically analysed and curated for the quality of the journals by a special cell at the entrusted institution.
Q. Digitization is in focus nowadays. How is UGC looking at this?
A. In 2017, NAD was launched as an online store house of academic awards (degrees, diplomas, certificates, mark sheets etc.) lodged by the academic institutions/boards/eligibility assessment bodies in a digital format. It shall help in validating their authenticity, their safe storage and easy retrieval.
With the implementation of all these initiatives. it can be rightly concluded that India's higher education landscape is all set to change for the better.   
Regulations for maintaining uniform standards of education
University Grants Commission (Recognition and Monitoring of Assessment & Accreditation Agencies) Regulations, 2018

UGC Minimum Qualification for Appointment  of Teachers and other Academic Staff in Universities  and Colleges and Measures for the Maintenance of Standards  in Higher Education, Regulations, 2018

UGC (Categorization of Universities (Only) for Grant of Graded Autonomy) Regulations, 2018

UGC (Conferment of Autonomous Status upon Colleges and Measures for Maintenance of Standards in Autonomous Colleges) Regulations, 2018

University Grants Commission (Online Courses or Programmes) Regulations, 2018 inviting proposals from HEIs for the Academic Session 2019-20
Snapshot of India's higher education
| | |
| --- | --- |
| Students enrolled in higher education | 3.66 crores |
| Students enrolled in the age group of 18-23 years (GER) | 25.4 % |
| Affiliated/constituent colleges (AISHE Report) | 39,527 |
| Teachers in higher education | 12,84,755 |
| Students who graduated (all streams) | 64,19,639 |
| Engineering students | 8,73,406 |
| Central universities | 48 |
| State universities | 394 |
| Deemed to be universities | 125 |
| Private universities | 325 |
Note: The figures are for year 2017-18 and the number of universities as of January 2019
---
Follow us for the latest education news on colleges and universities, admission, courses, exams, schools, research, NEP and education policies and more..
To get in touch, write to us at news@careers360.com.
More From Rajaram Sukumar