'Money is gone': Why Indian MBBS students of Ukraine colleges see no way out
'Money is gone': Why Indian MBBS students of Ukraine colleges see no way out
Ukraine Medical University: These Indian MBBS students can neither go back nor head to another country.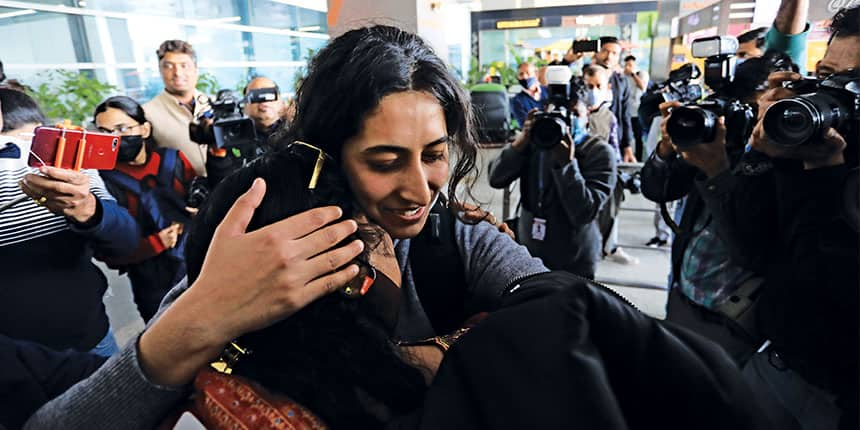 NEW DELHI: Neeraj Santosh had come very close to achieving his goal. By February 24, when Russia invaded Ukraine upsetting all his plans and snatching away a career, he had just completed fifth year at the Zaporizhzhia State Medical University, Zaporizhzhia, south-east Ukraine. He had just another year to go before he could return for an internship in India.
Santosh had left at the very end. Transport problems began as soon as the war started and students were stranded. Also, the decision to abandon his education was not one he could take lightly or quickly. Now stranded in a country being ripped apart by war, Santosh spent the next few weeks just focusing on surviving until the government's Operation Ganga fetched him home.
Also Read| Ukraine return Indian students in panic as universities plan to resume offline classes, exams
Whatever relief Santosh felt upon reaching Thiruvananthapuram, Kerala, on May 7 was extremely short-lived. He still had two semesters of his medical programme left, the war wasn't ending. Although the universities in Ukraine are calling the students back assuring them of care and protection, students are scared to return to a war-torn country. Plus, the Indian government is not allowing them to return. "They are scared they [the Indian government] will not be able to bring the students back," said Santosh who does want to go back.
Over the past two years, as the pandemic disrupted all education, two sets of students have had it especially bad – medical students in China and Ukraine. Indian students enrolled in Chinese universities came home at the start of Covid-19 in 2020. Since then, students from many other countries have returned to class but not Indians who continue to attend online. However, things are now looking up with the Chinese foreign ministry saying the process for the return of Indian students has begun.
Also Read| 'Legitimise superstitions': What Ayurveda courses teach and why there's demand for change
But for those who fled Ukraine, there's still no plan. In July, the ministry of finance informed parliament that around 20,000 Indian students had been evacuated from Ukraine. Of them, 1,387 students were paying with education loans of which the total outstanding balance is Rs. 133.38 crore.
MBBS Ukraine: 'All the money is gone'
The students back from Ukraine are now seeking admission in Indian medical colleges which the medical education regulator National Medical Commission (NMC) has declined.
In case of those attempting to go to other countries to complete their courses, NMC requires them to study at least 18 months there to be allowed to write the Foreign Medical Graduates Exam. The FMGE is compulsory for those graduating from foreign medical colleges to practise in India.
Also Read| NEET AIQ, Exam Delays: Jammu-Kashmir MBBS students are looking for alternatives
For Ambarish (name changed on request), this presents a problem. "If I have to go to a university in a European country or any other country, the NMC says that we have to complete at least 18 months in that country. This means I will have to take admission in the fifth year again," he said, "things are so difficult here".
Ambarish had gone to Ukraine on a study loan with collateral attached to it. "All the money is gone. How do I arrange for a loan again? I really wanted to come back to India and work here. I don't want to enroll myself for the fifth year again. Now, if I manage to get admission, I will enroll for two semesters which means sixth year and continue to work in the country wherever I go," he said. NMC has said that foreign medical students who have already obtained their degree from their university can enroll themselves for an internship in their respective states. They will work at par with Indian students who are completing their internship and will be paid the same stipend.
Also Read| UGC's inclusion guidelines cover disabled, LGBT students, acid-attack survivors
Indian Students In Ukraine: Another country
Amit Kumar, a third-year student of National Pirogov Memorial Medical University, Vinnytsya, has applied for his transcripts. He is planning to apply to medical colleges in Russia. He does not want to go to countries like Hungary or Poland as he finds them "too expensive" and also to countries like Georgia or Armenia, saying they are "war-prone."
Although he has chosen Russia, he is wary about the language factor. "We are trying to find colleges and universities which offer the whole programme in English language and not Russian," he said. Kumar's parents had already shelled out Rs. 32 lakh, selling a piece of land.
Kumar also says that his admission will be based on the transcript. "The authorities will see if the credits match or not and depending on that, the college will decide which semester we can be admitted to," he said.
Back to China
Meanwhile, relief is in sight for those enrolled in Chinese medical colleges.
The ministry of foreign affairs of China on August 8 said on social media that the country is making arrangements to call back all international students. "New visa policy will be open to all international students, covering universities and majors soon in August. Get prepared and better contact your university for NOC to speed up the visa application process. If the university can't reply now then just ask again once the new policy is formally announced," it said.
The students are elated with the announcement.
"I am in the fifth year right now and so only two more years to complete my MBBS and internship year," said a jubilant Pranay Khaturia, studying at Wenzhou Medical University. It was a difficult year for Kathuria, attending all classes online. Like many others, he attended both classes conducted by his university and online classes to prepare for FMGE.
Aamish Hashmi from Bihar had enrolled himself in Zhejiang Chinese Medical University, Hangzhou China. He has completed his fourth year. He also received a set of forms from the university about going back. He has filled up the forms and already mailed them back. He is eagerly awaiting the call to complete the visa process.
Also Read| NEET AIQ, Exam Delays: Jammu-Kashmir MBBS students are looking for alternatives
"The visa process has already started in Mumbai and now they are going to start in Delhi too. So, those who are currently in an internship period, they will be called first, next those who are in the sixth year will be called," said Hashmi. "I have mailed the form and they have shared the process to be followed. they will let us know later they".
Hashmi aspires to pursue postgraduate studies in India. "I am preparing myself for the FMGE examination. For the past eight months, I am in Delhi attending coaching classes for FMGE in Gautam Nagar," he said.
Covid-19 pandemic was bad for all, more specifically for Indian students studying in medical colleges in Ukraine and China. While things are looking up for those studying in China, students studying in Ukraine see no way out.
---
Follow us for the latest education news on colleges and universities, admission, courses, exams, schools, research, NEP and education policies and more..
To get in touch, write to us at news@careers360.com.
More From Pritha Roy Choudhury