FMGE coaching fills gap for MBBS students of Chinese medical colleges stuck in India
FMGE coaching fills gap for MBBS students of Chinese medical colleges stuck in India
MBBS students of China's medical colleges stuck in India since 2020 are taking FMGE coaching to supplement online classes till they can go back.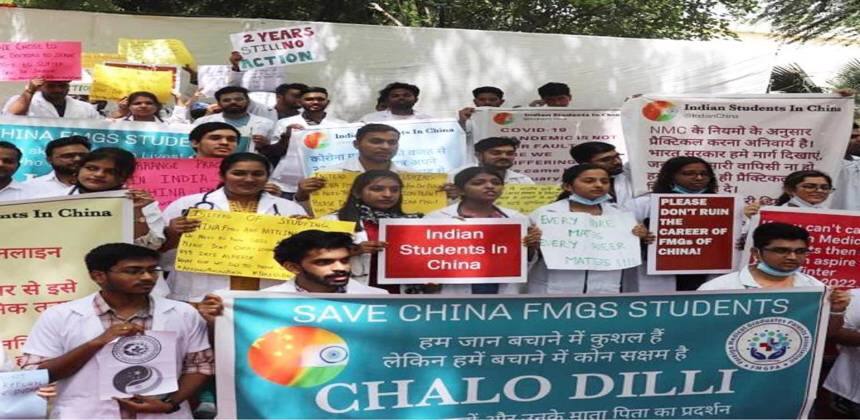 NEW DELHI: After attending online classes for months from his home in Bihar, Aashutosh Kumar, now a fourth-year student of Youjiang Medical University for Nationalities in China, moved to Delhi in 2021.
"Online classes did not seem to solve many of the problems I was facing. So I decided to come to Delhi from Bihar and enrol for face-to-face classes in one of the tutorial institutes," said Kumar.
Gautam Nagar in south Delhi is a hub of FMGE coaching institutes that train medical graduates from foreign universities for the Foreign Medical Graduate Examination (FMGE).
For students returned from China due to COVID-19 or Ukraine due to the war and forced to attend classes online, coaching classes have been supplementing them, standing in for regular, in-person instruction. Kumar spent Rs 4 lakh on one year's instruction at the coaching centre in Gautam Nagar thinking he'd work toward the FMGE at the same time. "The number of students may range from 200 to 400 in a class in these institutes," he said.
Pranay Kathuria, enrolled in Wenzhou Medical University, has been attending online classes and supplementing them with FMGE coaching online offered by Indian education technology (edtech) companies.
Also Read | Ukraine War: Medical student spent days without food, sleep as he fled to Hungary
But this group, especially those who left China during the pandemic, would much rather return to their classes. Over June and July, these students held multiple protests seeking a response from the government and National Medical Commission (NMC), the top medical education regulator. "Every other country is in some bilateral talks with China and their students are going back. In Asia, only India is left. Students of every other country has been called back," said Kathuria. "We don't want to get stuck in the political drama, we are just requesting our government help us go back to China."
MBBS In China: Stuck for 2 years
Kumar had returned to India for the winter break on January 20, 2020. His return flight was scheduled for February 27 but he could not get on it. All flights to China had been cancelled due to COVID-19. For the next two years, Kumar's been compelled to attend online classes conducted by the university.
Most students from Chinese universities have much the same story.
They never miss the online classes their respective universities conduct. They log in at 7 am every day and classes continue till late afternoon. "The teachers there are very sincere and strict. You cannot miss a class which consists of three successive periods. If anyone misses three classes, they get a warning and the next time the same happens the student is expelled from the university," said Kathuria.
However, students miss the hands-on training. "I dissected mice, rabbits and guinea pigs. I also worked on cadavers. That gives you the extra confidence," said Kathuria. None of that is possible through online classes which are purely theoretical.
Students also miss the facilities and technology at the Chinese colleges. "The patient can just put their hands in a machine and press a button to know their blood pressure, pulse rate etc.," said a student on condition of anonymity.
"I don't know what will happen and what I am doing. I have online classes one after another throughout the day. I need to go back to China, else my whole life will be spoilt," said Kathuria.
Also Read| UGC's inclusion guidelines cover disabled, LGBT students, acid-attack survivors
China medical college fees, internship
Most students who went to study medicine in China did so because their scores on the National Eligibility cum Entrance Test (NEET UG) were not high enough for a seat in a government medical college and private medical colleges in India are prohibitively expensive.
"Studying in China is a better option than giving the huge amount of donations in private medical colleges in India," said a fourth-year student asking not to be named. "I have paid half of what I would have been paying in a private medical college in India," said another student, also on the condition of anonymity. The student completed the final exams online and has an MBBS degree now. They are completing a two-year internship in a government medical college in Delhi, an opportunity that took considerable hussle to secure.
The NMC had issued guidelines asking the directorates of medical education and institutional heads to take necessary action and ensure that students – including foreign medical graduates – complete their internships. The NMC had also said no fees should be charged from any student and that foreign medical graduates be treated at par with Indian medical graduates and provided with a stipend and other facilities.
The policy for foreign medical graduates is yet to be implemented in most medical colleges.
The Supreme Court had directed the NMC to plan for the return of the students by June 29 or make arrangements for the student to attend practical classes in medical colleges in India. The body is yet to come up with a plan.
Also Read| Tulsi-worship, rote-learning, Hanuman's food habits: What Karnataka's NEP 2020 position papers say
MBBS In China: Online exam, NExT, FMGE
During the two-and-a-half-year period, students appeared for online exams every semester, attempting them based on whatever they could grasp from online classes. But face-to-face interaction was necessary as many were not confident. That's where the coaching classes helped.
"Attending these [coaching] classes were necessary as they help you to clear the FMGE exam also,' said Kumar adding "There is no clarity on NexT, so we are confused." The NMC has introduced a National Exit Test (NExT) which all graduating MBBS students will have to write to be granted a licence. It will do double-duty as an entrance exam for postgraduate medicine – replacing the NEET PG – and eventually also supplant the FMGE. What is also not clear is from when it will be introduced.
The coaching classes are now serving as a safety-net against a whole array of uncertainties facing the students from China.
While students have returned from Ukraine as well as China, they are not exactly in the same boat. Those from Ukraine know returning is difficult, if not impossible. Many of them hope to be accommodated within Indian institutions, either given admission or allowed an observership.
"We, the students enrolled in China, are not demanding that we be absorbed in Indian medical colleges. We know that is not possible," said Kathuria. "We only want to go back to China."
---
Follow us for the latest education news on colleges and universities, admission, courses, exams, schools, research, NEP and education policies and more..
To get in touch, write to us at news@careers360.com.
More From Pritha Roy Choudhury