NEET AIQ, Exam Delays: Jammu-Kashmir MBBS students are looking for alternatives
Medical students in Jammu and Kashmir already faced delays, seat and resource shortages. Introduction of the AIQ was the final straw.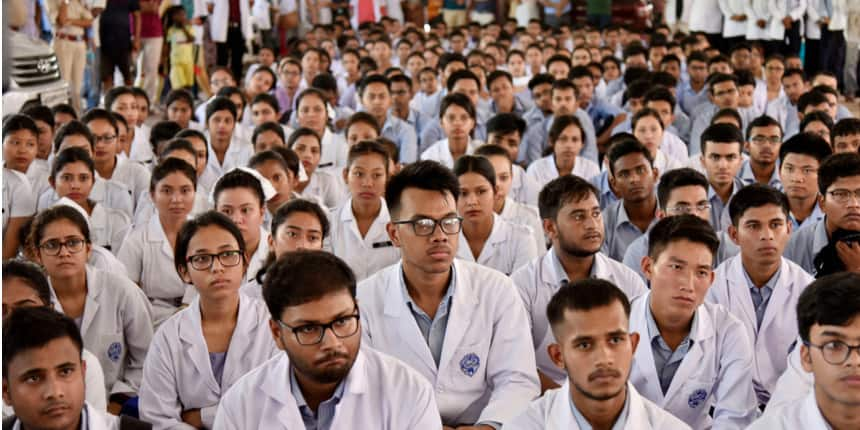 NEW DELHI: Anmol Palak, 25, has moved on. Palak, a resident of Jammu and Kashmir, completed his MBBS degree in 2021, and chose to try his luck in the Public Service Commission (PSC) examinations instead of pursuing a postgraduate degree. Many of his friends who do want to stay in medicine, are considering moving abroad.
"I completed my internship in December last year. Now, I have cleared PSC to become a medical officer. It was my personal decision. I'm going to defer my postgraduate [studies] for at least two or three years… Many students I know are preparing for the UK or US, otherwise they are going to be trapped," said Palak.
Several reasons are behind these decisions, said students. Delays in exam processes have set students from the UT behind by a year; there's intense competition for just a handful of seats. For a system of admissions that was already harrowing, Jammu and Kashmir was then added to the All India Quota (AIQ) from 2022. Students are preferring to move along rather than "waste" time trying to study medicine in J-K.
NEET AIQ in J-K
With the announcement of the National Eligibility cum Entrance Test (NEET) PG merit list in mid-July, all medical colleges of Jammu and Kashmir came under AIQ.
This meant that 50 percent of postgraduate seats in the government medical colleges (GMCs) of Jammu and Srinagar and 100 percent of seats in the deemed university of Sher-i-Kashmir Institute of Medical Sciences (SKIMS) were pooled under AIQ. The move invited protests across medical colleges in Jammu and Kashmir.
With the abrogation of Article 370 and the loss of statehood for Jammu and Kashmir, pooling of the medical seats in the Union Territory into the All India Quota was inevitable. However, according to students, this was not a decision to be rushed.
Unlike other states, Jammu and Kashmir has very few postgraduate seats – just 542 seats across three medical colleges – to begin with. Only less than half of that will now be for students from J-K.
Students also said that the number of clinical seats also went down drastically as 100 percent of SKIMS seats, which had the highest number of clinical seats among the three colleges, was moved to AIQ.
"A major chunk of the seats was in SKIMS, around 40 to 45 percent. With AIQ, only 170 seats are available for around 1,400 students who appear for the exams. Out of this, only 40 percent are clinical seats. Everyone wants clinical seats. No one wants to do research at the start of their career so, people usually go for clinical studies. If you look at just the clinical seats, I'm sure that is going to be under 100 seats," said Palak.
No additional NEET PG seats
Students also said that although the total undergraduate seats were increased to 1,100 over the past few years, no postgraduate seats were increased over the same period. The union government set up five new medical colleges – GMC Anantnag, GMC Baramulla, GMC Rajouri, GMC Doda and GMC Kathua – all of which got permission to start undergraduate courses by 2021.
While this increased seats for undergraduate students, it did nothing for postgraduate seats as the colleges can only start their postgraduate programmes once their first batch of MBBS students graduate.
Students also said that there is a shortage of staff in many of the new GMCs which has forced the government to move professors from the existing ones.
"Increasing seats also depends upon the number of faculty. If they have adequate faculty then only they can increase seats. Now, they have sent faculties from GMC Jammu or GMC Srinagar to any of these five new colleges. Few went as heads of departments. Then, some are newly recruited. As of now, they can't increase the seats," said Palak.
No NEET bond period
Students also pointed out that, unlike other states, Jammu and Kashmir does not require students to sign bonds that they will work in the state for a certain amount of years. Due to this, students coming in from other states may opt to move out after their programmes, leaving the medical system, which is heavily dependent on residents, in tatters.
"Visit any medical college in Jammu and Kashmir and you will see the same story. GMC Kathua has only two or three consultants in the department, one or two registrars, and they have to run OPDs. They have to bring junior residents who are working as senior residents," said Palak. "
"There is already a crisis in medical institutions. They don't have adequate doctors. The students who are coming here don't have any bonds. In other states they will have to spend two to three years [working in the state]. If the same applies here, that would be in the interest of everyone. At least for this year, they have not informed about the bond system."
The presence of bonds in other states also means that students from Jammu and Kashmir studying outside will not be able to return to fill the vacancies prior to completing their bonds.
MBBS Students: A year lost
In addition to the lack of seats, medical students in Jammu and Kashmir are frustrated by the constant delay in conducting examinations in the GMCs. According to students, several batches have had to appear for NEET PG one year after the rest of the country due to delay in conducting examinations.
"I haven't failed any of my papers. Yet, I graduate a year after the rest of the students in India. We are lagging behind by an entire year compared to the rest of India because the university does not conduct timely exams. Friends who had gone to other states to do their degree already gave the NEET PG last year. We are only able to do it now," said Sushant Kherkha, a student. Kherka joined GMC Jammu in 2015 and could appear for NEET PG 2022 and is awaiting the NEET counseling dates.
"This is a major issue that we face. The academic calendar of GMCs in both Jammu and Srinagar lags by one year every year. They keep the exam for one month and results come after three or four months and by that time a year is gone," said Abhay K Gupta, general secretary of Jammu and Kashmir Junior Doctor's Network. "Across India, the 2016 batch appeared in NEET 2022. From Jammu and Kashmir, the 2015 batch appeared. The same goes for next year and the year after. If these batches don't get a good score in NEET PG, they will just straight up lose two years [as they will have to appear again]," said Gupta.
Moving abroad
The lack of postgraduate seats combined with the delay in exam processes has forced students to opt for other avenues and careers. Some are trying to flee abroad. Students said that the inclination to move abroad is also forced by the slow functioning of the medical system.
"The NEET PG exam was held in May and there is still no date for counselling yet," said Gupta. "I started MBBS in 2015 and now I'm still waiting [for the admission process to start]. It has been more than seven years. So, People tend to move out rather than waste their precious years. The popular options are moving to the UK and US."
---
Follow us for the latest education news on colleges and universities, admission, courses, exams, schools, research, NEP and education policies and more..
To get in touch, write to us at news@careers360.com.
Know More About
Rating
3.6/5
Download Brochure