'Will not back down': Pondicherry University students against fee-hike
'Will not back down': Pondicherry University students against fee-hike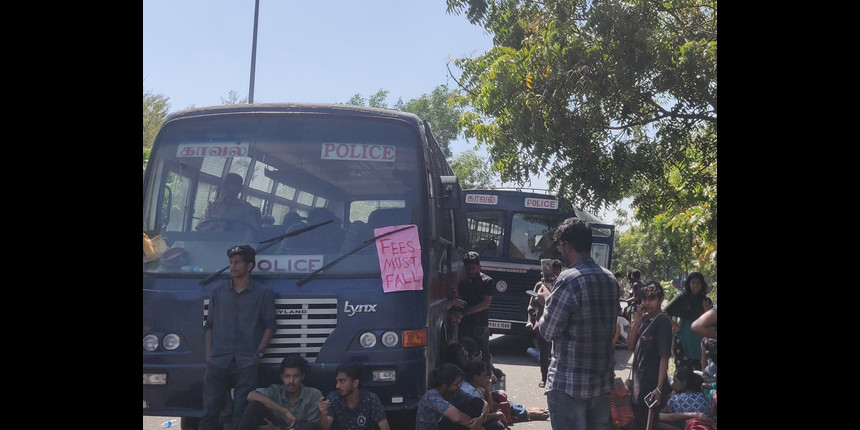 Radhika
|
Feb 26, 2020 - 11:06 a.m. IST
NEW DELHI: Ahead of the Vice President's visit, the students of Pondicherry University will continue to protest on Wednesday against the recently introduced fee hike.
The ongoing protest in PU took a violent turn on Tuesday when nearly 100 students were detained from the campus premises.
The Vice President, Venkaiah Naidu will attend the 28th convocation hosted by the university on Wednesday. Students have been staging a protest for 20 days demanding a complete roll-back of a whopping 225 percent increase in their fee.
A student told Careers360 that the protesters have been detained and held at the UMISARC-Centre for South Asian Studies university, away from the administrative block until 12 pm.
To quell the protest, on February 24, the university administration sought police help. The police and even the Rapid Action Force came to the campus.
"Around 200 students were protesting at the administrative block and they were forcefully removed from the area and put in police buses," said Parichay Yadav, the president of Pondicherry University Student Council.
"Several women protesters were groped and badly manhandled by the police who were not even wearing their name badges so that we can't file complaints against them," Yadav added.
Yadav told careers360 that the administration released a circular to discourage the students from participating in any gathering. He further alleged that students active in the indefinite strike were also personally "threatened" to stop them from taking part.
Administration Vs Students
While the students were being detained, the administration called for a meeting of the grievance committee and the students' representatives. But the students are dissatisfied with the outcomes of the meeting. " They told us that the fee will not be reduced right now and there will be another meeting on (February) 28th. They are fooling us for the past 20 days," Yadav said.
On January 20, the students staged a hunger strike, pushing the Vice-Chancellor to form a grievance committee but no fruitful results came out.
After repeated failed attempts to resolve the matter through dialogue with the VC, the student decided to sit on an indefinite strike on February 6.
"We are still continuing the protest. As soon as we are released from the detention, we will again march towards the administrative block," Yadav added.
Write to us at news@careers360.com
Stay updated with latest Education News