5,000 Tripura teachers held for violating coronavirus restrictions
5,000 Tripura teachers held for violating coronavirus restrictions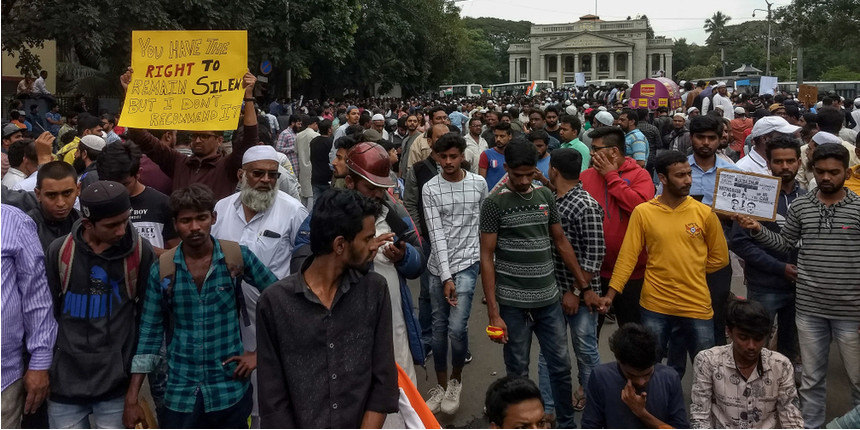 NEW DELHI:The police detained nearly 5,000 school teachers in the West district of Tripura for violating Section 144 of penal code, imposed to check the spread of the novel coronavirus. Section 144 prohibits the gathering over more than four persons at a point.
The teachers were agitating and holding a mass demonstration against the termination of their jobs. Their jobs end on March 31.
"Our hunger forced to violate the Section 144 as our jobs will be over by this month. We have given a memorandum to Education Department. We still believe that the government will give us an alternative way," said Arabinda Sharma, one of the agitators, as reported byThe Hindustan Times.
In 2017, the Supreme Court had passed an order terminating the jobs of 10,323 graduate, undergraduate and postgraduate teachers appointed through a flawed recruitment process. HT reported that these teachers were re-recruited on ad hoc basis and their tenure is scheduled to end on March 31 this year. These teachers were appointed in different phases since 2010.
The protests
On March 19, the teachers had assembled at Rabindra Shatabarshiki Bhawan in Agartala, the capital city of Tripura, and submitted a memorandum to education director, UK Chakma, seeking the state's intervention.
"We have faith in the state government. We believe it can save our jobs by introducing Validation Act in the Assembly in the next 7 days. We have violated section 144 voluntarily as desperate times call for desperate measures," said Sharma.
However, the agitating teachers were released after a few hours, a police officer told HT.
As a precautionary measure against the spread of coronavirus, Tripura's BJP-IPFT government had shut down all educational institutions including schools, colleges, universities, gymnasiums, anganwadi centres, hostels from March 17 till March 31. To ensure strict adherence to orders, the West district administration had also imposed restrictions under Section 144 CrPC during the same period to prevent mass gatherings.
There isn't any reported case of coronavirus infection in Tripura. India has seen a total of 258 COVID-19 cases with 231 "active" ones and four deaths.
Also read:
Write to us at news@careers360.com
Stay updated with latest Education News
More From Team Careers360