What are Bihar's new teacher recruitment rules and why have they led to protests?
What are Bihar's new teacher recruitment rules and why have they led to protests?
Teachers will be appointed through a BPSC exam. CTET, Bihar STET qualified teachers have to write the exam for state-government-employee status.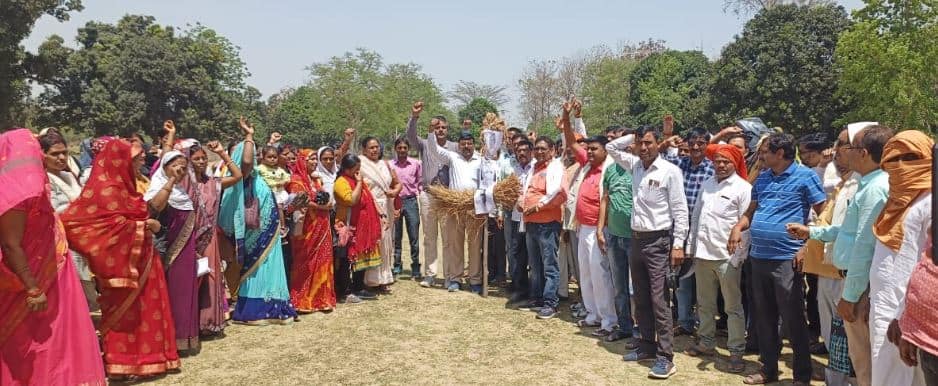 Sanjay
|
Apr 19, 2023 - 5 p.m. IST
NEW DELHI: Ankit Yadav from Saran district, Bihar, had cleared the Bihar Teacher Eligibility Test (TET) in 2019 and believed the main hurdle had been crossed. All he had to do now was wait for a fresh recruitment drive. But on April 10, Bihar introduced a new set of rules and processes for teacher recruitment.
According to the new policy – the Bihar State School Teachers (Appointment, Transfer, Disciplinary Action and Service Condition) Rules, 2023 – even TET-qualified candidates are now required to write another centralised exam. This is the first time Bihar is planning to hold a second exam for participating in teaching recruitment drives. The newly-recruited teachers will have status equivalent to state government employees, be organised into district cadres but state-level authorities will manage the cadres, not the Panchayat-level institutions. Teachers have been protesting across districts ever since the new regulations were notified by the Bihar education department.
"After clearing Bihar TET 2019, I was waiting for a fresh teachers recruitment drive. On the basis of previous recruitment drives and promises by political parties, I was sure that we would be given a job without any other exam. Now, I am being asked to study for one more exam," said Yadav, on protest in Saran district. "We demand that the government conduct a recruitment drive without any exam this time and implement the new rules from the next drive."
Teacher Recruitment: Three groups
There are already multiple categories of teachers in Bihar's government schools and the attempt at reforming and standardising the recruitment process will affect each one differently.
There are permanent teachers who were appointed to regular positions before 2003. Then, from 2003 panchayati raj institutions (PRIs) in Bihar recruited contract teachers called shiksha mitras for a period of 33 months. The vast majority of them had completed just Class 10 and were not TET-qualified. Although their term was set to end in 2006, they were allowed to continue but now at higher pay and better benefits. From 2006, this category of teachers became known as niyojit shikshak.
Over the years, the minimum qualification was also raised to Class 12 until in 2012 when Bihar made TET qualification a compulsory condition for appointment. By then, there were 3.5 lakh niyojit shikshak in Bihar. In 2015, after a massive protest, they were given higher pay and set their retirement age at 60.
However, the appointment of niyojit shikshak has been controversial from the start and marred by allegations of forgery and favouritism. While many niyojit shikshak have over the years added qualifications and even cleared the TET, to be granted state government employee status, they will have to write the recruitment exam as per the new rules.
Since 2012, Bihar has appointed only those teachers who were TET qualified. They, too, will have to write the exam to be eligible for change in status
Completely fresh appointments under the new rules will form the third category of teachers in Bihar government schools.
New teacher recruitment rules
The new recruitment rules propose one standardised process for appointment of all kinds of school teachers. The Bihar cabinet on April 10 approved the new service conditions manual for government school teachers. Three lakh teachers will now be recruited through a new commission which is in the works. The newly-recruited teachers "will be given the status of state government employees and will be provided with all facilities and attractive salaries", said Bihar deputy chief minister Tejashwi Yadav on social media on April 11.
In order to become state government employees, all teachers appointed since 2006, will also have to clear the proposed exam, likely to be conducted by the Bihar Public Service Commission (BPSC).
"Most of the teachers who were employed from 2006 to 2012 do not want to sit for this exam because many of them are set to retire in a few years and others are not updated with the current pattern of the exam. It won't be possible for teachers of age 45 to 50 to crack competitive exams. It would be foolish to expect a person having cleared Class 10 exam in 2002 and teaching in a primary school since 2003 to crack a competitive exam," said Shambhu Kumar, a teacher at a government school in Muzaffarpur since 2006.
That said, he will sit for an exam for a "better future for Bihar's children" and believes that after the new exam, "Bihar schools will get quality teachers". "I am 37 now and am okay with a maximum of three chances," he said. "If somebody is unable to clear, they should not be allowed to teach students. It is good that the government is working to improve Bihar's public education."
Also Read | Bihar to provide 2 lakh government jobs to youth soon: CM Nitish Kumar

However, a large section of teachers and teaching job aspirates are demanding amendments in the new rules. The candidates are also seeking clarity over salaries and other perks. In a few districts of Bihar, teachers involved in enumeration for the caste census have threatened to boycott it, demanding they be given state government employee status based on teaching experience and not another exam.
"Before 2012, there was no requirement of TET qualification but candidates were priortised based on their education levels from undergraduate to postgraduate level. Local officials of Panchayat Raj Institutions (PRIs) took bribes and gave appointments to known candidates. It is natural that such candidates will oppose every exam but want all the perks," said Shambhu Kumar.
Bihar school teacher vacancy, recruitment
According to data from the latest Unified District Information System for Education Plus (UDISE+) 2021-22, there are 93,165 schools in Bihar. Schools and the teacher vacancy distribution across different levels is given below.
Teacher vacancy, schools in Bihar (2021-22)
Level

No. of schools

Teacher vacancy

Primary (Classes 1-5)

42,505





80,257

Upper primary (Classes 6-8)

38,185

Secondary (Classes 9, 10)

3,855

44,193

Senior secondary (Classes 11, 12)

8,620

89,734
Source: UDISE+ 2021-22 and Bihar education department
To implement the new rules for teachers recruitment, Bihar education department on April 17 asked all district education officers (DEOs) to submit vacancy data by April 20.
Also Read | Over 9.8 lakh teacher vacancies in government schools across India
Bihar STET, CTET
Bihar education minister Chandra Shekhar has described the new recruitment rules as "concrete steps" toward "quality education and skilled human resources". The teachers and representatives of teachers organisations have also said the rules will improve the quality of education. However, they are unhappy with the implementation.
Those who have cleared the State TET (Bihar STET) or the Central Teacher Eligibility Test (CTET) and were appointed after 2012 are feeling especially hard-done-by as they are now required to write another exam for the change in status.
"The teachers who were recruited after 2012 are TET-qualified and now they are being asked to sit for another exam while they are performing their duties in schools. The Rashtriya Janata Dal (RJD), Congress and the Left parties had made a written promise in their manifesto that after the formation of their government, all the TET qualified teachers would be given state employee status. They did not say that it will be done through an exam. We feel cheated. We may be forced to launch a strike if the government does not listen to our demands," said Bihar TET Shikshak Sangh head, Amit Vikram.
Ashwini Pandey, spokesperson of TET-STET Utteern Niyojit Shikshak Sangh (TSUNSS) pointed out that the niyojit shikshak have been working for the last two decades and those with TET, for a decade. "Now, the government is asking them to compete with new teacher aspirant candidates. We have already given the exam and we are ready to give the exam again. However, we want a separate departmental exam and do not want to sit with new aspirants. Even Bihar's chief secretary Amir Subhani who is 1987 batch UPSC-Civil Services Examination (CSE) topper won't be able to clear the national-level exam while competing with fresh candidates," said Pandey. "Similarly, we demand that there should be an internal exam for niyojit shikshak only."
Rahul Jha, a teacher appointed in February 2022 after clearing CTET explained the difficulties that a teacher has to face to sit for another exam in order to get state government employee status. "The government should have consulted us before rolling out new rules. We go to school and are also involved in caste census activities and now the government wants us to prepare for an exam to become state government employees. How would we be able to study for a fresh examination? Already working teachers should be given a separate platform," he said.
Also Read | Patna school timings changed for all classes in view of heatwave
BPSC exam syllabus, salaries
The government is yet to announce the salary amount and other benefits.
"We do not have any clarity over the salary amount and other benefits under new rules. The rules state that there will be a two-year probation period. This means that a working teacher who will clear the exam will have to be on a two-year probation period to get permanent appointment. There is also no clarity whether the salary for fresh and already working teachers will remain the same or not," said Ramprakash Verma, a government school teacher from Sasaram district.
Ram Akbal Dubey, a government school teacher in Bihar's Kaimur district , questioned the decision of Bihar government to conduct examinations through BPSC for in-service teachers. "Has the government come to know now that incompetent teachers were appointed in the past ? If they are considering us unqualified then why are they still allowing unqualified teachers to teach?" he asked.
Also Read | Over 98% educational blocks in Bihar are backward: Education Ministry
Bihar Shikshak Sangharsh Morcha
Bihar chief minister Nitish Kumar has stated categorically no change will be made in the new rules. "All the members of seven parties who are part of the government have decided together that we will recruit teachers under new rules. We will appoint more than two lakh teachers this year. We will allow the in-service teachers to continue their jobs and increase their salaries too," he said in his address during a function to commemorate Ambedkar Jayanti at his party office in Patna.
However, the left party, CPI-ML, which is a part of the Grand Alliance but not officially a part of the Nitish Kumar government said through an official social media post: "Give the status of government employee to employed teachers without examination. The candidates of the next phase recruitment should be kept free from this process."
In another post, the CPI-ML said: "Nitish Kumar said that all the parties of the Grand Alliance have agreed on the new teachers manual, this is not true. No opinion was taken from us. For this, we have been continuously raising the demand to form a coordination committee. Concrete steps should be taken in this direction now."
Sandeep Saurav, CPI-ML MLA from Paliganj met representatives of nearly 30 teachers organisations on April 15 and that meeting led to the formation of the Bihar Shikshak Sangharsh Morcha (BSSM) - an umbrella body of Bihar teachers.
The BSSM has decided on one-day protests at all block headquarters in the members' respective districts on April 20 and at the district headquarters on April 26. It will also hold a teachers' conference in Patna on April 30.
---
Follow us for the latest education news on colleges and universities, admission, courses, exams, schools, research, NEP and education policies and more..
To get in touch, write to us at news@careers360.com.