The fight over NEET 2020, JEE Main exams: An explainer
The fight over NEET 2020, JEE Main exams: An explainer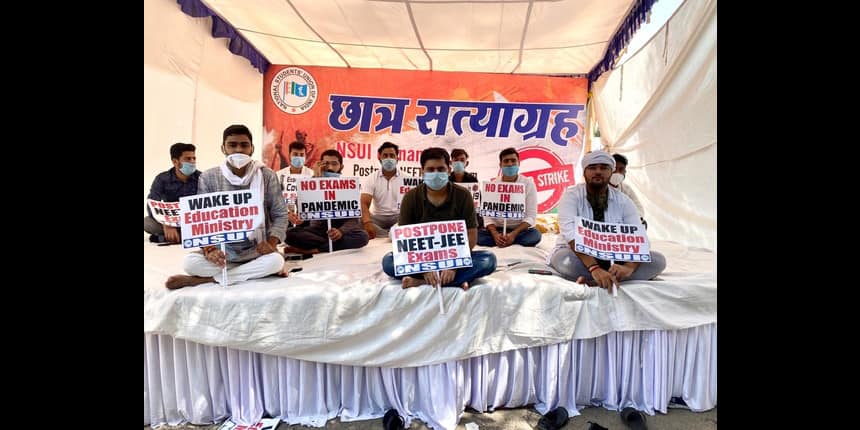 NEW DELHI: Despite the Supreme Court's decision to allow the JEE Main and NEET 2020 in September, the campaign for their postponement has only grown. Now, seven states led by members of opposition parties have stated they will once again move court against holding these exams during the COVID-19 outbreak.
Recommended: Predict your Rank & Admission Chances in MBBS/BDS Colleges as per your NEET Score. Click Here 
Latest: JSS Academy of Higher Education & Research applications open  Click Here to know more
The mammoth national-level entrance tests for engineering and medicine have a combined registration of around 25 lakh candidates and will be administered by the National Testing Agency.
The Joint Entrance Examination (JEE) Main for engineering also serves as a preliminary round for admission to the premier Indian Institutes of Technology. The top 2.5 lakh rank-holders will be eligible to write the JEE Advanced, conducted by the IITs and scheduled for September 27. The JEE Main is also the main exam through which several states that do not hold entrance exams of their own admit students to engineering.
The National Eligibility cum Entrance Test (NEET), however, is the only entrance test in the country for admission to undergraduate courses in medicine. Admission to all colleges – state and central, private and public – is through NEET. There are roughly 1.6 lakh seats linked to NEET, spread over courses in medicine (80,055 in MBBS), dentistry (26,949) , AYUSH (52,720) and veterinary sciences (525).
What are the arguments for and against holding these exams during a pandemic that has raged unabated for months? And are all those arguments valid? Over the past few weeks, Careers360 has received dozens upon dozens of emails from parents and students standing on either side of the debate. Here is an attempt to explain what the fuss is about.
Why are many students demanding postponement?
They fear they might get infected. They are not worried just about the exam centres but also about the journey to the exam halls for which they might have to use public transport; about staying in hotels or hostels and all the other points at which they might come into contact with others.
Several states, including Bihar and Assam, have faced intense flooding in July and August. Students argued that it made preparation difficult by disrupting a variety of services including power supply. Public transport services have also been disrupted in multiple areas by the pandemic as well as the flooding.
Are there protocols for safety at the exam centres?
There are. The NTA has increased the number of exam centres and issued elaborate guidelines on securing them and ensuring sanitation and social distancing. However, as the students and their parents have pointed out, to truly secure students writing the exams and their families, you have to secure more than just the centre.
Then, parents and guardians invariably accompany students to the centres and there is always the likelihood of a crowd outside, as there was in Kerala for the KEAM exam.
Several parents have pointed out that ministers and officials, who presumably took all precautions, have been infected. The risk is not just to the candidates themselves but to their families and communities, should they carry the virus back.
Students from COVID-19 containment zones will write exams as well.
Lakhs have downloaded admit cards for JEE Main and NEET 2020 and attendance in the state exams has been very high. Doesn't that prove that most students are against postponement?
No. These are high-stakes exams. Students will turn out for these irrespective of the conditions because if they don't, they face losing higher education opportunities for good. To put it simply: no student will move court against an exam if they could just be absent. Students are campaigning and filing lawsuits because they know that if the exams are held, most will have to take the risks involved and appear for them.
Neither admit card download figures, nor attendance in state-level entrance tests indicates students' support for holding exams in September. To make this point, students have burnt copies of their NEET 2020 admit cards and posted images on social media.
@PIBHRD pic.twitter.com/uuTsoammO9

— National Testing Agency (@DG_NTA) August 25, 2020
Do students have to travel to write exams?
The NTA postponed the JEE Main and NEET 2020 exams multiple times and every time, it reopened what is known as the "correction window". Applicants were allowed to change their first choice of city in which they wish to write the exam every time. The NTA has also increased the number of exam centres from 570 to 660 in the case of JEE Main and from 2,546 to 3,842 in the case of NEET 2020. It has also said that 99% of applicants have got their "first choice" of cities.
However, this still does not eliminate travel because "first choice" of city is not necessarily the candidate's hometown.
Some women candidates have said on social media that they won't be allowed to travel.
Why are many students opposing postponement?
This has more to do with the way students prepare for these high-stakes exam. The JEE Main is conducted just twice in a year and the NEET, just once. Student prepare for years to crack them, often leaving home for "coaching hubs" hubs like Kota where they attend "coaching classes" whose sole aim is to help applicants clear these exams. Students may spend even as long as two years in these places being coached. A postponement would mean further delay in enrolling in higher education and then, in launching their careers.
When the lockdown was enforced, thousands of candidates left the coaching hubs for home. However, many also stayed back, choosing exam centres close to where they were training and buckling down to wait out the lockdown and return home only after writing the exams. A postponement would imply an even longer stay away from home.
Students' families also invest large sums of money in relocating for coaching. With delays, the costs will also rise.
Those opposing postponement also argue that while education institutions are still closed, the lockdown has been lifted for many places and offices and that total shutdowns are being observed only at locations where there is a spurt of COVID-19 cases.
Finally, candidates who support the September exams argue that those demanding a postponements are not prepared. However, in such large scale selection exams, it's impossible to know if you were prepared enough till the results are declared because where you stand in the ranks depends just as much on how others have performed.
What is the institutions' take and what is a zero year?
The directors of several IITs have issued statements and all of them are broadly on the same theme: another postponement will delay admissions and could result in a "zero year". Some of them have suggested that candidates who cannot write the JEE Main now can try again in six months. The NEET, however, is conducted just once in a year.
August 27, 2020
What a "zero year" means is the loss of a year for everyone involved. For institutions, apart from the disruption in a variety of long-term programmes, it would imply significant financial losses. The financial condition of many institutions is already precarious.
Several senior academics, including the Vice-Chancellor of NALSAR University of Law, Hyderabad, and the director of Punjab Engineering College, Chandigarh, have suggested alternative models for the academic calendar. These include working through weekends, shortening the standard vacations and even docking of the syllabus in some courses.
However, even if the academic calendar is reworked, what the exams ultimately impact is admissions.
How widely will admissions be impacted if exams are delayed?
There is no knowing for sure because it's impossible to predict how students will ultimately make their choices. But the potential for upset is large.
For the IITs, admission is based on the JEE Advanced. Conducted by the IITs themselves, the JEE Advanced is used to further select candidates just for the 23 IITs.
While you can always assume that all 8.58 lakh candidates registered for JEE Main would be equally interesting in sitting the JEE Advanced, if the two were de-linked, you can't know that for certain. For now, JEE Main and JEE Advanced are tied up. And, to make things more complicated, so are the state exams, at least where engineering is concerned.
The JEE Main regulates admission to 31 National Institutes of Technology (NITs), 25 Indian Institutes of Information Technology (IIITs) and 28 centrally-funded technical institutions. Apart from this, about a dozen states use JEE Main scores for admission to state engineering colleges. Typically, around two dozen institutions do as well but many of them have chosen to not wait and admit on the basis of Class 12 marks this year.
However, the JEE Main has the potential to affect admissions even in colleges and states that don't use its scores. For example, the top rank holders of the West Bengal Joint Entrance Examination 2020 all agreed that they had prepared mainly for JEE Main and JEE Advanced. A delay would leave many of these candidates facing an impossible dilemma.
Finally, in the wait for 'normalcy', if the exams don't take place this year at all, the number of candidates for these exams will balloon as a fresh batch of school graduates will join this year's.
Where do the states come in?
Although these are central exams, states have a role to play. The state police help secure exam centres and the administration has to allow movement of students and invigilators. Public transport, lodging of students and any health fallout from the exams will have to ultimately be handled by the states. This is why seven states said they will jointly move Supreme Court against NEET 2020.
Now with the directive of @EduMinOfIndia to conduct NEET, JEE 2020 in Sep, I would again appeal to the Centre to assess the risk and postpone these examinations until the situation is conducive again. It is our duty to ensure a safe environment for all our students. (2/2)

— Mamata Banerjee (@MamataOfficial) August 24, 2020
The centralization of these exams has only contributed to the problem. As the higher education secretary, Amit Khare, told the Indian Express, one reason the government is not considering a postponement that October onwards, there will be a string of festivals in various parts of the country.
This is a problem that could have been circumvented if states managed the entrance exams for their own colleges and scheduled them according to the region's general calendar of events or cancelled them as they saw fit. Several states do hold exams for engineering but in the case of medicine, there is just one exam for all medical colleges.
Also read:
Write to us at news@careers360.com.