AFCAT 2021- Exam begins amid strict COVID-19 protocols
AFCAT 2021- Exam begins amid strict COVID-19 protocols
AFCAT 2021 exam has begun on February 20. AFCAT 01/2021 will be conducted on 20, 21 and 22 in two shifts per day. Strict COVID-19 guidelines are followed during the exams.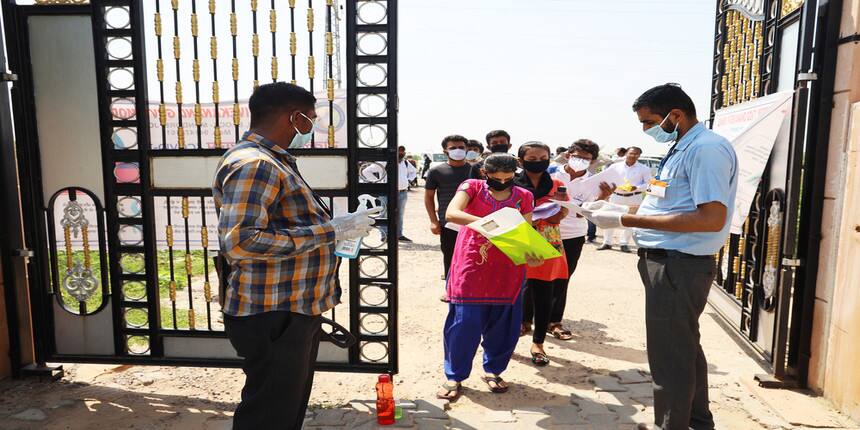 NEW DELHI: The Indian Air Force (IAF) is conducting the Air Force Common Admission Test (AFCAT) exam from today, February 20. The IAF AFCAT 01/2021 will be held on February 20, 21 and 22, 2021, in two shifts. COVID-19 guidelines are to be strictly followed during the AFCAT 2021 exam. Check more information related to the AFCAT 2021 COVID-19 guidelines here.
AFCAT 2021 - Preparation at the centre
The exam centres are maintaining the standard operating procedures for safety and maintaining the required standard for hygiene.

The SOPs will be implemented before the start of the AFCAT exam.

The student seating area like - monitor keyboard, mouse, webcam, desk and chair will be sanitized.

All door handles, staircase, lift buttons will be disinfected.

As per the GOI guidelines, a gap between two seats will be strictly maintained to ensure social distancing.

Hand sanitisers will be made available at all the AFCAT 2021 exam centres.

At the entrance, there will be thermo guns which will be used to check the body temperature of the candidates.
AFCAT 2021 - Strict measures for candidates
Wear a mask and carry a face shield, if asked they will have to cover their face with it.

Silicon/Rubber gloves can also be used to ensure candidates don't get infected touching the door handles, knobs and other stuff.

Carry a personal hand sanitiser, however, a bottle of sanitiser will be present at the exam centre.

It is advised to carry a personal water bottle as well.

Don't forget to carry the mandatory documents at the AFCAT 2021.
Write to us at news@careers360.com.
Join our Telegram Channel for more updates related to preparation tips and government recruitment news.