COVID-19 has been as brutal to nursing students as medical interns, resident doctors
COVID-19 has been as brutal to nursing students as medical interns, resident doctors
BSc Nursing students are playing a crucial role in managing the coronavirus pandemic but they face poor pay, mistreatment, and neglect.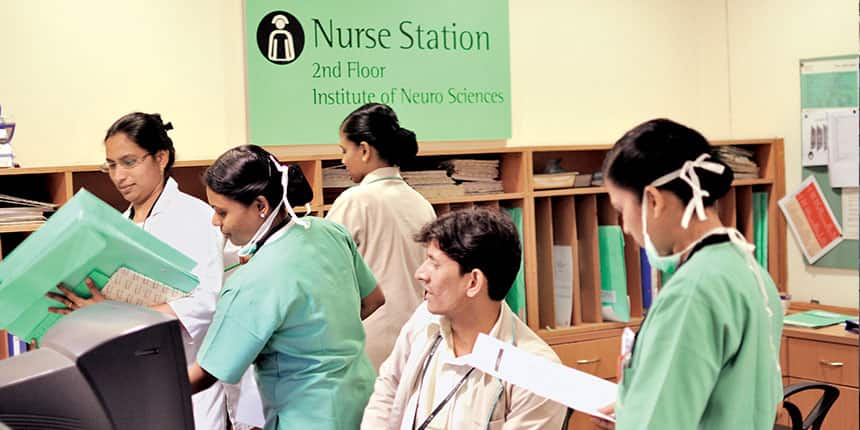 New Delhi: Narendra Singh Padiyar was visiting his grandfather, suffering from COVID-19, in May when he got a call from his principal. He was requested to return to his college, Saroj Lalji Mehrotra Global Nursing College in Rajasthan, and report for duty in the COVID-19 ward of the adjoining hospital, Radha Mohan Mehrotra Global Hospital Trauma Center. "I was rushing back and was on my way when my father informed me I lost my grandfather," said Padiyar who is in his fourth year of study. Although grieving, he started on COVID-duty.
The next few days brought more deaths and despair. "I saw so many deaths in a day. Almost every day, people died. At times, we would lose three patients in one night," he said. But there was no time to count his experiences. "By the time one body moved out, another patient required immediate help," recalled Padiyar. Even faculty members were treating patients during the brutal second wave of the COVID-19 pandemic.
Also Read| Experts against linking district hospitals with pvt medical colleges
COVID duty for months
Although crucial to patient care, nursing hasn't received the same attention or respect as doctors. COVID-19 changed that to some extent, drawing attention to the "healthcare worker" in general and not just to doctors.
Kanchan Makhija, doing her internship in one of the premier government nursing institutes in Delhi, has been on COVID duty for the past nine months.
"From the beginning, I was in a COVID ward. The ward that I am posted in is for VVIPs, so there is so much stress because you should be extra efficient," said Makhija adding, "there is always psychological stress. Earlier, I used to be very scared, but now my fear is gone."
Also Read| 'I've seen so many deaths': An MBBS intern on COVID deaths and duty
Chris Thomas, professor at Saroj Lalji Mehrotra Global Nursing College, was deputed in the COVID ward as well. "The challenges were many," he said. "12-hour shifts in those PPE [personal protective equipment] kits. Being in the intensive care unit to look after six critically ill patients was difficult. It was mental agony for us. We could not tackle it, especially deaths. There were so many deaths – sometimes three in one night – and many patients were very young."
Responsible for the round-the-clock care of patients on a variety of medical equipment, nurses had to multitask constantly. "They did everything from reporting, giving standard treatment, following an alternative management support regime. The nurses often managed serious patients on ventilators, providing cardiopulmonary resuscitation or CPR [Cardiopulmonary resuscitation]," said a nursing officer on condition of anonymity.
Thomas specializes in psychiatry and that training stood him in good stead while managing patients. "We did many activities for the COVID patients," he said.
Also Read| Helped by COVID-19, demand for community medicine after MBBS is rising
Nursing and men
Padiyar was in Class 11 when he decided on nursing as his future profession. In 2014, his grandfather had been hospitalized and received constant care from nursing officers. "I was very close to my grandfather. I saw that doctors visited my grandfather, but the nurses were always with him. That motivated me. I thought I would study this," he said.
He does not stick out in a classroom. "There are 20 men and seven women studying BSc nursing in our college," said Padiyar. Once dominated by women, especially in north India, nursing is getting more men now.
"A gradual transition has happened. There is more scope for males in the nursing profession, even abroad. Also, there are jobs in industries, in schools, in the government and private sectors. That is drawing men to nursing although the proportion of women is higher," said Thomas.
Also Read| NEET 2021: What has been the trend in NEET cut-off scores, ranks over the years?
Students can opt for diploma or degree courses in nursing after Class 12. The diploma courses include the two-year auxiliary nurse midwife (ANM) programme and the general nursing and midwife (GNM) programme, which is of three years' duration with another six months of internship. For ANM, a person from any stream can join. A GNM aspirant should have studied science in Classes 11 and 12. A BSc programme lasts four years and an MSc two years. There is also a research programme. At the postgraduate level, there are specialisations such as paediatrics, gynaecology, surgical nursing and psychiatric nursing.
Although less visible, nurses have also had to contend with poor pay and mistreatment and suffer due to the lack of general awareness among the masses about what they do.
Underpaid, exploited
"Many still think that a nurse's job is limited to pricking with a needle for pushing an injection or a drip," said another student asking not to be named.
"In many hospitals, they force nurses to do non-nursing jobs like shifting, feeding and bathing patients – these are all non-nursing jobs. This is a major issue – in the private sector, people are misusing nurses," explained another student, requesting anonymity.
Also Read| NEET 2021: Eligibility criteria for BSc Nursing admission
Thomas pointed out that four years ago, a Supreme Court order had set the minimum wage for a graduate nurse in a private hospital or college at Rs. 20,000 but many of the states have not implemented that.
"Campaigns and strikes happened in Kerala because Kerala has a higher number of nurses. So, in Kerala and Maharashtra, they have implemented this policy in private institutions," said Thomas.
The central government and the state government hospitals and institutes are following all the government protocols. Especially in the central government, they have standard operating procedures and categories are specified. "Nurses are called nursing officers. They were called staff nurses but now the terminology has changed but the attitude toward them is still lacking," said a senior nursing officer working in a government medical college. Not authorized to speak to the press, she requested the name of the college to be withheld as well.
Write to us at news@careers360.com.
More From Pritha Roy Choudhury