CBSE Term 1 Exams: Minor subjects major problem for Delhi Government schools
CBSE Term 1 Exams: Minor subjects major problem for Delhi Government schools
CBSE Board Exam 2021-22 Term 1: Some government schools will have to print over 10,000 pages in one hour and seat 700 students in under 30 rooms.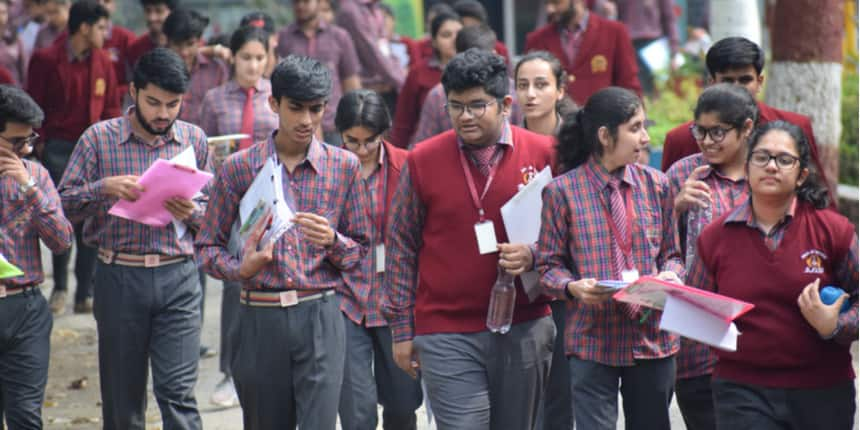 NEW DELHI: With the Central Board of Secondary Education (CBSE) asking schools to print question papers for the CBSE Term 1 exams for minor subjects, Delhi Government schools are in a bind. Some will have to print over 10,000 pages in an hour for the Sanskrit exam as the encrypted questions papers can be opened only an hour before the exam begins. The CBSE Term 1 exam date for Sanskrit is on November 22.
For the CBSE Term 1 exam, the board separated exams into major and minor subjects and asked schools to print question papers for minor subjects. Minor subjects are those which are opted by only a few students in a school. From the CBSE's perspective, Sanskrit is a "minor subject". Not so for Delhi Government schools where vast numbers of students opt for Sanskrit in Class 10. The vast majority of CBSE's affiliated schools are private.
Also Read | ASER 2021 Report: Government school enrollment rises, most sharply in UP, Kerala

"In Delhi, Sanskrit is not a minor subject. Every Delhi student who has Hindi has also opted for Sanskrit. In Class 10, I have 666 students. If each question paper is 15 pages, that means, just for Class 10, I'll need to print nearly 10,000 pages in an hour," said a principal of a school asking not to be named.
"The printers in the schools are not commercial printers and are meant for smaller tasks. Even after taking 50-60 prints they usually start showing their age. Then how can we print 10,000 question papers on this.It is impossible," said the principal. The Sarvodaya Bal Vidyalaya Peeragarhi will have 461 students writing the Sanskrit paper, said its principal PD Sharma, who is also the general secretary of Vice and Principals' Association of Delhi.
Also Read | 'Studied with one coaching centre only': NEET 2021 topper shares exam strategy
In addition to worrying about printing papers, Delhi Government school principals are also worried about implementing COVID-19 safety measures. One principal whose school has 29 classrooms has been allotted 700 examinees even when the board guidelines permit only 12 students per room. "CBSE cares about private schools only," complained another principal bitterly. "Sanskrit may be minor for them. It isn't for us."
The Vice and Principals Association of Delhi wrote to the CBSE chairperson today noting that schools can only print question papers for exams in which there are less than 50 students. The association also flagged issues in mock tests. They said that passwords for opening the question papers were delayed, no clear instructions were given regarding uploading the answer sheets and that question papers could not be printed because the CBSE server was down. The association is now requesting that the Sanskrit exam be postponed to the end of the CBSE term 1 exams.
CBSE Term 1 Exam: Many for CBSE Class 10 Sanskrit
While exams have already begun for minor subjects, subjects such as painting and textiles are picked by fewer students. Teachers said that schools faced problems even with these exams.
Headteachers said that even commercial printers found in photocopy shops will not be able to print out this many pages in the allotted time.
"Even if you ask the photocopy shops in the markets they'll tell you they can only print around 1,000 pages an hour. Then, How will we print 10,000? It is a practical problem. It is impossible," said the principal.
According to CBSE guidelines, schools will be provided with encrypted question papers an hour before the exams. Allowing the schools only that much time to print out the question papers before the examination begins.
Also Read | NAS 2021: In Delhi, struggle to get students to appear; teachers rued timing
"Not only do we have to print the papers we have to scan, evaluate and upload them all in the same day. That means a teacher will come in the morning at 6 am and they won't be able to finish their work even after 6 pm. I'm not even thinking of what will happen on the day there is Sanskrit exams because I know that is an impossibility," said a principal, asking not to be named.
"For other central exams such as NEET, the question papers are printed and distributed to the centres. They just have to take care of the evaluation part. Even for major exams, it is similar in that the CBSE will distribute the question papers," said the principal.
"We cannot even depend on printing machines from outside because the guidelines say that schools will have to take care of it," said Sharma. "We tried to install photocopiers. But even those collapse after 1,000-odd copies."
CBSE Term 1: COVID-19 guidelines
Schools are also facing another problem. The CBSE new guidelines mandate that only 12 students should write exams in one room to follow COVID-19 safety procedures. However, certain schools were allotted large masses of students without considering this guideline in mind.
"CBSE had asked us to fill a Google form on how many classrooms are available. I wrote 20. CBSE has also asked us to follow COVID-19 guidelines and put only 12 students per classroom. But then, I was allotted 1,100 [including over 600 in Class 10]. How will I conduct the exam? It is impossible. They should have allotted fewer students then," said the principal.
Teachers also questioned why the feedback was taken in the first place if it was not to be considered. Head teachers said that they informed CBSE of these issues much in advance. The Vice and Principals' Association had first written to CBSE on October 27 stating that the process for minor subject exams will be "highly inconvenient" for them and requesting that printed question papers be supplied to them.
"In October itself we had informed the CBSE much in advance to please provide hardcopies of question papers as they did earlier. They are providing printed question papers for the major exams. They should have provided all question papers regardless of major or minor. This is a big blunder on part of the CBSE," said Sharma.
---
Follow us for the latest education news on colleges and universities, admission, courses, exams, schools, research, NEP and education policies and more..
To get in touch, write to us at news@careers360.com.