College reopening updates: List of states resuming colleges from September 1
Uttarakhand, Rajasthan, Puducherry, Tamil Nadu and Telangana have decided to reopen colleges on September 1. Check what Maharashtra, Uttar Pradesh, West Bengal have decided on resuming offline classes.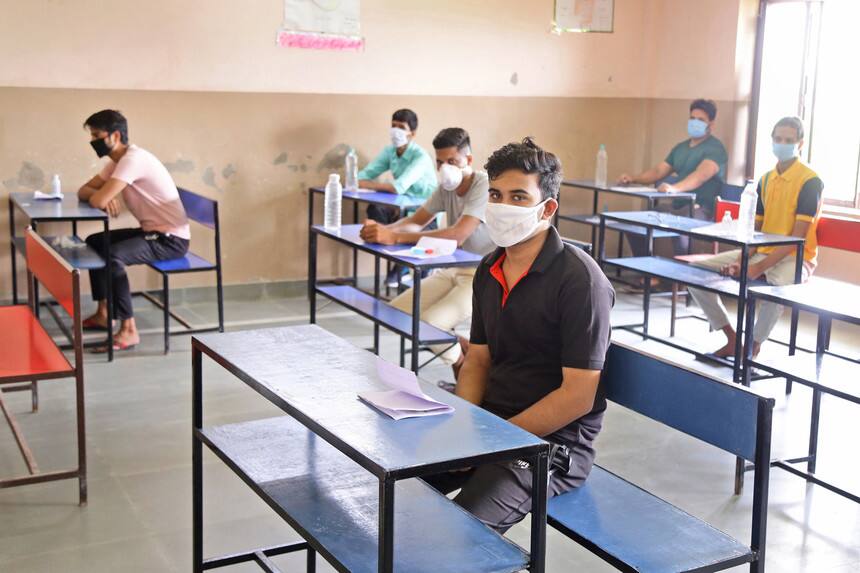 NEW DELHI: Amid speculations of third wave of COVID-19, several states have decided to reopen schools and colleges with limited capacity. Schools, colleges and other educational institutions started reopening early this year, however, it got delayed after the second wave of COVID-19 hit the country.
Check college reopening live updates here.
Uttarakhand, Rajasthan, Tamil Nadu, Puducherry, and Telangana have decided to reopen colleges from September 1 with proper safety measures and guidelines.
States like Punjab, Chandigarh and Odisha have already reopened colleges for those students who have received at least one dose of the Covid-19 vaccine as the number of COVID-19 cases started reducing in these states. On Monday, Karnataka reopened schools for Classes 9 to 12 in a few districts with less than 2% Covid-19 positivity rate.
Here is a list of states reopening colleges on September 1
Colleges reopening on September 1
Telangana college reopening
The government of Telangana has decided to reopen colleges and higher education institutions on September 1. According to reports, Chief Minister K Chandrasekhar Rao announced the decision after a review meeting. During the meeting, the chief minister also directed the schools and colleges to ensure sanitisation of all educational institutions by August 30 and to strictly adhere to COVID-19 guidelines.
Uttarakhand colleges reopening
The Uttarakhand government will reopen colleges from September 1. The government has also issued SOPs on college reopening and asked all the teaching and non-teaching staff to get vaccinated before the colleges reopen.
The government has also asked colleges to ensure social distancing, sanitisation of college premises, thermal scanning at entrance gates, etc. It further asked the institutions to prepare a schedule to let students enter and exit the colleges at different hours to avoid crowding.
College reopening in Puducherry
Puducherry government decided to reopen colleges in wake of a dip in the COVID-19 cases. Chief Minister N Rangasamy announced that colleges will reopen in Puducherry on September 1.
"Most of the teachers have got vaccinated against COVID-19 and that the decision to reopen the educational institutions was taken in the wake of COVID-19 cases dropping in the Union Territory," the chief minister said.
However, the state is yet to release Standard Operating Procedures (SOPs) on reopening of colleges.
Tamil Nadu college reopen date
The Tamil Nadu government said that it will reopen colleges on September 1 and reiterated that all teachers should be vaccinated before the colleges and universities reopen. According to The Hindu report, the government has already reopened medical colleges on August 16. Almost 90% of the students attended physical classes, the report said. Students were asked to show an RT-PCR test report taken under 48 hours of visiting the college campus.
Rajasthan college reopening
The Rajasthan government has allowed colleges to reopen on September 1 with 50% capacity. Education minister Govind Singh Dotasra shared the news through his social media.
"Taking a big decision in the interest of students today, Chief Minister Ashok Gehlot has decided to open schools, colleges and coaching institutes from 1st September 2021. At present, all schools from Class 9 to Class 12 will open with 50% capacity. The Education Department will issue a detailed guideline in this regard soon," Dotasra tweeted.
मुख्यमंत्री अशोक गहलोत ने छात्रहित में आज बड़ा फैसला लेते हुए 1 सितंबर 2021 से स्कूल, कॉलेज और कोचिंग संस्थानों को खोलने का निर्णय लिया है। फ़िलहाल कक्षा 9 से लेकर 12वीं तक के सभी स्कूल 50% क्षमता के साथ खुलेंगे। शिक्षा विभाग इस संबंध में एक विस्तृत गाइडलाइन जल्द जारी करेगा। pic.twitter.com/6HVsWcprnN

— Govind Singh Dotasra (@GovindDotasra) August 12, 2021
Meanwhile, Uttar Pradesh's Banaras Hindu University (BHU) has also decided to resume physical classes in a hybrid (offline and online) mode for the final-year students of undergraduate and postgraduate courses from September 1.
States like Punjab, Odisha, and Goa have already reopened colleges for students. Tripura government also announced the reopening of degree, technical, and professional colleges in the state on August 25 with safety measures, as per The Indian Express report.
Maharashtra and West Bengal governments are considering the options of reopening colleges and are yet to announce college reopen date 2021.
Write to us at news@careers360.com.
More From Abhijit Srivastava