Coronavirus: Around 70 medical students stranded at Bangladesh border
Coronavirus: Around 70 medical students stranded at Bangladesh border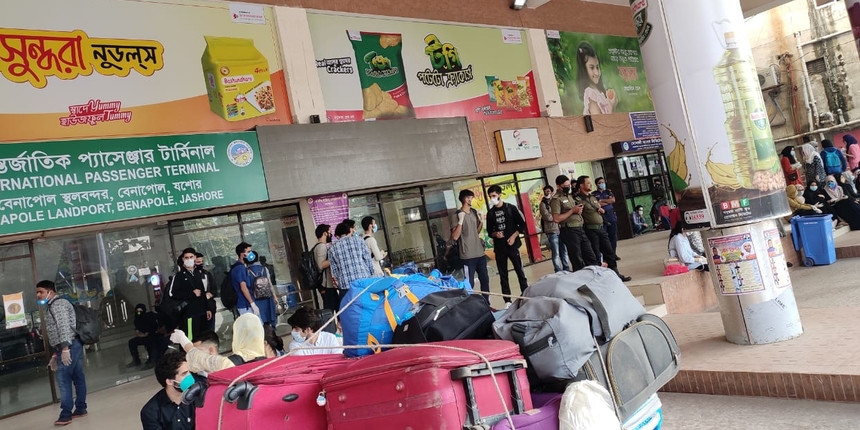 NEW DELHI: Around 70 Indian medical students are stuck at the India-Bangladesh border near Benapole in Bangladesh amid the enforced lockdown in countries due to the coronavirus outbreak.

The students, most of them from Jammu and Kashmir, were studying in various medical colleges in Bangladesh.

The students alleged that although the Bangladesh officials have allowed them to cross the border, the Indian officials are not allowing them to do so.

"We have been waiting here till 5 am in the morning. The Bangladesh officials allowed us to go through but Indian officials are saying that they require orders from higher officials. They said they can't let us through without orders from higher officials," a fourth-year MBBS student told Careers360.

The students said that although most of the other students left earlier, they had to stay back to finish their exams. Most of the students are studying in Community Based Medical College in Bangladesh.

"We were asked to stay back at the hostels but as the situation deteriorated we wanted to return home and be with our families," said a student who did not wish to be named.

The students said that they have travelled for 15-16 hours in the hopes of crossing the border.
As the coronavirus scare intensifies, states and countries have increasingly been restricting people's movement. Students studying in institutes across the country have been trying to reach their homes but have been stranded at different places.

Ten Kashmiri students studying in National Institute of Fashion Technology Bangalore had boarded a train to Chandigarh on Saturday in the hope of reaching home. As curfew was imposed in Punjab, they had to find accommodation in Chandigarh itself.

Similarly, students of another Bangalore institute booked flights as soon as their exams were postponed. Their flights, scheduled for March 26 and 27, were suspended as the Civil Aviation Ministry cancelled all domestic flights from March 25 onwards.

The students, who reached the airport on Tuesday night to speak to the airport officials, had to return to their hostels.
Also read:
Coronavirus: Delhi Govt to provide packed mid-day meal at doorstep
Govt to make JNV hostels available to fight Covid-19
Write to us at news@careers360.com.


Stay updated with latest Education News