COVID-19 vaccine and research in NCBS' computer lab
COVID-19 vaccine and research in NCBS' computer lab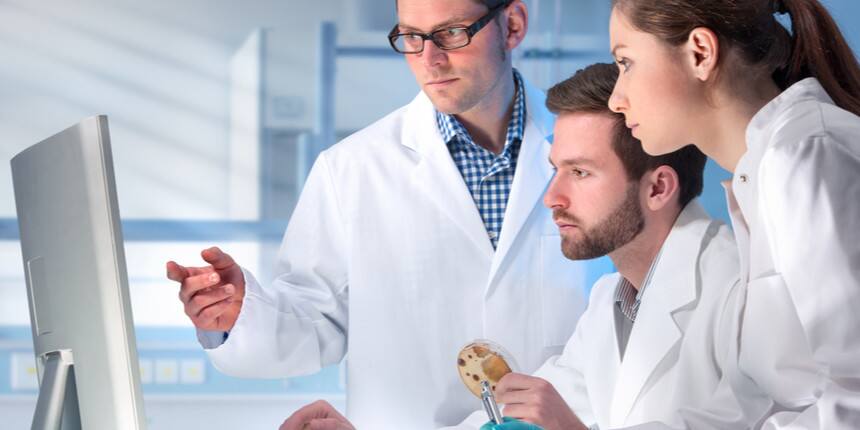 NEW DELHI: Researchers at the National Centre for Biological Sciences (NCBS) have found 33 small molecules which can pave the way for a potential medicine for COVID-19. The search for a vaccine or a drug to combat the novel coronavirus responsible for COVID-19, is being aggressively pursued in top laboratories across the globe.
Researchers at one of the computational laboratories of NCBS, Bengaluru, were able to find small molecules (chemicals) which can bind to one of the SARS-CoV-2 proteins.
The team of three researchers is led by R Sowdhamini, a professor in the Department of Biochemistry, Biophysics and Bioinformatics.
The researchers took a month to identify the 33 molecules from 3,30,000 molecules.
Stopping the growth of coronavirus
"In the drug design approach, the plan is to identify a small molecule, that can be effective in stopping the growth of the virus so that it does not multiply when the host is infected," Sowdhamini told Careers360.
"Classically, the pre-clinical trials take a long time for the small molecule to be accepted as a viable drug and hopefully our choice of molecules of natural origin and FDA-approved drugs will save valuable time," Sowdhamini said.
Computational work saves time, money and effort in experimental examinations. Also, "it helps to perform computational research before the actual work starts in a wet lab," she said.
Wet lab validation
These 33 molecules can be taken forward for wet-lab validation, both for binding and to reduce viral application.
The paper has been accepted for publication in the Journal of Biosciences.
The next stage will be further research in the wet lab and its validation.
"We started this work during early-March, and it is great to see that we could recommend a set of promising small molecules to bind to NSP1. But, what will make us happier is if some of these ligands could be useful to combat COVID-19," adds Sowdhamini.
Covaxin, the first possible vaccine against COVID-19 in India will be tested on 1,100 people in two phases as per a report in Bloomberg. Bharat Biotech has got the regulatory approval to start human clinical trials
As on Monday, India's COVID-19 updates as per the ministry of health and family welfare, the government of India is 7,19,665 positive cases and the death count is 20,160, the number shows India at the position behind the USA and Brazil.
Also Read:
Write to us at news@careers360.com
More From Pritha Roy Choudhury