'A true explorer': COVID-19 claims ICFAI's Debapratim Purkayastha
'A true explorer': COVID-19 claims ICFAI's Debapratim Purkayastha
Purkayastha, of ICFAI Business School (IBS) Hyderabad, was a celebrated case-study researcher and winner of close to a dozen Case Centre awards. He died of coronavirus in May.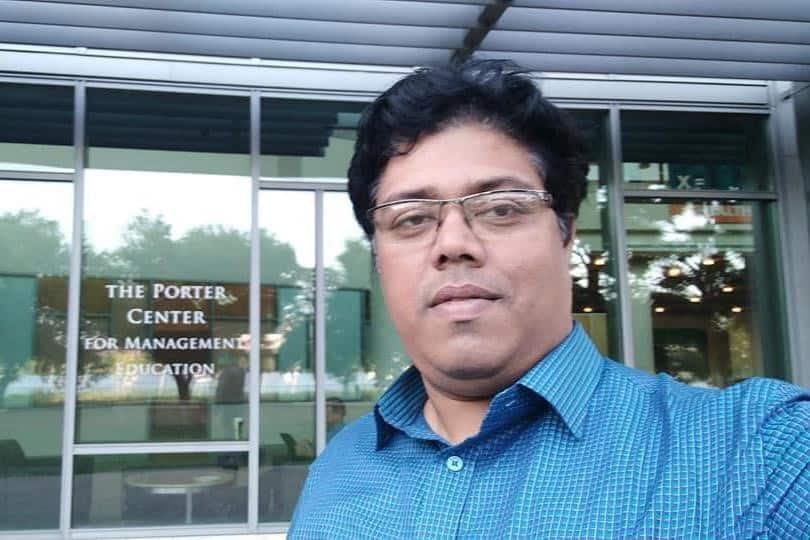 COVID-19 has claimed the lives of hundreds of educators across the country. In a new series, Careers360 tells the stories of some of them and the communities they left behind.
By Sudhakar Rao
My close friend and colleague, Dr Debapratim Purkayastha succumbed to COVID-19 on May 7, 2021, just a few days shy of his 45th birthday.
Just a week before, his wife Somali contacted me for references to arrange for an oxygen concentrator at home. It was only then that I knew he had COVID-19. Soon after, she said that hospitalisation is a must. It took us two days of scrambling for hospital beds to get him admitted to a hospital. For a while, he was doing well, we were told. He had been stabilised on a ventilator, his oxygen concentration levels were acceptable and we were expecting him to recover. He was known to be a fighter. Then, on the fifth day at the hospital, Deb suffered a cardiac arrest and succumbed to it.
This came as a rude shock to me, both personally and professionally. An exemplary life was taken away quite too early. It is an irreparable loss to his family and to ICFAI.
Deb and I travelled together extensively in India and abroad. Gentle, accommodative and hard-working, he was a best-selling case-study author in the world for the last five years consecutively. Secured top positions for himself alongside the brightest in the world from Harvard Business School, INSEAD and the like. He won 11 Case Centre awards, 'Oscars' for business schools. At ICFAI, Deb headed the most distinguished centre of excellence – ICFAI Case Research Centre, one of the best in the world.
He was endearing and we became friends. He was like a brother to me and I have known his wife Somali and his young son, Supratim, very closely. Journeys foster relationships and we have many of those – both for work and otherwise.
Apart from the long-haul flights to London, Los Angeles, Denver and elsewhere to represent ICFAI, we also travelled to Udaipur and Pondicherry to write on cases based on primary research. Our stint at the HiDesign headquarters included a series of long interactions with the founder and the team at their corporate offices and the factory. The visit resulted in a set of seven cases on a variety of topics.
One winter, we stayed at king's palace in Udaipur to write a case on the prince. We co-authored two interesting case studies based on field-level primary research.
In Denver, we would walk towards the hills for hours and stroll in the city's parks discussing the city's public transport systems and their social security.
Deb was a true explorer, not just with cases but also when it came to city's culture, food, music and commerce. A reliable partner on any exploration, he would always have plans ready and I would tag along.
In Hyderabad, a Pharma City is coming up in a special zone. We thought we needed to understand what was happening on the ground. Somali also joined us on our drive to Hyderabad, undertaken during the lockdown in 2020. Such was his level of keenness on investigating matters that are not fully clear.
I rejoiced when he stood in front of INSEAD Blue Ocean Strategy Institute or in front of Porter Centre for Management Education. More importantly, he did us all proud when he stood in front of hundreds of aspiring case researchers, sharing some award-winning tips with them. From the Indian Institutes of Management (IIM) in India to the best B-schools in the world, he trained many teachers and carved a niche for himself as a thought- leader in the world of case research and business management education.
Deb accomplished much in such a short span of time. He was himself a brand, not just for ICFAI but many in the fraternity of case research and in MBA classrooms around the world. He remains immortal in textbooks across thousands of business schools around the world.
Sudhakar Rao is director, branding, ICFAI Group
Read more:
Write to us at news@careers360.com.
More From Team Careers360