Equal Right to Learn: Why a disability rights NGO has moved SC over online education
Equal Right to Learn: Why a disability rights NGO has moved SC over online education
COVID-19 exposed the neglect that education of disabled children suffers. A Delhi-based NGO has moved Supreme Court seeking resources for this group.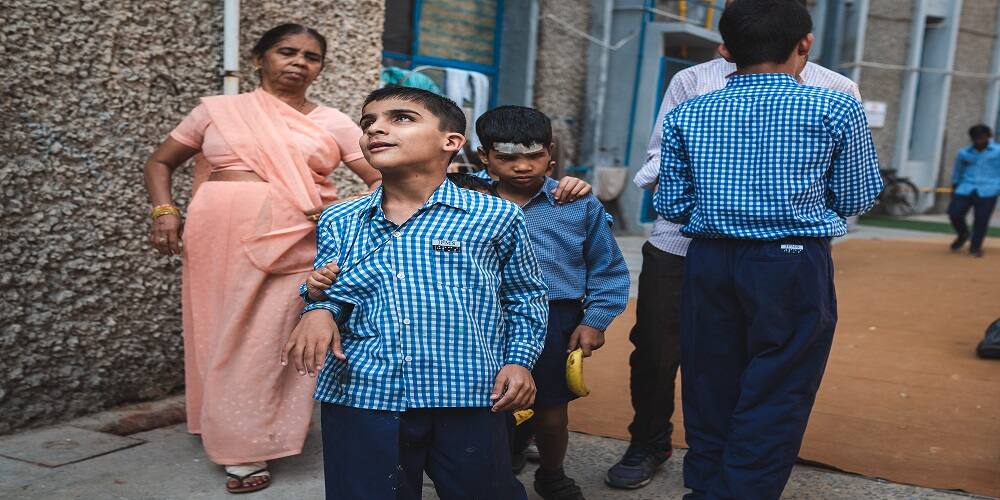 NEW DELHI: Rashid Hassan, a 12-year old boy from Najafgarh, New Delhi, has autism. When asked not to visit his school from March 2020 due to COVID-19, the break in routine left him baffled and anxious. Hassan was one of many differently-abled children who, with their families, faced problems as the pandemic forced education online. Many approached the Delhi-based Javed Abidi Foundation (JAF) for help.
It wasn't just education that worried these children's families. There were questions about accessing health services for children who need them regularly and caregivers for those who cannot move independently or need constant support.
While school and university systems across the country made efforts to teach online and their students' struggle with online education received attention, students with disabilities became a blind-spot for most teachers and institutions. They were not provided with the required resources or support due to a lack of clarity in government policy and directives. Photographs of worksheets were sent to blind students and most didn't have access to text-to-speech transmission; there was no sign language interpreter for deaf students.
Also Read| Education ministry issues guidelines to develop e-content for disabled children
The JAF has been spearheading a campaign for accessible content for disabled students since September 2020, writing to the ministry of social justice and empowerment, the chief commissioner for persons with disabilities and the ministry of education and, finally, drafting guidelines for persons with disabilities. In May 2020 the foundation filed a petition in the Supreme Court seeking protection and enforcement of the fundamental right to equality and right to life of students with disabilities concerning the conduct of online classes and examinations by educational institutions during the pandemic. Institutions are conducting online classes and exams without considering the challenges faced by students with disabilities or their specific needs, it argued. In June, the ministry of education laid down guidelines on developing online learning material for disabled children.
"During our conversation with the government and bureaucracy, we realised that they don't care about students with disabilities," said Shameer Rishad, founder-convenor of JAF. "Despite pointing out several issues with online education – it is not just about making content available but the platforms like DIKSHA, SWAYAM, etc. needs to be accessible to disabled students – the government lacks interest in this issue. It's a charity-based mindset …. They neither discuss the issues with the stakeholders nor involve them during policymaking. Further, people with disabilities weren't involved in the decision-making process. They might have been involved in the technical input but how and what should be used specifically for disabled students, no one from the community was involved."
Also Read| DU: Kirori Mal College launches Centre for Disability Research and Training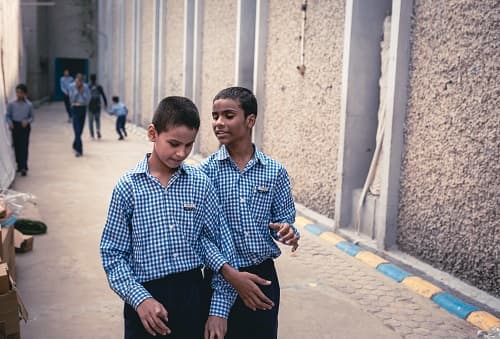 To have an effective policy for disabled children, state and central governments must bring non-profits from the sector on board. Image: Shutterstock
Online education for disabled students
For children with physical disabilities, it is very strenuous to sit in one place, either on the bed or on a chair, for long stretches of time. Even for intellectual disability, children faced problems focusing. Without support, the prolonged screen-time led to anxiety.
Somya Bathla, a special education teacher at a government school in Dwarka, New Delhi, said that the basic challenge she faced was not even related directly to education but the basic accessibility to food and counselling for disabled students. As children in government schools come from underprivileged families, many were without a smartphone – a primary tool for online education "We took this issue to the Delhi government about the inaccessibility of technology but all in waste," said a former teacher of a Delhi Government school but asking not to be named. "Teachers themselves pooled resources to ensure students didn't fall behind. But there was no effort from the Delhi Government to provide smartphones to children. Three students took classes through one smartphone or tablet, that too provided by NGOs."
Bathla taught through WhatsApp video calls. "It was more of counselling children, guiding parents because they were anxious and impatient, especially with children with intellectual disability and autism," she said. "As these children were comfortable in the structured school environment, the pandemic came as a shock to them, including parents. Even parents faced challenges in dealing with children due to the unavailability of resources at home. Limited access to technology, behavioural changes and frustration led to an even wider learning gap [for this group] during the pandemic."
"Online education is not effective for children with disabilities, especially for children with intellectual disability," Bathla explained. "They need concrete learning through the inculcation of all the senses: touch, kinesthetics, which is not possible through a virtual model." adds Bathla. In the absence of direct contact, teachers have worked more as facilitators, guiding parents with at-home activities through easily available resources.
Also Read| UPSC Civil Services Exam: Delhi HC notice on plea seeking unlimited attempts for PwD
Possible solutions
Introducing inclusive technologies for the post-COVID world in the field of education is critical considering the long-term impact of the pandemic, argued Rishad.
Shruti Suresh, an additional learning support teacher at Pathways School, Noida "found online education for students quite supportive here [at Pathways], especially for students with disabilities". Her school has assigned a group of staff the task of straying abreast of all new developments in education technology and online learning, including resources available for disabled students. "We also have weekly professional development sessions," added Suresh. "Besides, online resources are provided including research material from websites that have screen reading facilities, in-built speech-to-text recognition, through the material provided by international schools that have access to inclusive content. Teachers just have to go through the resources."
A visually-impaired PhD scholar at Indian Institute of Technology (IIT) Bombay, Kailash Gajanan, said that students from the community feel that states see granting them admission and providing assistive devices as charity rather than a right of the community. "We also have no representation of disabled people's voices in Parliament leading to a lack of interventions in education for disabled students," observed Kailash.
Also Read| IIT Delhi, AIIMS set up research centre for excellence in disability, assistive technology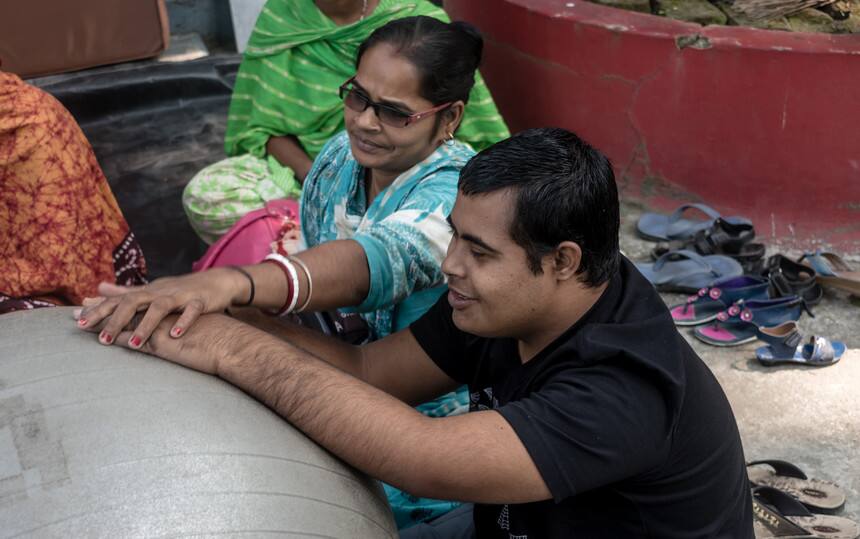 Disable community in India are for long neglected by the government. Image: Shutterstock
Way forward
Rishad believes that the only way to ensure accessibility is to increase awareness in the community about changes and new policies. Besides, governments have failed to recognise that pre-recorded content is not the same as an interactive online classes, he pointed out. Due to this, children with disabilities are being pushed out. "When you don't include disability rights activists and disabled students from the start, these are the kinds of issues that arise," he said.
However, JAF's guidelines refers mainly to university education.
"I feel the petition deals more with university education and there is not much talk about school education. Higher education institutes that are government-funded can adequately support disabled students," said Madhumita Puri, executive director, Society for child Development. While universities are well-funded, students coming to government schools are from poor socio-economic backgrounds which need more focus.
"Besides, the awareness about resources depends on the proportion of educated people in that state. For instance, a majority of the population in southern states are aware and have access to facilities in education. States with large populations have a bad state of education. It highlights that we need to provide for the vulnerable sections," she explained.
Government schools could have provided other resources including a sign language interpreter, scanned worksheets for blind students along with recordings, she added.
Also Read| NEET UG 2021: Supreme Court directs relief for PwD candidate who sought directions for re-exam
To have an effective policy, state and central governments must bring non-profits from the sector on board. "Even the National Education Policy just talks about terminologies but no information about how things should be implemented considering the condition of disabilities," said Bathal.
The JAF guidelines are a start but their implementation must be binding for the students to get anywhere. "It would only work when the court gives a binding decision or order to follow them. Unless the court intervenes, the bureaucrats won't work. Hence, an order from the Supreme Court is mandatory which will ensure equitable availability of resources to disabled students across the country," said Syed Ansari, a visually challenged PhD scholar at the National University of Advanced Legal Studies, Kochi.
But the case has proceeded at a sluggish pace – the last hearing was in October. The Supreme Court directed that the e-Vidya portal must be used for disabled students and scribes provided during exams for those who need them. The next hearing is expected in November.
---
Follow us for the latest education news on colleges and universities, admission, courses, exams, schools, research, NEP and education policies and more..
To get in touch, write to us at news@careers360.com.
More From Sheena Sachdeva