EWS Reservation: Roadblocks in implementing 10% Quota
EWS Reservation: Roadblocks in implementing 10% Quota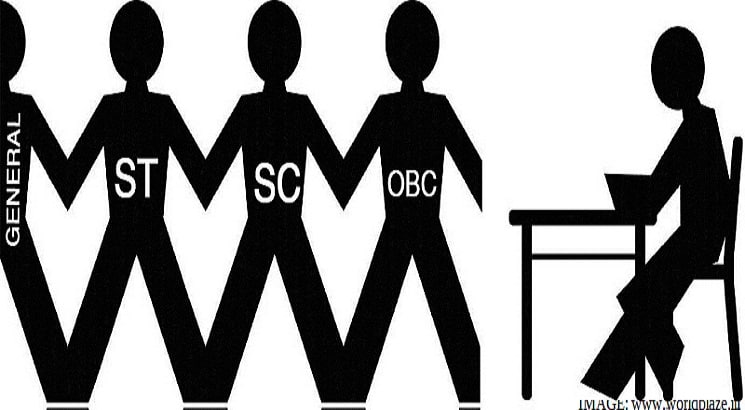 NEW DELHI, JANUARY 17: The Central Government has announced 10% quota for the Economically Weaker Section General Category in education and jobs, Bill got approved by both houses of the Parliament within few hours. However, when it comes to the implementation, such large scale policy action requires meticulous planning.
The HRD Minister has also announced that the Government will add 25 per cent additional seats to accommodate the new quota. This announcement raises many questions and as it will affect the current education system as well as the employment scenario in the country. In this piece, we will explain to you how this is a hasty decision implement with the help of facts and figures which are public records.
Infrastructure in Institutions
The announcement of 25 per cent more seats will certainly put a significant burden on the existing infrastructure such as classrooms, hostels, medical and sports facilities, laboratories, library, administrative buildings, etc.
Many of the centrally funded institutions announced in the past few years are yet to move to their permanent campuses. As per the answer given by the MoS Higher education Dr Satya Pal Singh in Lok Sabha recently, out of the 23 IITs, as many as six new ones which started their academic activity from 2015-16, 2016-17 are still functioning from their temporary campuses. Out of the 15 premier medical institutes in the country, the All Indian Institute of Medical Sciences (AIIMS), six new ones even do not have their website, these institutes will begin their academic session from 2019-20.  The situation is no different in some other institutions like the IIITs. This raises a serious question on the implementation, as when an institute is itself operating out of transit campus with limited infrastructure, how will it accommodate more students. 
Faculty Shortage in premier institutes
The IITs are always the dream destination for engineering aspirants, every year 12 lakhs (approx.) candidates registered for JEE main and 2.5 lakhs for JEE advanced for 11,279 seats in IITs, 17,967 seats in NITs, 4023 in IIITs and 4683 in GFTIs. The IITs have to maintain the 1:10 student-faculty ratio, there is 31.76 per cent of the faculty positions are already vacant in IITs. With more students getting added to the system, this ratio will further go down thus putting more pressure on the existing faculties. NITs are also in the same league; around 47.76 per cent seats are vacant including IIEST Shibpur.
There is 32.79 per cent faculty shortage in central Universities, the condition is worse in case of state universities and other institutions like state private and deemed to be universities are also sailing in the same boat. If the government adds 25% more seats in all these institutions will it not put an extra burden on the teachers, thereby affecting the quality of education.
Funding
It is no hidden fact that publicly funded higher education institutions especially state universities are reeling under the fund crunch. They are not even able to meet their basic requirements like paying salary to staff, creating adequate infrastructure, with more seats getting added to their existing sanctioned strength, how will they be able to meet the expenditure.
Intake vs Vacant Seats vs Placement
According to the AICTE, there are 3326 institutions offering engineering and technology in 2017-18, offering the undergraduate and postgraduate level of education. as per the AICTE data, the sanctioned intake for the year 2017-18 was 16,62,470; out of that only 8,18,766 seats were filled, resulting in more than 50 per cent seats lying vacant.
With the new MHRD regulation of adding 25% more seats to the existing lot coming into effect, it will only worsen the scenario.
If we look at the placement scenario, only 42 per cent of students got placed as compared to actual enrollment in 2017-18. These facts raise serious questions as when already existing seats are not getting filled, who would take admission in the additional 4 lakh seats getting added from 2019-20. It is also to be noted that 41 institutions closed down in that year with only 39 getting added to the list.
Following are the data gathered from the AICTE Dashboard.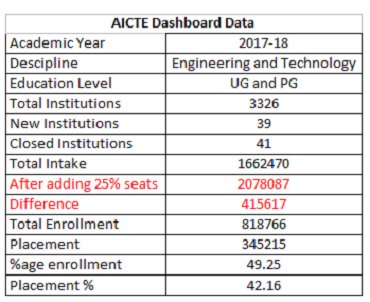 Regulators lacking on updated data
The HRD minister has announced that the AICTE and UGC, apex regulatory bodies will provide the operational mandate for implementing the EWS Quota in academic institutions. However, the above mentioned regulatory bodies are grappling with updated information and are in urgent need to update their data in terms of intake as well as the number of institutions. If one goes through the AICTE official website, the information related to private deemed university approved intake, it shows 11,287 seats in 13 institutions. Whereas institutions like VIT Vellore and SRM Chennai alone have close to 11,000 seats at UG and PG level. However, some of the state universities are still functioning in the country, while they are yet to be listed UGC database.
---
Follow us for the latest education news on colleges and universities, admission, courses, exams, schools, research, NEP and education policies and more..
To get in touch, write to us at news@careers360.com.
More From Aeshwarya Tiwari