Fighting COVID-19: IIT Roorkee develops low-cost portable ventilator
Fighting COVID-19: IIT Roorkee develops low-cost portable ventilator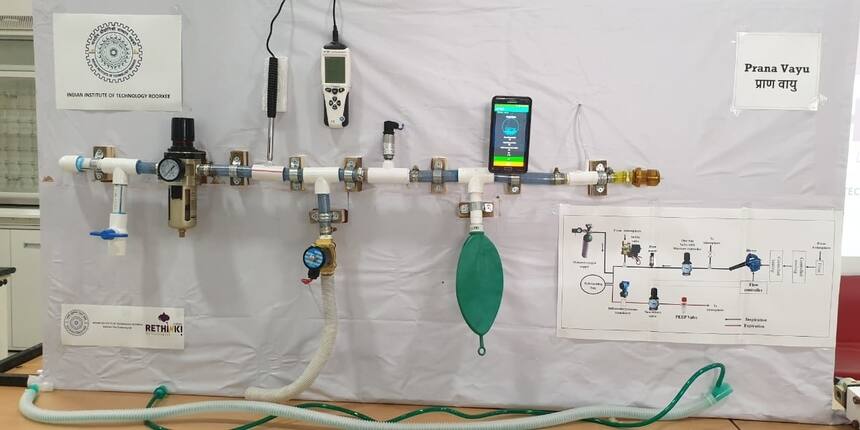 NEW DELHI: The Indian Institute of technology Roorkee (IIT Roorkee) has developed a low-cost portable ventilator for COVID-19 patients that can be remotely monitored and quickly manufactured.
The ventilator, built in collaboration with All India Institute of Medical Sciences, Rishikesh, has been named 'Prana-Vayu'.
Designed especially to deal with the COVID-19 pandemic, the manufacturing cost is estimated to be just Rs 25000 per ventilator.
The 1.5 feet × 1.5 feet dimension of the ventilator allows effective portability.
Akshay Dvivedi, Coordinator, Tinkering Laboratory, IIT Roorkee said the prototype has already been tested successfully. "We have successfully achieved the ventilatory requirement on a test lung, and it can be used for both infants and even overweight adults," he said in a statement.
Besides Dvivedi the research team included Arup Kumar Das from IIT Roorkee, it got online support from Debendra Tripathi of AIIMS Rishikesh.
Features
The ventilator can be used for all age group patients, especially the elderly patients.
It does not require compressed air for functioning and can be used when hospital wards or open areas are converted into Intensive Care Units (ICUs), the statement said.
The ventilator is equipped with state-of-the-art features and requires controlled operation to deliver the required amount of air to the patient. It can be remotely monitored by health professionals.
The model of ventilator is based on touch screen control of all operating parameters like moisture and temperature control for inhaled air.
It is equipped with real-time spirometry and alarms that can automatically limit high pressure when necessary.
The team presented the ventilator to more than 450 industries in a webinar organized by the Confederation of Indian Industry."We have received interest from multiple industries for its mass production," said Ajit K Chaturvedi, Director, IIT Roorkee.
Also read:
Write to us at news@careers360.com.
More From Team Careers360