"Growth of new areas in management education is reflective of the job profiles which require special skills"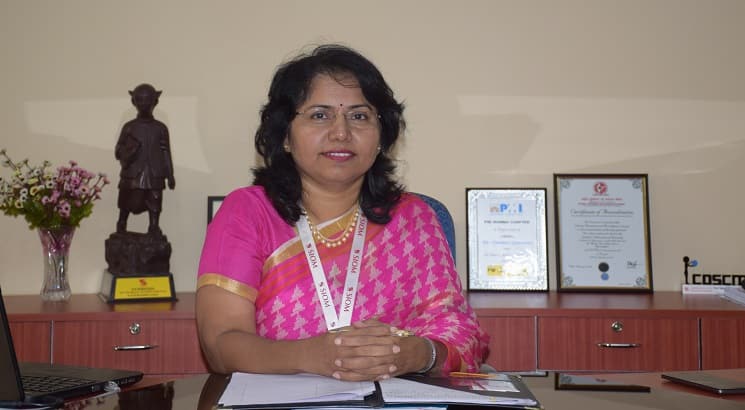 Dr Vandana Sonwaney, Director, Symbiosis Institute of Operations Management (SIOM) shares her thoughts on the growth of new domains of management education and the demand for professionals in the area of operations management...
Q. How do you look at the growth of new areas of management education in the country?
A. One can divide the areas into two broad categories. One is the functional domain area of management where efficiency in Operative functionalities has become a must to survive and hence new specializations have cropped up. Management Information Systems, Data Analytics, Supply Chain and Operations Management, Logistics Management, Warehouse management and so on which would enhance operative efficiencies of companies irrespective of the sector. On the other hand, certain sunrise sectors have emerged where niche management education is been offered. Retail, E-Commerce, Pharmacy, Services, Tourism, Healthcare, Hospitality and so on are examples of sectorial categories. This growth is reflective of the job profiles which require special skill sets hence there is a huge scope of these new areas of management education.

Q. Operations management is one niche area, how is the demand for such professionals from the Industry?
A. Operations may be a niche area in management education but certainly is a core for every business and every sector. Businesses irrespective of the size are constantly in the quest of optimizing resources. While the application of operations was originally for the manufacturing sector, just in time production, Total Quality management, Total productive maintenance, Lean product development and Six Sigma, many of these principles have spilt over to the services sector and the e-commerce sector as well. The scope for an operational professional is thus wide. We have had recruiters from Manufacturing, Consulting, IT/ITES, Logistics, Banking and Financial Services, FMCG, Retail, Pharmaceuticals, Infrastructure and Projects, Analytics, e-Commerce, Energy, Oil and Gas, Mining and Telecom coming to SIOM seeking specific skill sets in the area of operations in the past years. Best of profiles related to Operations and SCM are offered. Increasing number of consultancy companies for recruitment is a strong evidence of SIOM's credibility in the corporate. You can emulate the demand of operations professionals from this.

Q. Could you elaborate on the programmes being run by your institute?
A. Symbiosis Institute of Operations Management, under the gamut of the prestigious Symbiosis International (Deemed University), is an educational institution that crafts for itself a niche position by adopting an MBA curriculum specialized in Operations Management. With a vision to empower and lead Operations Excellence, SIOM tries to produce potential leaders with great technical, practical, analytical and people skills. Sustainable business operations are becoming an integral part of strategic business decisions. This is a niche institute offering MBA in Operations Management), we have an alliance with KPMG for Six Sigma green belt certification training for all students
Alliance with SAP (UAP) with summer school program with Munich University Germany.

Q. How do you look at the Importance of operations in the e-commerce sector and logistics in services?
A. Everything and every business are fast turning digital. E-commerce has completely transformed the modus operandi of traditional businesses across sectors encompassing logistics and operations as its main function; both are inseparably linked to each other. The e-commerce performance is invariably dependent on the logistics function. E-commerce fulfilment centres, warehousing, inventory, billing, packaging, labelling shipping, Cash on Delivery payment, product returns and exchanges are all part of logistics operations. Similarly, there is a wide range of e-services currently offered through the internet and these include banking, loans, stock trading, jobs and career sites, travel, education, consultancy advice, insurance, real estate, broker services, online publishing, and online delivery of media content such as videos, computer games and so on. Here the service delivery system is all about operations. The operating strategy describes how the firm's different functions (marketing, finance, and operations) will support the service concept. If the firm's order winning competitive priority is quality or timely delivery operations strategy ensures the quality of the service and achieves the last mile delivery target.

Q. How core strategies of businesses are building around operational competencies?
A. The Complexities of business environment are growing each day forcing companies to continuously update to rapidly developing technologies, face increased cost-based competition, be equipped to match higher quality expectations and demands for better service, offer more choice and variety, frequently introduce new products and services and be adaptive to an increased ethical sensitivity and transparency of environmental impacts.
These complexities are prompting and ordering effective and efficient operations responses like Internet-based integration of operations activities, globalization of operations networking, use of Information-based technologies, environmentally sensitive as well as lean process design and Supply chain management, Fast time-to-market methods, Customer relationship management, Supplier 'partnership' and development, Failure analysis and Business recovery planning and so on. As businesses are moving towards a more sustainable model, business operations are becoming an integral part of strategic business decisions. The environmental concerns have paved way for sustainable operations, reverse logistics and circular economy further creating interesting opportunities for lean and agile operations.

Q. What kind of jobs one can land up with a degree in Operations Management?
A. The Operations Professionals from SIOM are equipped to handle profiles like Category management, Process Improvement, Capacity Planning, Business process management, Sourcing and Procurement, Product development Planning, Order Management, Demand Planning, Supply Chain Network Design and Optimization, Inventory Planning, Supply Chain Consulting, Customer service management, Process excellence and the like.

Q. Tell us something about the curriculum at Symbiosis Institute of operations management?
A. The curriculum is one of the most important deliverables that resonates with the purpose of SIOM and reflects the responsibility of being India's only Institute dedicated to a full-time MBA in Operations Management. Our curriculum philosophy is to be Industry oriented and Industry relevant always. By keeping an eligibility cap of engineers only, we have defined the level of technical acumen we expect from our students to absorb, understand, apply and reciprocate to the Curriculum in terms of their learning. Also, we have benchmarked and aligned the curriculum with APICS.
SIOM boasts of being awarded several times since 2009 as 'Institute with best industry oriented curriculum "by Institutions of repute like ET, Bloomberg, Dainik Bhaskar and many more. Curriculum for SCM stream has 3 levels- Basic, Advanced and Analytical. Basic level includes all the basic concepts i.e. elements of SCM, push-pull strategy, strategic fit, inventory management, forecasting etc. The advanced level opens up with different streams of supply chain and includes subjects like supply chain strategy, warehouse management, sustainable supply chain, supply chain performance management etc. Supply Chain analytics stream have subjects like supply chain modelling and design, supply chain modelling and analytics.
---
Follow us for the latest education news on colleges and universities, admission, courses, exams, schools, research, NEP and education policies and more..
To get in touch, write to us at news@careers360.com.