In Charts: When and why students drop out
In Charts: When and why students drop out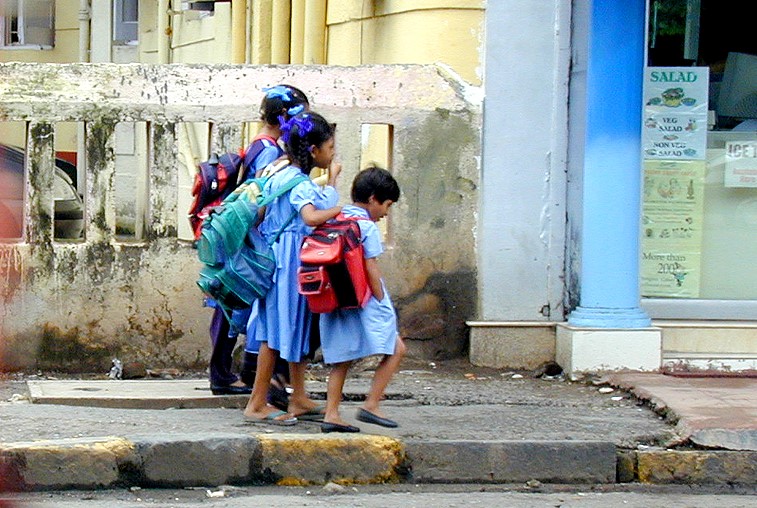 NEW DELHI: Indian youths abandoned their studies because they found jobs, faced "financial constraints", got engaged in domestic activities or just lost interest.
According to the recently-released Key Indicators of Household Social Consumption on Education in India, a report based on the government's National Sample Survey, 12.6 percent of the respondents who had ever enrolled in formal education had abandoned their last programme of study without completing it.
The latest round of the National Sample Survey was conducted over 2017-18 and among 5,13,366 individuals across the country, 3,05,904 of them in rural areas. For its analysis on education, the report considered the group in the age bracket of three to 35, comprising 2,86,456 individuals.
The following charts look at the stages at which most students dropped out, the top reasons for their doing so and the difference between the urban and rural scenarios, especially with regard to upper-primary (Classes 6-8) and secondary school (Classes 9 and 10).
The states
Over a fifth of the young people who had enrolled in West Bengal dropped out giving the state the highest percentage of dropouts in the country - 23.5 percent. It was followed by Odisha and Assam. The states with the lowest percentages of dropouts were Uttarakhand (3.4 percent), Punjab (4 percent) and Himachal Pradesh (5 percent).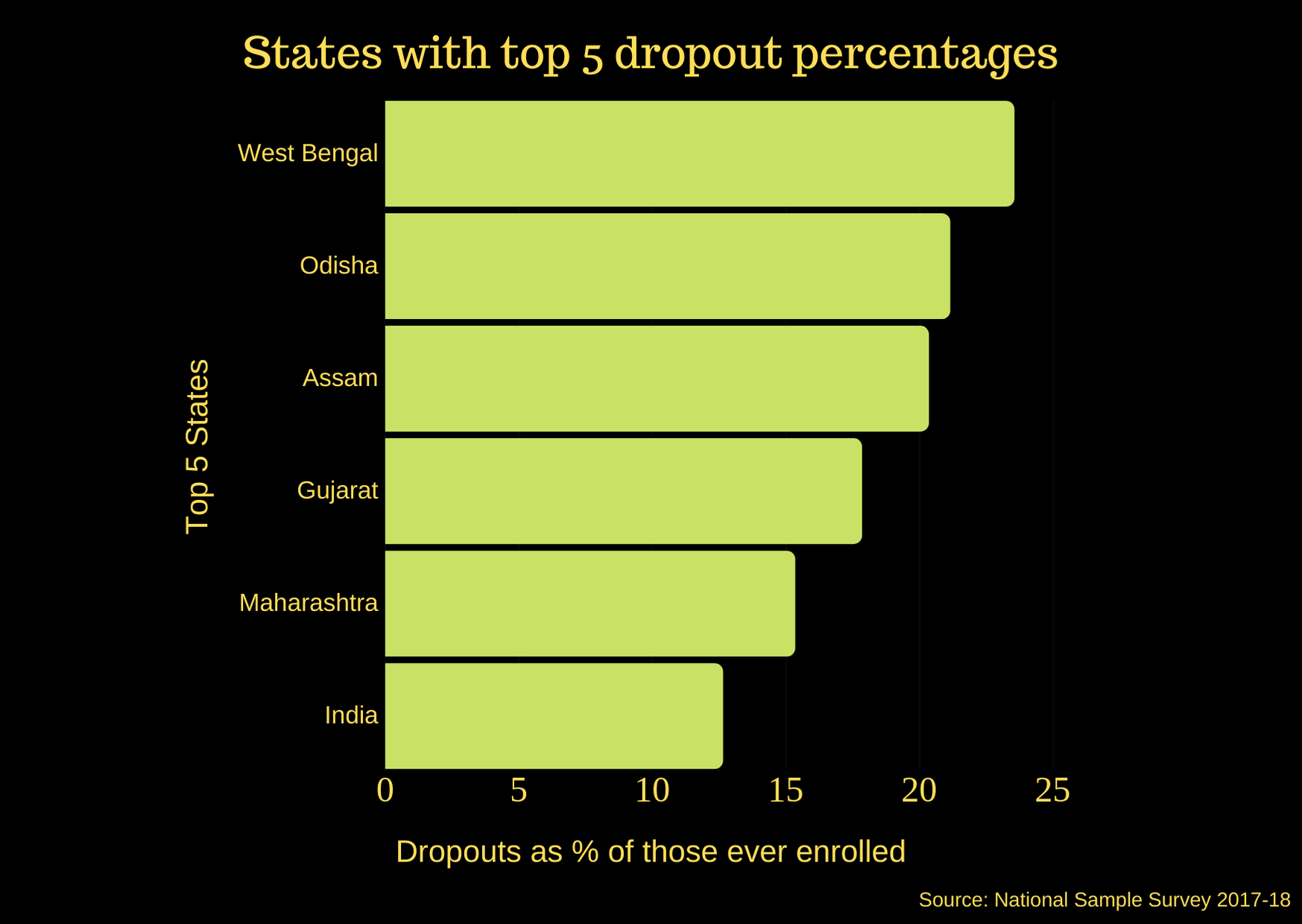 Dropped out in school
Rural and urban figures taken together, the largest chunk of dropouts left without finishing school – 17.5 percent left during upper-primary and 19.8 during secondary school. Since there is no age-wise analysis, it is impossible to tell whether these individuals dropped out before or after 2010 when the Right to Education Act was implemented making education till Class 8 free and compulsory.
Also, while the percentage of women who dropped out of school, undergraduate diploma or degree programmes is much higher than that of male dropouts at those levels, the trend is reversed at the postgraduate ones.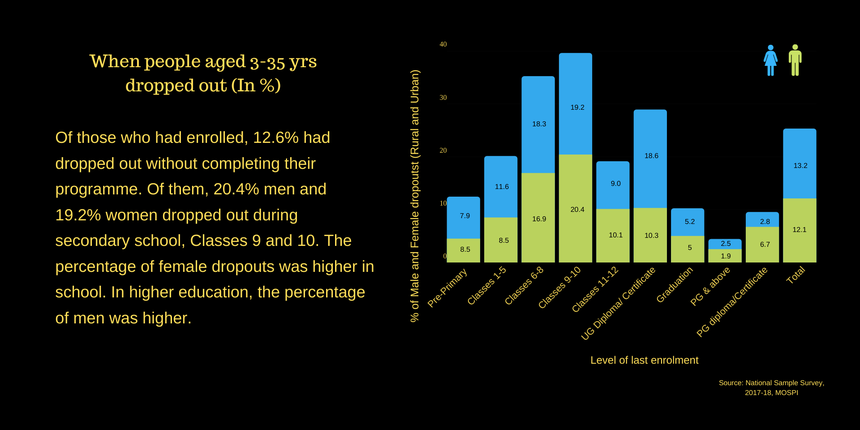 Rural and urban
The percentages of dropouts at the school level were significantly higher for both male and female students in rural areas than urban ones. Again, it's not clear whether the largest section to dropout comprised the older respondents (age closer to 35 than 3) who were in school before the RTE Act was passed.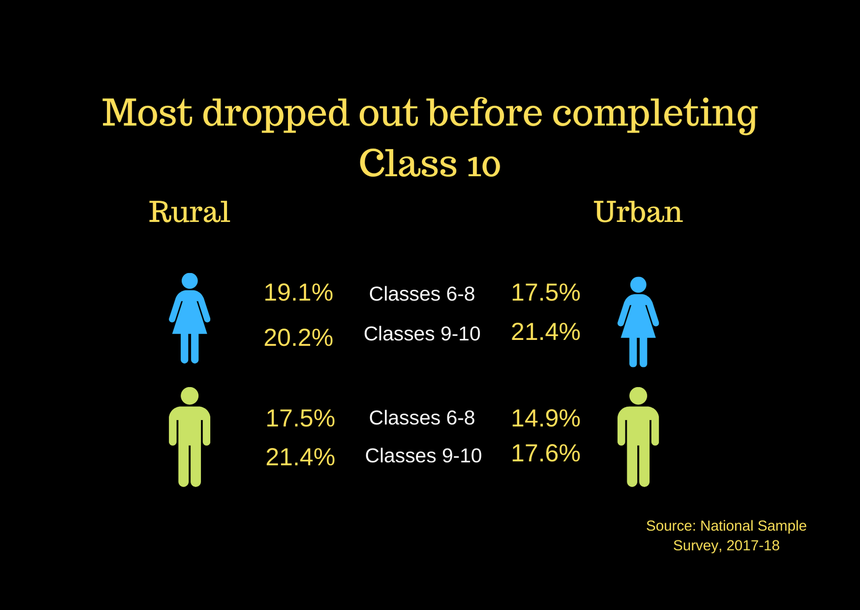 The reasons
Men and women stopped attending formal education for different reasons. Both sets cited loss of interest and "financial constraints" as reasons for not continuing their studies. Some had completed the desired level before opting out of further studies.
But getting "engaged in economic activities" was overwhelmingly a 'male reason' – 36.9 percent men not enrolled at the time of the survey cited it, as against 5.3 percent women. Getting "engaged in domestic activities" resulted in a far greater percentage of women abandoning their studies (30.2 percent) than men (4 percent). For 13.2 percent women, the cause for moving out of formal education was marriage. No male respondent cited it as reason. Some of the other reasons not included in the graph are inadequate number or low quality of teachers, lack of women teachers, absence of girls' toilets, schools being far off and the route unsafe, "preparation for competitive examination" and "unfriendly atmosphere at school", among others. However, about an equal percentage of male (3.8 percent) and female (3.4 percent) dropouts cited inability to "cope up with studies/ failure in studies" as reason for leaving.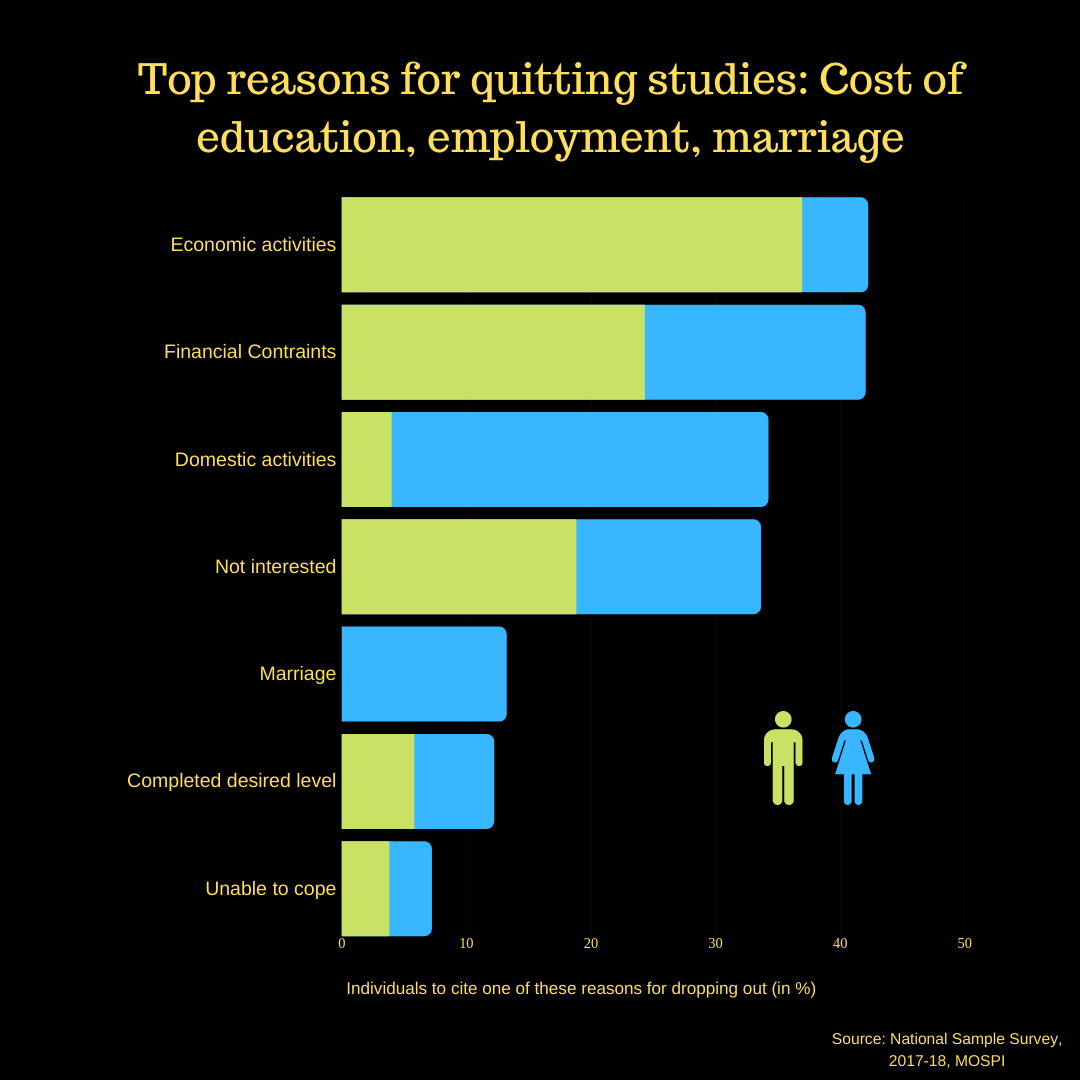 Update: This copy has been updated to include the state-wise dropout percentages.
Write to us at news@careers360.com
Stay updated with latest Education News
More From Shreya Roy Chowdhury