In flood-hit Assam, students want final exams cancelled
In flood-hit Assam, students want final exams cancelled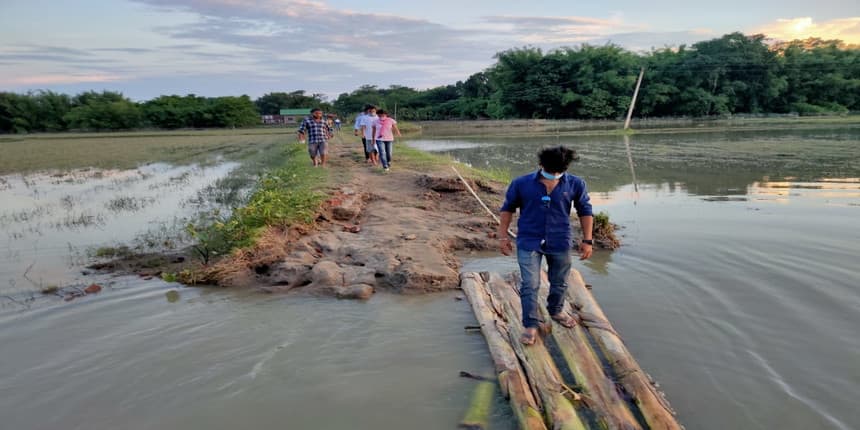 NEW DELHI: Their state ravaged by floods and rising number of COVID-19 cases, college students in Assam are demanding that end-semester and final-year university exams be cancelled.
Students fear they might "lose a year" if exams are held in such unfavourable times.
"We have a very simple request: please take any decision that will not harm the student in any way," said Lakhyajit Das, vice president of the Post Graduate Students Union of Guwahati University. "As it is, the number of COVID-19 cases is doubling and the flood situation is also very bad."
According to Assam State Disaster Management Authority (ASDMA), the deluge had affected around 27 lakh by Friday. According to the ASDMA, the state's five western districts - Goalpara (population 4,70,183), Barpeta (4,61,184), Morigaon (3,75,250), Dhubri (2,78,041) and South Salmara (2,49,423), have been badly affected.
Indian Meteorological Department recorded 926.9 mm rainfall on July 24 against the normal 779.9 mm.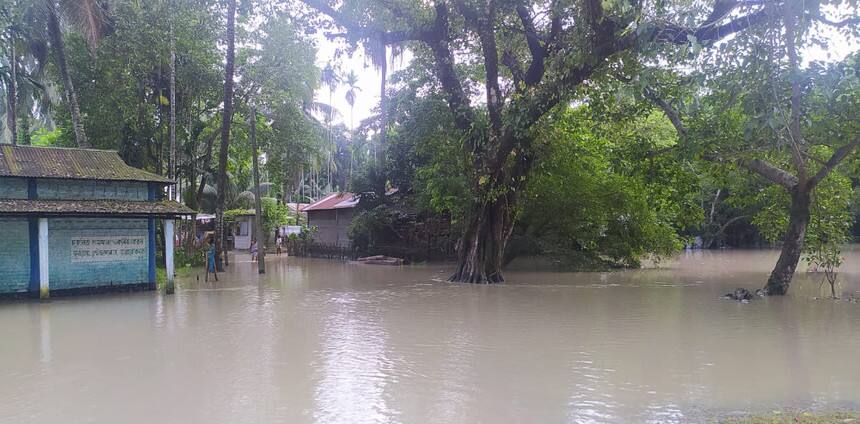 Online classes did not help
Even before the floods, students were struggling with online classes. Exams conducted on the basis of these will adversely affect students.
"I have been scoring 60%-70% in the past semesters and my average right now is 65%. But if I have to appear in this exam without understanding the basic concepts taught in this semester, my performance will be pathetic," said Mriganka Ranjan Bora, a final-year MCom student of Jagannath Barooah College, Jorhat. Bora tried to attend online classes but learning suffered massively due to poor internet connectivity. Students across India are demanding evaluation of final-year or semesters on the basis of their past performance. For students in Assam, the situation is more urgent than ever.
Students have been raising complaints about online classes since March but despite that, on July 6, the University Grants Commission (UGC) issued guidelines making final-year or end-semester exams compulsory for all universities by September-end. Several states, including Maharashtra, Punjab, Tamil Nadu, Delhi and Odisha have protested, and several court cases have been filed but till now, the Centre has not relented.
"What about students who are unable to attend the online classes?" said Parshwa Patgiri, a second-year student of MA sociology at Gauhati University. "The network here is very, very poor. Many will not be able to complete exams online even if the universities act according to the UGC guidelines."
In many colleges, teachers could not take online classes at all due to poor internet service. As a result, the online classes were very irregular and only about 10% of the syllabus could be covered, said students. "One cannot prove their worth by appearing in an online exam with half-baked knowledge," added Bora.
Assam floods
The floods have only intensified the students' problems. Along with patchy internet connectivity, many now face hours of power-cuts.
"Due to flood situations in Assam thousands of people are facing electricity problems and have become homeless. After all these harsh situations, conducting exams will be a mockery towards students' welfare," said Niharika Kashyap, in a social media post.
Partha Pratim Konwar, general secretary of the All Assam Polytechnic Students Union, said in a social media post: "In these pandemic situations students aren't in a good mental condition. As technical education is based on practicals and the whole course not completed, it is impossible to appear in exams with only theoretical knowledge."
A tweet by another student, Rahul Borah, said: "In a state where floods are sabotaging parts of Assam. Many lives are at stake. Students standing with no internet facilities do not benefit."
In his letter, Jyoti Bikash Changmai, president National Students Union of India, Assam, wrote: "An abnormal reaction to an abnormal situation is always considered to be normal behaviour."
Also Read:
Write to us at news@careers360.com
More From Pritha Roy Choudhury