JEE Main and NEET 2020: How COVID-19 ended dreams for many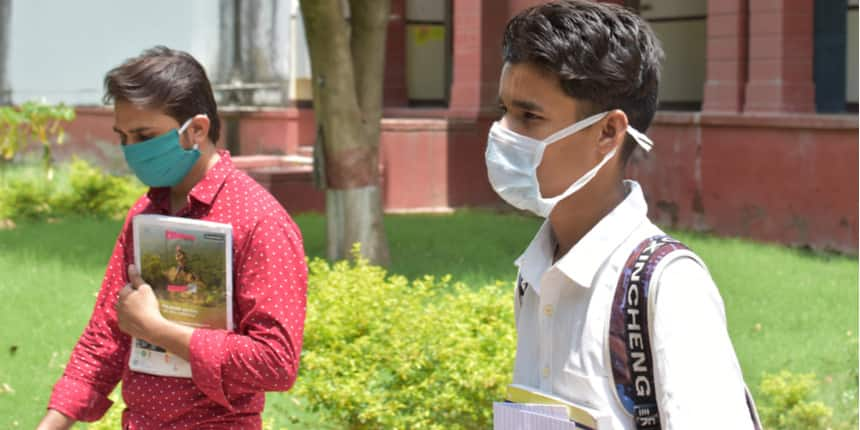 Radhika
|
Sep 14, 2020 - 2:36 p.m. IST
NEW DELHI: As around 14 lakh medical aspirants wrote the National Eligibility cum Entrance Test (NEET 2020) on Sunday, two sisters, Simran (20) and Shivani Sachdeva (19) sat in an isolation room at an exam centre in Kota, Rajasthan. They were not allowed to write the exam but were forced to stay in isolation at the exam centres for the three hours.
Shivani Sachdeva is a recovered COVID-19 patient and her sister registered a high temperature during the thermal scanning at the NEET exam centre. Adhering to the standard operating procedures (SOPs), the exam centre authorities asked both the sisters to sit in separate rooms, away from other candidates, in their respective exam centres.
"They [exam centre officials] told me they have conveyed my situation to the NTA [National Testing Agency] officials and they asked me to sit inside one of the rooms till 5 PM for nothing," Simran Sachdeva told Careers360.
On September 5, the sisters were also turned away from their respective Joint Entrance Exam (JEE) Main (JEE Main 2020) exam centres for the same reasons. "They checked our temperature, then our admit card then asked us to leave the exam centre. We were told that our exam will be conducted later on," Sachdeva added.
Ironically, the SOPs issued by the ministry of health on September 2 instructed each exam centre to arrange a "designated isolation centre" for a student or a staff member who is found symptomatic. The SOPs were revised on September 11, which barred symptomatic students from writing the exam. The revised SOPs also mentioned that the exam authorities should make "alternative arrangements" for such students.
Amid the chaos of conducting the mammoth national-level entrance exams for undergraduate medical and engineering courses and following the SOPs, candidates like the Sachdeva sisters did not just miss out but were harrassed. Despite numerous phone calls and emails to NTA officials, Sachdeva has not received any response.
'Worked hard for the exam'
In the wake of rapidly spreading Coronavirus cases, many students were forced to opt-out from writing the exams.
Another JEE Main aspirant from Latur, Maharashtra, Vrushabh Kulkarni, 21, lost all hope of getting admission in his dream college - an Indian Institute of Technology (IIT) -- after the NTA declared JEE Main result on September 11. He had been hoping the NTA would hold another exam at a later date and declare the results after that.
"I had worked really hard for the exam as it is my last attempt but unfortunately my father caught the infection and then I was also put under home isolation," said Kulkarni. "I thought that they [NTA] will arrange for another exam at a later date but then they declared all India ranks. I don't think they will conduct the exam again," said a disappointed Kulkarni.
Just two days before the exam, Kulkarni tested positive for COVID-19 and thus could not appear for his last attempt on September 5. Kulkarni's father had to be hospitalised. As per the JEE Main eligibility criteria, students have three attempts to clear JEE Main right after Class 12.
"If I don't get to write the exam, I have no other choice but to settle for less," Kulkarni said. "I'll appear for the MHT-CET, he added. The State Common Entrance Test, Maharashtra, is an annual entrance exam conducted by the Maharashtra Government. The Directorate of Technical Education will conduct the MHT CET 2020 in October for admission to 342 engineering colleges in the state.
To get a clear picture of the situation, Kulkarni has emailed the NTA officials multiple times. He has received no response so far. The official statistics indicate that out of 8.58 lakh candidates, only 6.35 lakh appeared in JEE Mains 2020 -- attendance was less than 75%.
Making tough choices
Despite exhausting a fortune on coaching classes to clear NEET, Brijesh Yadav (21) from Alwar, Rajasthan, decided not to write the exam on Sunday.
"I live with my grandparents and my father has diabetes. I will never put them at risk of contracting coronavirus just for my career," Yadav explained. "It would have been helpful if the government had postponed the exam but now I've made a conscious decision to not write the exam."
The state governments of Delhi, Maharashtra, Punjab, Odisha and West Bengal had requested the central government to postpone. They had also sought Prime Minister Narendra Modi's intervention.
A farmer's son, Brijesh is now looking at alternative career options to support his family. "My father wants me to be a doctor but I can't afford any more delays. My family has high hopes for me. I will apply for B.Sc. Nursing course this year," he said.
'Sacrificing dreams'
Compelled by his financial circumstances, Danish Khan also decided not to write the NEET this year. "I am farmer's son, we have a debt crisis at home and I can't afford coaching classes for another year," Khan explained. Khan was worried his father would not be able to pay the medical bills if he contracts the virus at the exam centre.
Hoping that the government will consider students' demands for more rounds of the NEET, Khan did not download his NEET admit card. "I am the eldest son and I have to look after my siblings as well. I have no other option but to sacrifice my dream of becoming a doctor and help my father in the fields," Khan lamented.
After the exam concluded, the Union education minister, Ramesh Pokhriyal 'Nishank' announced that the exam had been conducted successfully. He tweeted "NTA informed me that around 85-90% students appeared in #NEET exam today. I sincerely thank all Chief Ministers and @DG_NTA for proper arrangements made to facilitate student participation. #NEET participation reflects the tenacity and grit of the young."
Also read:
Write to us at news@careers360.com
Stay updated with latest Education News