NEET 2019: Aspirants left confused as NTA prepares to open registrations
NEET 2019: Aspirants left confused as NTA prepares to open registrations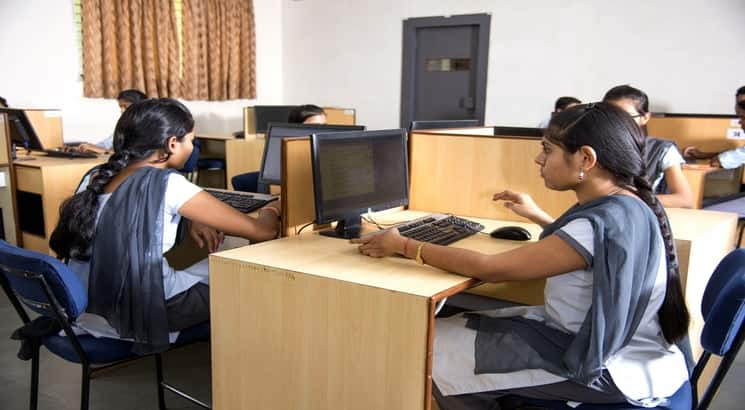 NEW DELHI, AUGUST 29: The National Testing Agency (NTA) is all set to open registrations for Test Practice Centres (TPCs) from September 1 for students interesting in enhancing their preparations for the upcoming UGC NET, JEE Main, CMAT and GPAT examinations. NEET aspirants however have been left confused about their status within the process.
Given that each of these exams will be held in online mode as Computer Based Tests (CBTs) from the next session onwards, the NTA had declared on August 21 that it will be establishing a country-wide network of upto 2697 TPCs across various schools and engineering colleges. However, in the same announcement, the NTA had also clarified that NEET 2019 will continue to be held as an offline exam in pen-paper mode only as per the current pattern and not in online mode as had been previously decided.
While this should have safely clarified that the TPCs will not be available for medical aspirants, the NEET 2019 latest news reports as published by major media portals are adding to the confusion of students by stating that registrations for NEET practise will also be opening on September 1.
Confusion around NEET
On July 7, 2018, the Ministry of Human Resource Development (MHRD) had announced that the JEE (Main) and NEET (UG) examinations, conducted by the Central Board of Secondary Education (CBSE) till 2018, will be conducted by the NTA from 2019 onwards. The introduction of the NTA would also mean that these exams would be conducted twice a year as a CBT in multiple sessions.
Apart from these, other examinations like UGC NET, CMAT and GPAT would also be held in online mode as CBTs. To ensure that students, particularly those from rural areas, would not be at a disadvantage due to this shift, the MHRD pledged that it would be identifying schools and colleges which could act as free TPCs to allow students to practice on computers. As proposed by the MHRD, students would be able to access these TPCs on Saturdays and Sundays from the third week of August onwards.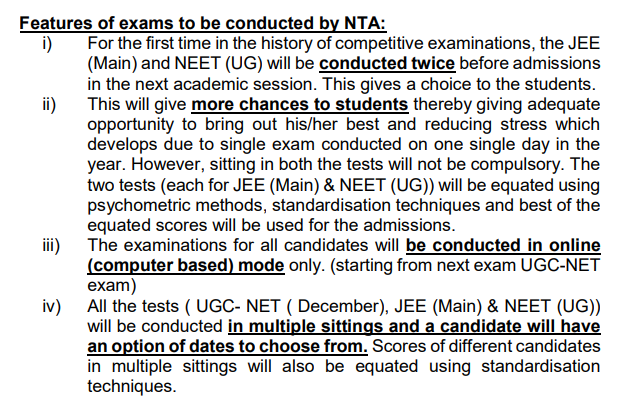 However, in a subsequent press release issued on August 21, the NTA shifted the opening date of practice centres to September 1. The NTA also declared that it would be developing an App through which students would be able to choose their nearest TPC. At the same time, on the official NTA website, a tab named 'Student Registration (For Practice Center)' was also made available through which it was notified that students would be able to register to appear at TPCs from September 1 onwards.

Most importantly, the same press release declared that the National Eligibility cum Entrance Test (NEET) would be the only exam which would not be held as a CBT as had been previously decided. This automatically implied that students appearing for NEET 2019, scheduled for May 5, would not be required to register for TPCs since the exam would be held in pen-paper mode only.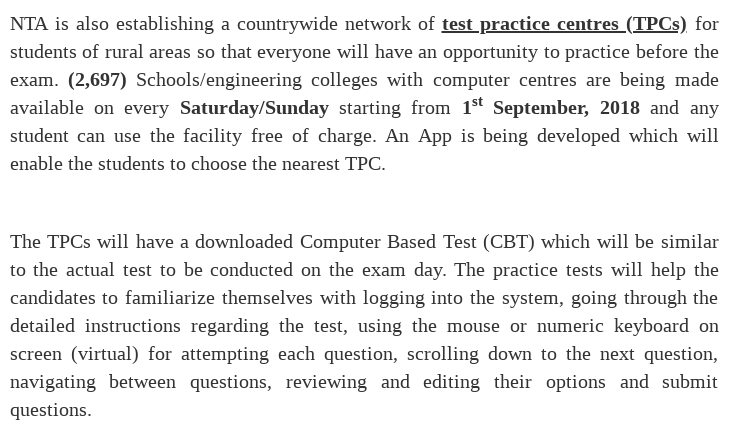 However, in an apparent trial run of TPC and exam registrations conducted by the NTA on August 28, students were able to opt for NEET as well from among the list of exams that they wished to practice for. Many prominent media outlets therefore proceeded to announce as part of their NEET latest news that aspirants would also be able to appear for NEET mock tests at the TPCs, an assertion that holds no logical basis following the decision to hold NTA NEET in offline mode only for the next session.
"I was able to register on the NTA website on August 28 and also see that NEET appeared in the dropdown list of exams for which TPCs were available. However, as soon as I submitted the final confirmation, the site displayed a SQL error. Now I am not sure if I should be registering again or if NEET will even be available as an option", a concerned aspirant shared.
Some NEET aspirants are still unaware that the plan to hold NEET 2019 in multiple sessions as a CBT has been scrapped, and the latest media reports have only added to the confusion. According to an aspirant's guardian, "My niece didn't know that the plan to hold NEET twice in online mode had been scrapped. She and her friends were looking forward to seeing how NEET in online mode will be held. Even after knowing that it will be held in offline mode, media reports have led her to believe she can register for TPCs. There is still a lot of confusion all around."
Other causes for confusion
Along with opening registrations for TPCs, the NTA will also be opening the application forms for UGC NET December 2018 session and JEE Main I 2019 session on September 1. Many NET and JEE aspirants are also unaware that they will be required to register for TPCs as well as their exam from September 1 onwards. The decision to hold a trial run on August 28 without any prior notification also led many aspirants to temporarily believe that registrations for the practice centres had already begun. 
Apart from this, the NTA has started a separate registration page for schools and colleges interested in registering as TPCs. Media portals however are confusing the same page as being available for student registrations.
Medical aspirants must note that NEET 2019 will be held as a single shift examination in offline mode only. The date of exam has been scheduled by the NTA as May 5, 2019, and the registrations for the exam will begin by November 1, 2018. Since the exam will not be held as a CBT, aspirants needn't register to practice at TPCs even if the NTA website continues to erroneously offer the same as an option.
Candidates appearing for JEE Main or UGC NET December 2018 must note that registrations for the same will begin from September 1, 2018. Additionally, all students will be able to register for free practice at the TPCs closest to them through the NTA website from the same date onwards. Registrations for CMAT practice will also open from September 1, while the application process will commence from November 1, 2018.
---
Follow us for the latest education news on colleges and universities, admission, courses, exams, schools, research, NEP and education policies and more..
To get in touch, write to us at news@careers360.com.