NEET Result 2020: More complaints surface despite NTA assurance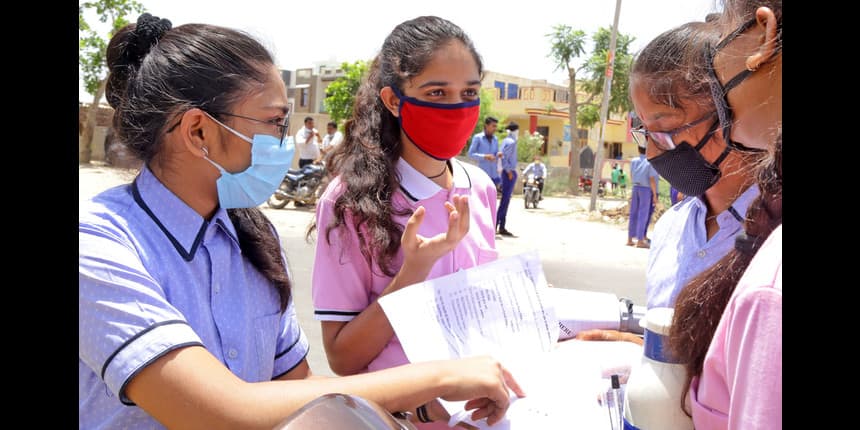 Radhika
|
Oct 22, 2020 - 12:06 p.m. IST
NEW DELHI: Anxious about the discrepancies in his National Eligibility cum Entrance Test or NEET result 2020, Vikash Goyal has travelled from Jamui, Bihar, to New Delhi seeking relief.
When the National Testing Agency (NTA) released the NEET result on October 16, Goyal was shocked to find that he had scored just 10 out of 720. He has alleged that the code of Optical Mark Recognition or OMR sheet he used to mark his answers on did not match with the code on the question paper code.
"On the day of the exam, I had raised this issue to the invigilator immediately. They were unable to change my question paper and I had to mark my answers on the same sheet. I was told that my complaint will be mailed to the NTA," Goyal explained. This error, Goyal alleges, has led to the wrong evaluation of his answer sheet and thus the wrong score.
After repeated phone calls, the helpdesk of NEET suggested Goyal visit NTA's headquarters to raise his concerns. "The higher officials did not respond to my emails. I emailed the director of NTA, I tweeted the minister of education and also sent an email to the ministry but there was no response," Goyal lamented. " I had no other option but to come to Delhi," he added. Even after three days of his arrival, he still has not been able to see an official.
Many others, like Goyal, have reported discrepancies in their medical entrance exam result days after its declaration. Careers360 got in touch with NTA director-general, Vineet Joshi, and also sent him a detailed questionnaire. Joshi had not responded by the time of publication but if he does, this copy will be updated to include his comments.
Cannot risk the money
Pranjali Shukla, a NEET aspirant from Gorakhpur, Uttar Pradesh was shocked to see only three questions marked on the scan of her OMR sheet. She claims to have attempted 177 questions on the day of the exam.
"She was confident about her result but when we saw her OMR sheet, we were confused. Only those questions were marked that she did not attempt and the rest were blank," alleged Pranjali's uncle Rahul Shukla. The rest of the details on the OMR sheet, including her name, image and roll number, were correct on the scan.
To challenge the OMR answer sheet, for each question, a candidate has to pay Rs 1,000. The amount is not refunded even if the exam authority finds a discrepancy.
The hefty processing fee required to challenge the OMR sheet has deterred Shukla from seeking relief. "How will we pay Rs 1,000 for 177 questions? We are not sure if they will accept the OMR challenge or not," Shukla explained. The facility to challenge the OMR sheet was available until October 7.
An upset in NEET is more serious than for any other exam because it is the only entrance test for admission to all undergraduate medicine programmes in the country and it is conducted just once in a year.
No response on OMR challenge
Viru Vijaykumar Patil, another NEET aspirant from Washim, Maharashtra has alleged that seven questions that he attempted were shown blank in the OMR sheet uploaded by NTA.
On October 6, Patil had challenged the missing seven responses from his OMR sheet as per NTA's norms.
"I have spent Rs 7,000 on this and I don't think they have even checked my answer sheet otherwise they would have found this huge error," Patil said. There has been no response from the NTA.
"When I emailed the authorities they did not address the discrepancy. I received a redundant reply that the OMR is filled by me. There was no response when I tried to call the NTA helpdesk," Patil said.
After exhausting all his options, Patil now plans to take the legal course to help his case. "It will be very costly to file a case on my own but if there are enough people willing to file a legal petition I will not shy away from moving the court," he said. Patil has also reached out to NEET aspirants who had moved the Supreme Court seeking postponement of the medical entrance exam.
On Monday, a student from Maharashtra moved the Bombay High Court alleging errors in the test assessment after she scored zero in the exam. Two NEET aspirants from Tamil Nadu have also alleged that their OMR sheet had been doctored, The News Minute reported.
NTA's statement
After many such errors were reported, NTA issued a statement saying the result was declared after "thorough scrutiny" and there are no mistakes. On Tuesday, the agency further clarified that "genuine grievances" will be addressed and legal action will be taken against "unscrupulous agents" spreading fake news of the incorrect result.
The agency has decided to file an FIR under the IT Act for circulation of "manipulated and fake news", The New Indian Express reported. However, it is not clear against whom the FIR has been lodged.
However, the NTA appears to have corrected scorecards even after the declaration of results at least in some cases. "When I checked my result on October 16, my scorecard showed 500 marks. Two days later, I checked my result again and it showed 75 marks," a candidate told Careers360 requesting anonymity. "The marks awarded in the second scorecard are correct as per my OMR responses," the student added.
Also read:
Write to us at news@careers360.com
Stay updated with latest Education News