No long term impact on the brand IIM as their numbers increase, says IIM Bangalore Director, G Raghuram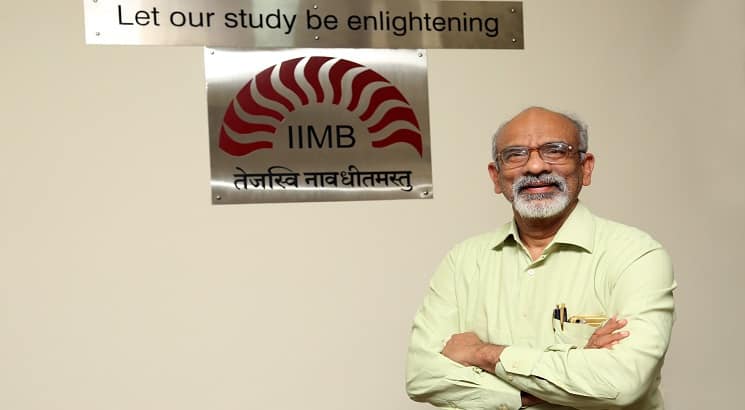 Prof G. Raghuram, Director, Indian Institute of Management Bangalore in an exclusive conversation with Careers360 discusses the global management education scenario and its impact on India. He also shares his thoughts on the importance of mentorship of IIMs, research potential and industry connect as well as accreditation and the ways top B-Schools can address the issue of faculty shortage...
Q. How do you look at the journey of IIMs in past five decades of their existence?
A. If you look at the journey of the three old IIMs, Ahmedabad, Kolkata and Bangalore in past five decades, they have made a strong impact. They have been institutions of excellence, at some level 'islands of excellence'. But, the very fact that they have managed to do that both in terms of teaching and research that the Government thought that this is a great model and needs to be expanded to 20 IIMs. So, in many ways that in itself is one indicator of the fact that the IIMs have done well.

Q. Management education across the globe is going through a transformation phase, how Indian B-Schools are reacting to it?
A. It all depends upon how you look at what you are doing. At least, at IIM Ahmedabad and IIM Bangalore, the pitch has always been that we are shaping minds. It's not about creating skills, but we are here to shape minds and provide thought leadership. It is not just limited to management in the commercial sector. It is about how an organisation, big or small leverages skill of people and provides a greater value. We are creating a well-educated person who would be able to respond to any changing scenario at national or international level, to be able to understand this and contribute.
In India, there is still a hunger and need for this, while, globally there are issues that whether the management schools are contributing or not, but as far as Indian high-end schools are concerned they have kept this fundamental. Therefore, I do not see any issues for them to transform.
Schools which are not looking at things that way and just running courses without keeping up with the fundamentals would certainly get affected by the changing scenario as in what skills you are actually providing.

Q. Many of the B-Schools have closed down in past few years, how do you look at this trend?
A. One of the main reasons has been oversupply like engineering schools. Globally B-Schools are closing down, the second rung B-Schools in the US are having a tough time in getting students and keep up their economics. Today, I think India has the largest number of B-Schools in the world and sooner or later that has to give way and today so many educational opportunities are coming up in areas like Journalism, Design, and Arts. Parents are also recognising the fact that there are different fields in which their children could excel. But, as long as you stay with fundamentals and provide the high-quality education you would survive.

Q. How important is international accreditation for a B-School?
A. Accreditation from a very high-end player is useful because they push you to think about your systems and documentation, and how to improve them. So, from that point of view, I think accreditation is very good.

Q. When new IIMs were being opened up there were apprehensions that this would lead to dilution of brand IIM, how far do you agree with this?
A. As a general principle, I do not agree with this statement. I think in the long run the most recently started IIMs will also catch up because a certain culture is being built in them. They are being mentored by the older IIMs and many of the doctoral students of older IIMs are joining the new IIMs. There is so much talent in the country which needs to be shaped for their contribution towards the organisations. So, I do not see any reason that in the long run there will be any dilution, in the short run, yes to the extent that schools have suddenly increased and the quality is yet to catch up. There could be concerns regarding the quality of the IIMs, like if they are all same? There are better IIMs and not so good quality IIMs, but I think that is a temporary phase.

Q. As per an MHRD report, as many as 260 faculty positions are vacant in IIMs, so how to attract the best talent especially in case of the new IIMs?
A. One of the largest sources could be to step-up doctoral programmes in the older IIMs. There are people in non-traditional management schools who can also teach the subjects, I think that should be another way to attract good quality faculty.

Q. IIMs are starting doctoral programmes, IIM Bangalore is mentoring IIM Visakhapatnam which is coming up with such programmes, how important are they?
A. Doctoral programmes are very important because apart from the potential to impact the newer IIMs in terms of providing faculty, it provides a research connect with our faculty and improves their research productivity. This benefits the individual as well as the organizations involved. Overall, there is a strong multiplier effect.

Q. The retirement age of IIM Directors is likely to be revised to 70 years, how will it impact the functioning of institutions?
A. I am not sure about that until the rules are formalised.
---
Follow us for the latest education news on colleges and universities, admission, courses, exams, schools, research, NEP and education policies and more..
To get in touch, write to us at news@careers360.com.